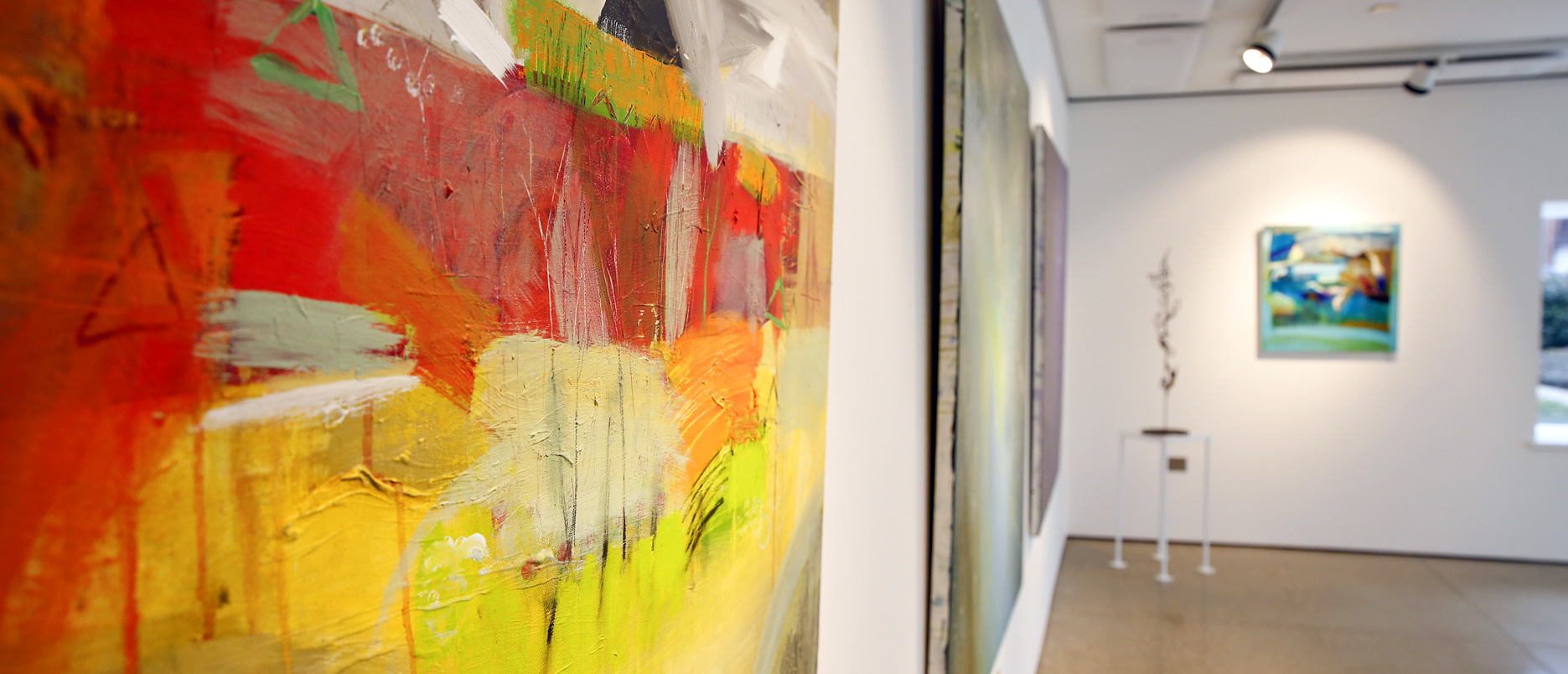 DISCOVER
CURRENT EXHIBITION
Exhibitions are updated three times a year in office buildings and in The Control Tower to create a fresh and changing environment, which it is hoped stimulates an interest in art for employees and visitors. The artists who generously loan their work benefit from increased exposure and potential sales.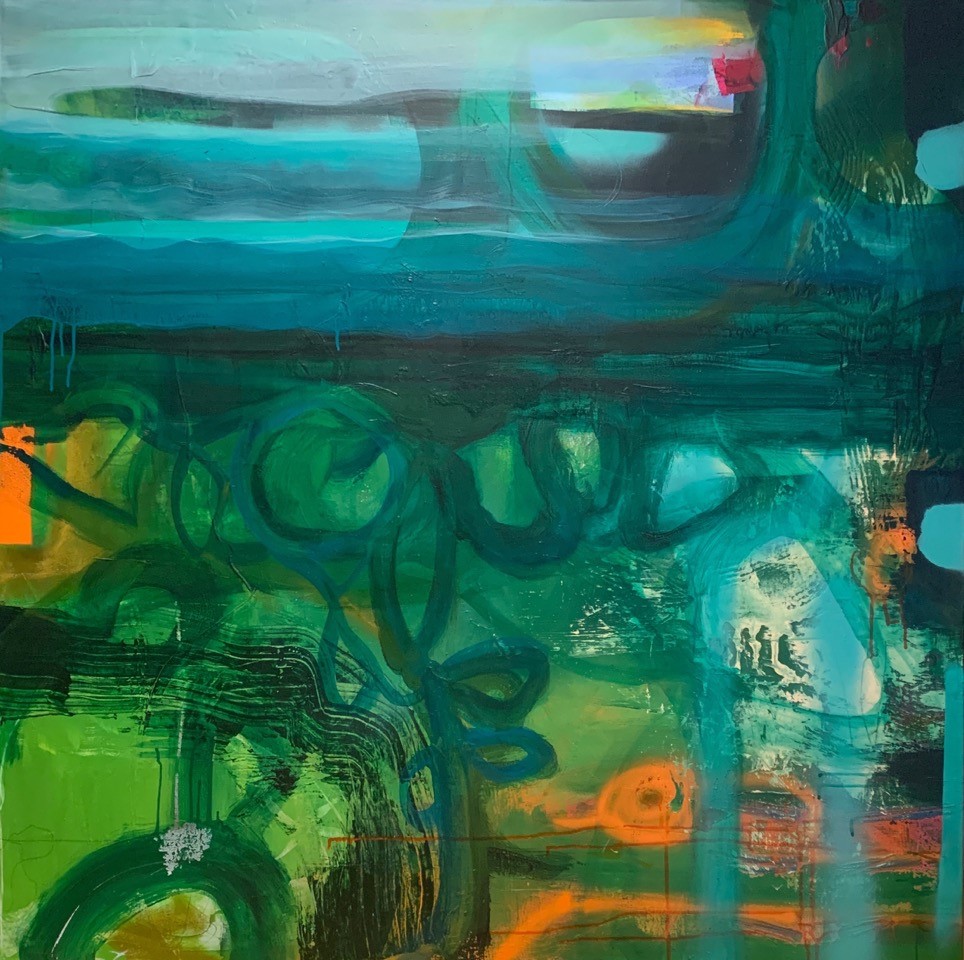 Donna Loliola
Control Tower Gallery & 30 Tower View
Donna is a Contemporary Artist based in London, England where she shares
her time working as an Arts Psychotherapist and Artist. Donna came to
London in her early twenties to do a Foundation in Art & Design and had
every intention of entering the art world but curiosity and interest in the
human psyche won through. She sidetracked into a career as an Arts
Psychotherapist and after many years in the field of Psychotherapy she is
now responding to the pull of the paint and art materials. The past few years
have been spent becoming re acquainted with the painting process and
falling in love with it all over again.
Donna's paintings reflect a curiosity and love for the natural world, open
spaces, colour and light. She is heavily influenced by a childhood in the
Caribbean where she was surrounded by lush tropical colour, turquoise seas
and cultural diversity. This experience has instilled in Donna a strong sense of
colour, light and unending curiosity about her environment. Her creative
process involves exploring and experimenting with the art materials until she
has a felt sense that the work is complete.
Donna works intuitively with a variety of art media from acrylic, water colour, ink, collage and even digital work on the Ipad. She enjoys experimenting with
new art materials, often pushing them to their limits with the intention of learning and developing further into her own creative style. Donna is currently exploring a combination of collage, paint and mixed media on both
paper and canvas.
www.donnaloiola.co.uk
Instagram @donnaloiolart
Pinterest: donnaloiolart
Facebook: Donna Loiola – Artist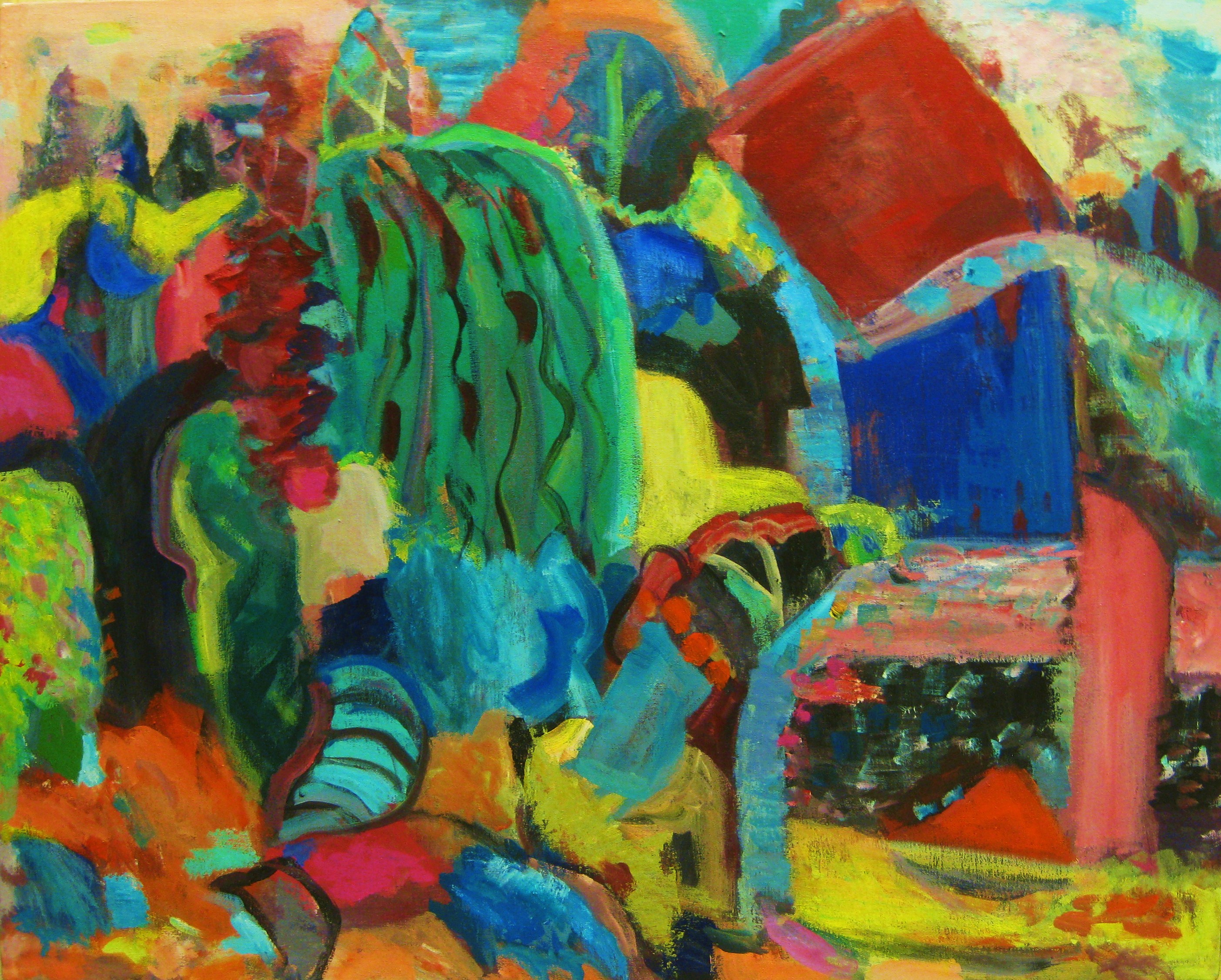 Fiona Stanbury
Control Tower Gallery & 39 Kings Hill Ave
'I love to 'go missing' in the landscape, forgetting everything, just feeling my own space and getting back in touch with myself again. Today's life is so busy and it can be hard to find time connect fully with nature or your inner world. This inner world of imagination and fantasy combined with experiences from travels and places are pivotal aspects of my work. There is also an underlying narrative to many of my paintings and some reflect on the search for those quiet places, thoughts on the transience of life, people and places remembered.
When I paint I feel my way emotionally through imaginary landscapes or landscapes which are remembered or totally inspired by materials. My 'paint marks are equivalents for a journey through paint, they are paint poems. The experience of exploring colours and watching the painting emerge is as real as being in nature. Much of my artwork reflects on things felt and seen and what I call the 'unseen.'
Often I overlap landscape, still life or figures as part of my belief that everything is connected and I want to convey something about this unity.
Recent trips to China and a painting Fellowship next to the Great Wall of China led to a deepening interest in calligraphy which I have been exploring through a series of ink paintings inspired by living next to the Great Wall of China. Calligraphic marks combined with specific colours evoke and create new places for me to journey through.'
Fiona has exhibited internationally, includingat the 8th Beijing International Art Biennale, 2019, she currently has a painting in the Turner Contemporary Open Exhibition, Margate.
www.fionastanbury.com
Instagram: fionastanbury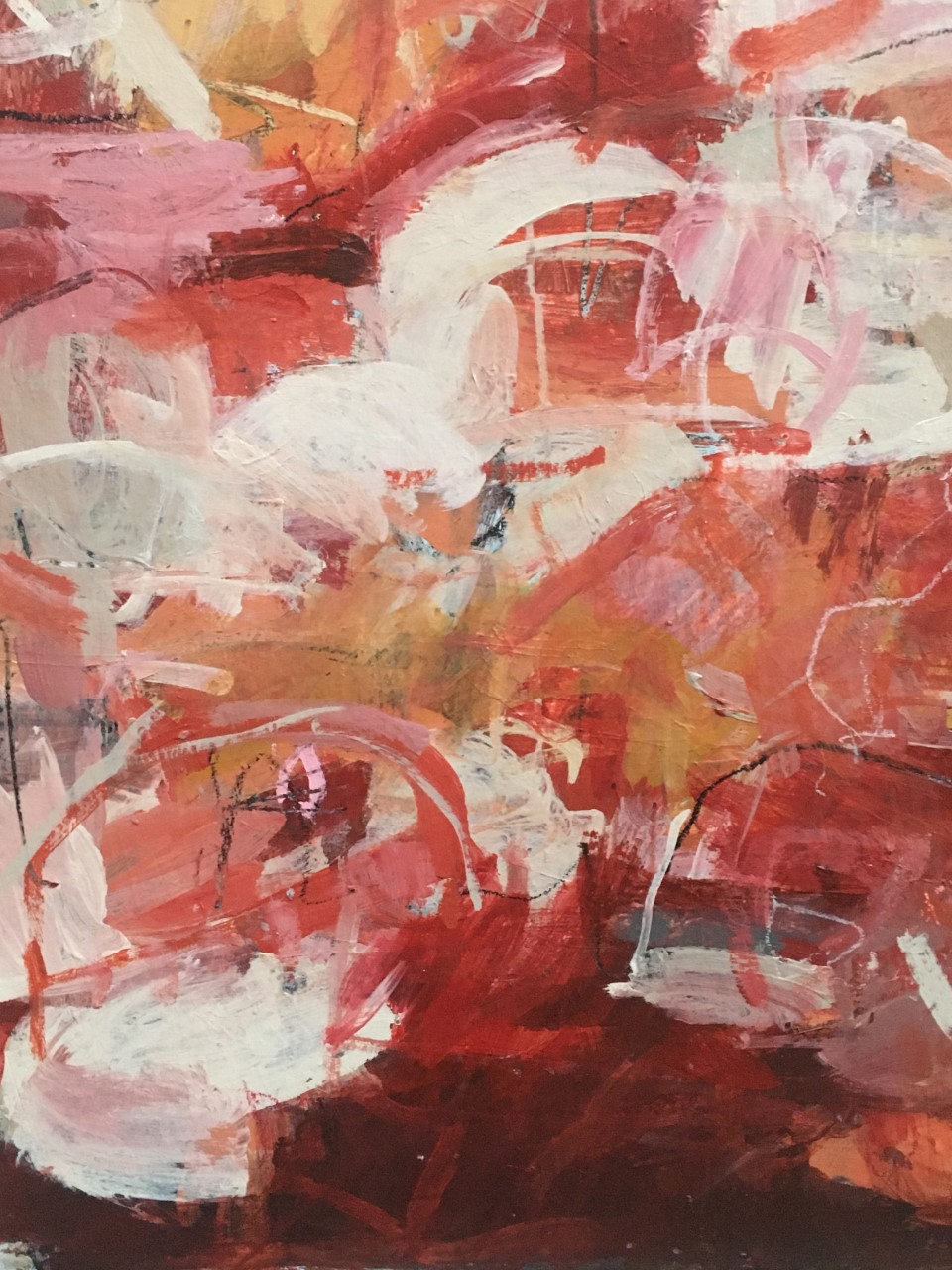 Janet Keith
Control Tower Gallery & 35 Kings Hill Ave
Janet Keith is a contemporary painter based in the U.K. Her painting is a response to the visual excitement and beauty of her surroundings.Her artistic roots are in outdoor painting, working directly from life. However, that rich experience now informs a more abstract and mostly studio based approach to painting – which has become an exploration of how spontaneous gesture and considered pictorial structure weave together in building an expressive painting.
Janet's inspiration comes from the very rural surroundings of her studio and from travels near and far. She has Degrees in both the History of Art and Painting.
www.janetkeith.co.uk
Instagram:@janetkeith_artist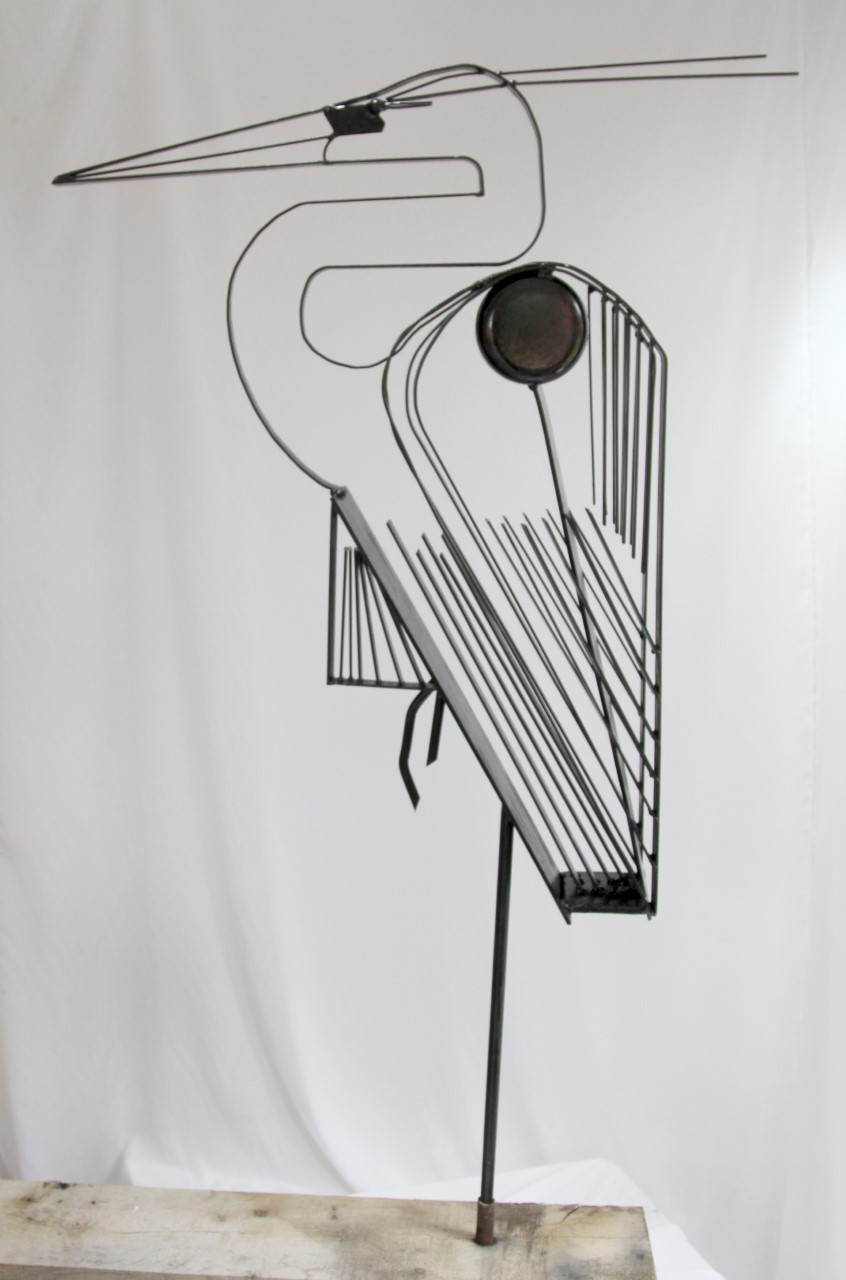 Elizabeth Cooke
Control Tower Gallery, 1 Tower View and 30 Tower View
I am a sculptor who works mainly in steel, using the natural world for my inspiration. I draw with steel: getting to the essence of my subject and bring out what I see so that others can share my vision. I'm not interested in padding. I want my art to get straight to the point. My work is sometimes figurative, sometimes abstract, but more commonly stopping at a point somewhere between. I like to make pieces that look abstract from some angles; realistic from others. I studied dance at the Laban centre. At the time, it was difficult to chose between art and dance and my choice meant I've come to be a professional artist later in my life. My dance training infuses my work with a choreographic sense of direction, line, movement and spacial connection. I start by exploring a piece in 2D often using print and wire. Once I'm happy, I start to draw with steel. I use virgin steel as well as a shed-full of recycled metal. Whatever inspires me to include it in a sculpture or to create something based on the feelings I have about bits of discarded ironwork. I have always loved cutting and sticking. Working in steel allows me to do this on a bigger scale. Weld a piece on, cut it off, adjust until I'm happy. I respond to the authenticity of the metal, trying not to dress it up as something it isn't. The wonder of the natural world and my experiences with wildlife drive me to communicate through art. As an introvert, I seek a quiet place in my sculptures – with a sparsity of line showing movement, capturing a moment in a bold, quirky and occasionally humorous style. Nature gives me a sense of well-being and I want my work to engender that feeling in my audience.
www. elizabethcookesculpture.wordpress.com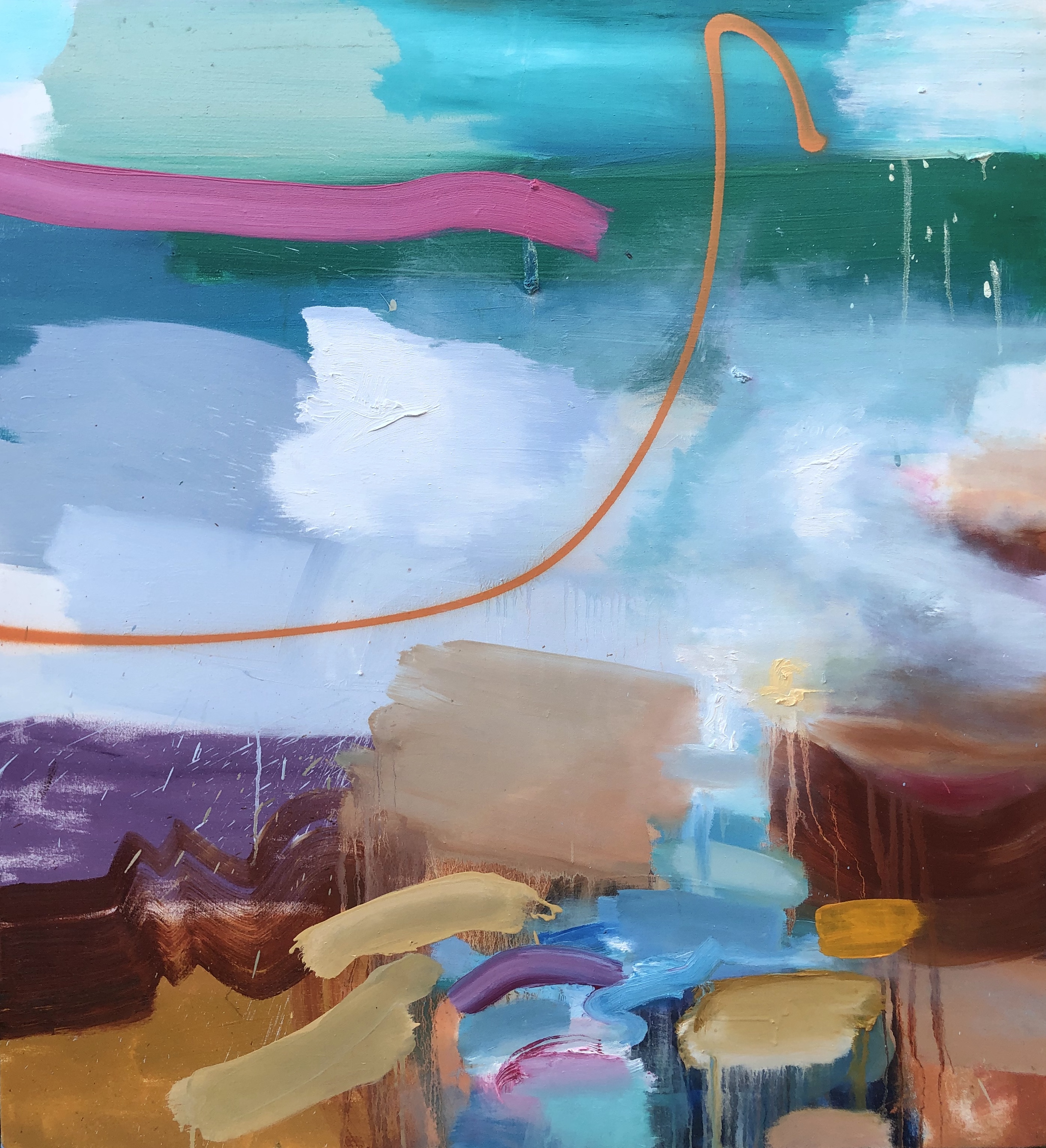 John Davison
Control Tower Gallery & 17 Kings Hill Ave
"Above in the thickness of the branches, between the gaps of sky and the crossroads of green, the afternoon battles with transparent swords" Garden and child, Octavio Paz.
Sand; the squelch of a footprint; the dappled glimmer of sunlight on water. For me, there is a real parallel between the emotive spirit of painting and the awe-inspiring act of engaging with a landscape.
These paintings wander, stand, and move again through large expanses of sky, sea and sand of the Cornish coastline. They aim to evoke a sense of memory; exploring light, texture, changing terrain, as well as our own movement through a landscape. It is as much about my connection to a memory or a glimpse as it is to reality.
I want the viewer to search in the painting as I have searched within the landscape, confronted by a new visual scape through which they can roam, catching glimpses of a landscape beyond and before. Enjoy the wander.
Endless Summer: A new series of paintings by Manchester-based artist John Davison created in oil, oil-based medium and spray paint on canvas.
www.saatchiart.com/john07
www.artfinder.com/artist/john-davison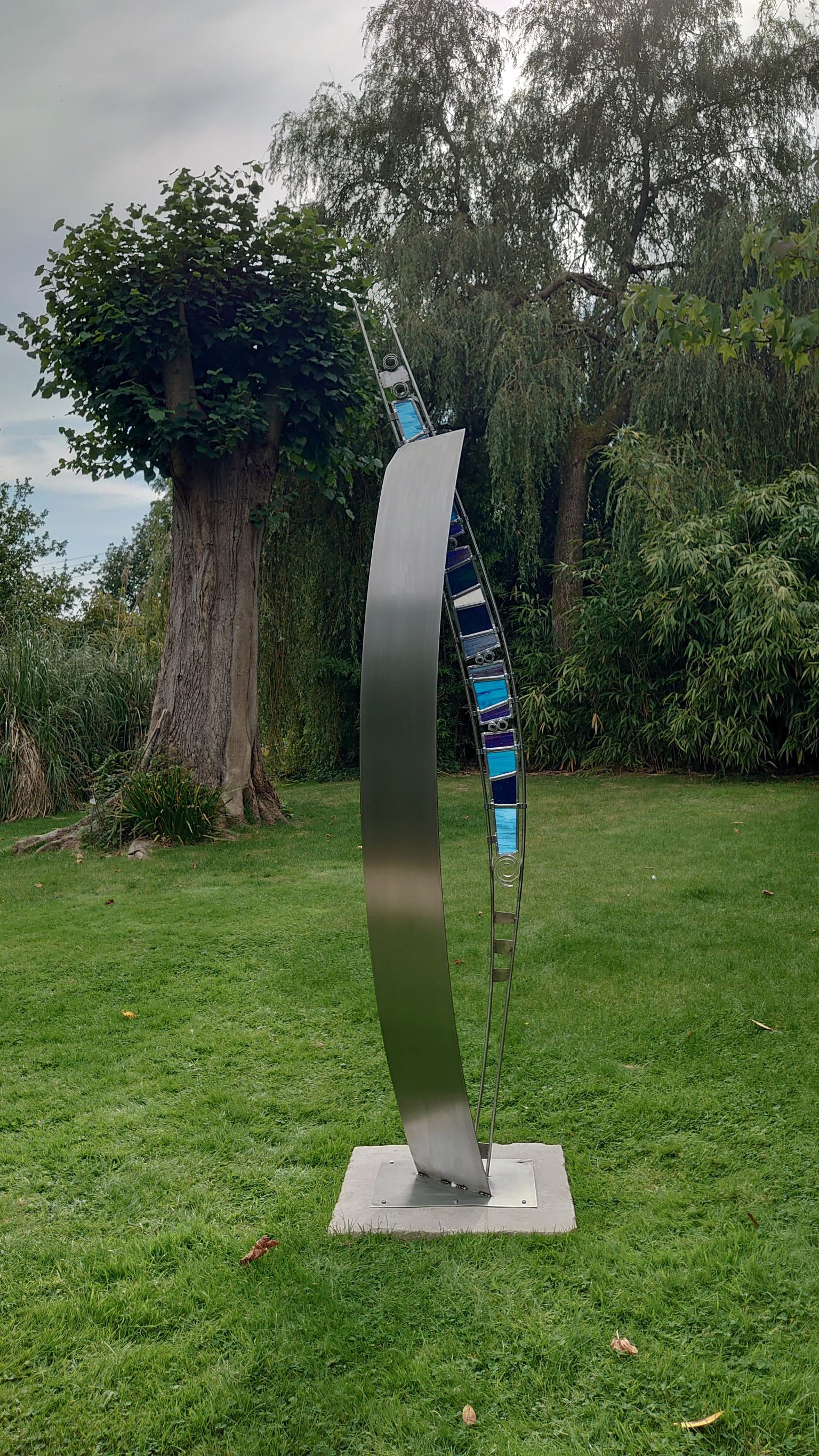 Joe Szabo
Control Tower Gallery, 34 Tower View
It all started over 15 years ago when I was on holiday in Croatia and someone I met through a mutual friend needed help in turning over a large glass panel. When I saw it, it was love at first sight. I returned to my native Hungary, did a course and set up my business. I worked with interior designers and architects on larger commissions, such as bank branches, solicitors' offices, health clinics and private residences.
In 2008 I moved to the United Kingdom, the country of fascinating hedges, chimneys and stained glass art. I've been lucky to be able to continue working with glass – I'd like to help preserve this country's traditional glass art and I also hope to make my own modest contribution to British contemporary glass art. I work in a studio in a wonderful and inspiring garden in Buckland, Surrey.
joeszaboglass.co.uk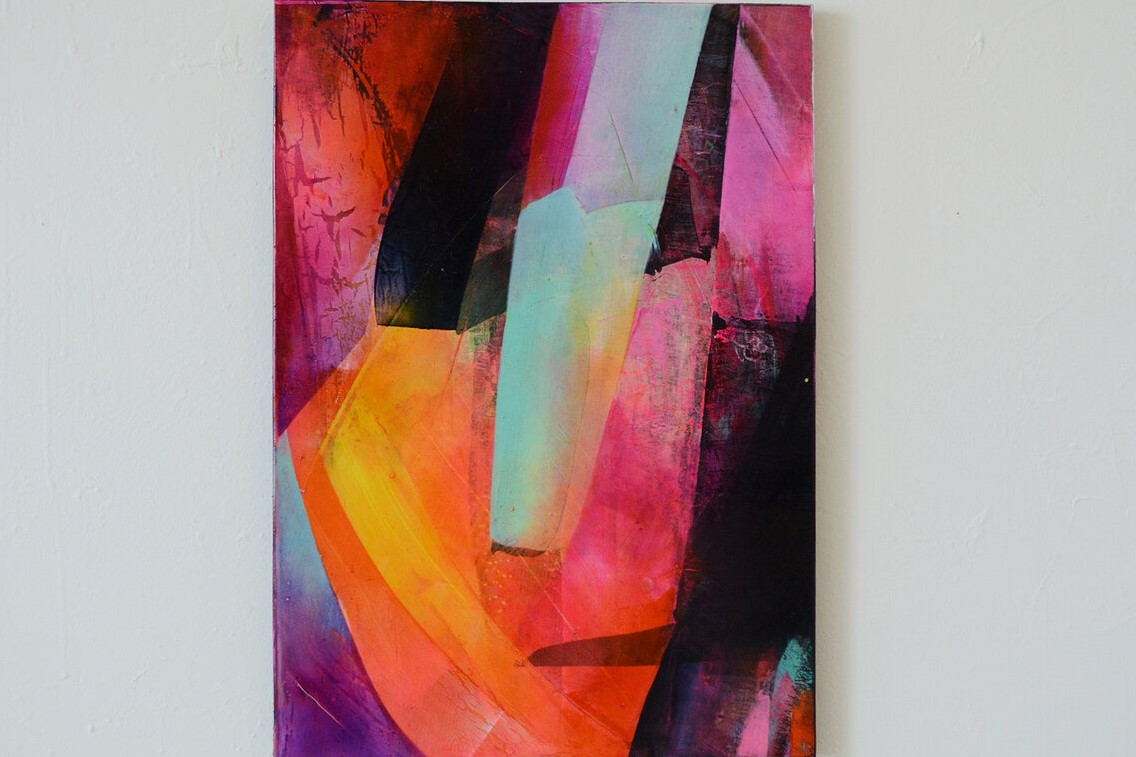 Kimbal Bumstead
Control Tower Gallery, 6 Alexander Grove & 1 Tower View
When I paint, I embark on a journey through internal and imagined worlds. I dive in amongst the layers, exploring the textures and patterns that appear. The destination of my journey is undefined and the route to get there is unclear, and as the journey unfolds, the painting emerges as a trace of my dialogue with the materials.
In my artistic practice I create abstract maps of real and imagined places via material-based explorations. I am fascinated by the idea that places and spaces embody a multiplicity of layers – both physically and emotionally; traces of history are written into physical landscapes and personal experiences are etched into the imagination. My artworks explore this notion of layers from a conceptual and a material perspective by working with materials to tune in to embodied, sensory and emotional experiences.
I paint on wood, paper and canvas by building up translucent layers of oil paint, acrylic and varnish with a variety of brushes and squeegees. By covering, revealing, hiding and scraping, each subsequent layer leaves traces and creates a world within the space of the painting; alluding to the layers in a landscape while opening windows for exploration.
www.kimbalbumstead.com
INSTAGRAM:@kimbalbumstead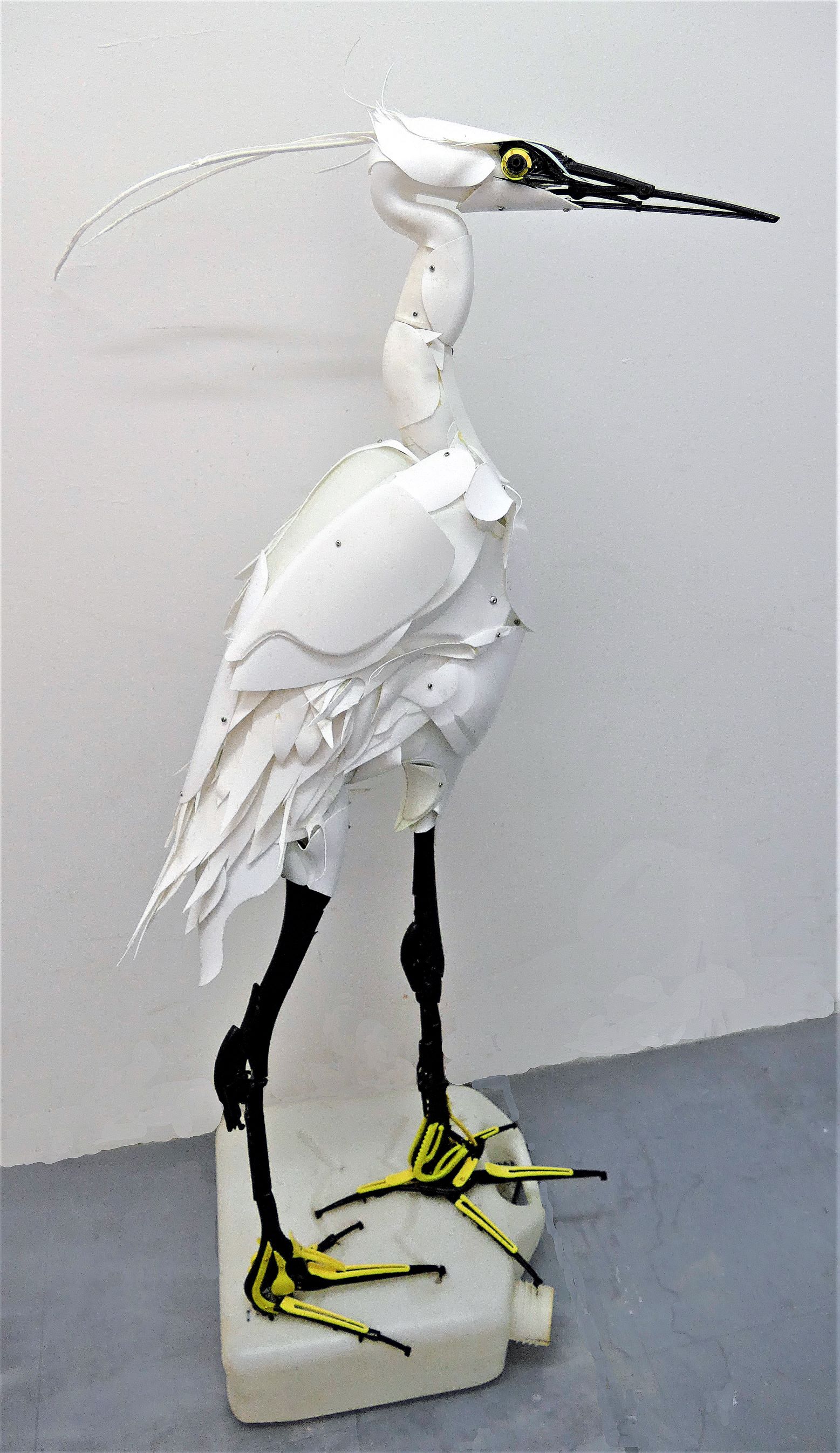 Sandie M Sutton
Control Tower Gallery and 1 Tower View
Animal Sculptures
'My art practice involves creating innovative ways to use discarded materials destined for landfill or becoming involved in problematic waste management streams.
While plastic debris, my most utilized material, is thought of as disposable, it is in fact quite the opposite.
It lingers in the environment, causing all kinds of harm, and is currently cheaper at the present time to produce than to recycle.
My sculptures are assembled from intercepted waste plastics and are worked to take on organic shapes and animal forms.
They are aesthetically intriguing, as the viewer observes and considers the juxtaposition between familiar household waste and the natural world.
Sculpture Workshops
My art practice has always included art education, working with children, young adults and the elderly. I have designed, coordinated, and run many individual arts workshops as well as artist residencies. Art projects that involve collaboration with the local community and families are important to me.
I aim to meet the needs of the individual and to make art inspiring, friendly and thought provoking.
www.sandiemsutton.com
Instagram: @sandisu10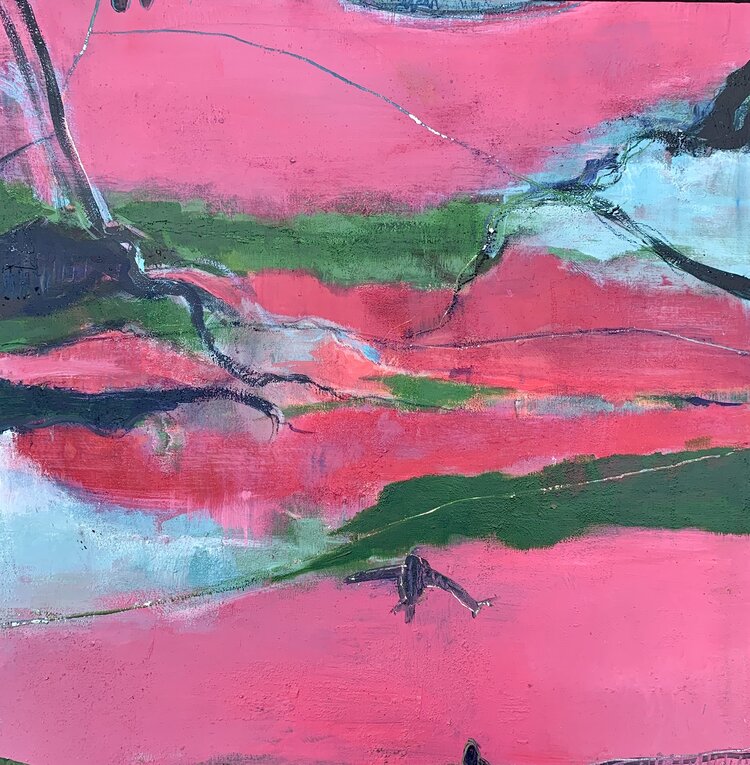 Stephanie Draper
Control Tower Gallery and 11 Tower View
Farnham based artist, Stephanie Draper combines printmaking and painting to tell stories of the impact that we have on each other and the environment. Her art seeks to interpret the irrefutable bonds we have with our planet and inspire engagement with the community at large.
A recent publication 'Pandemonium' describes her work:
"[She] has turned this sense of cartography into a philosophical position whereby she makes a stand in her bond with the planet—seen at a distance as a shoreline in Alaska or great rift in Ethiopia; or up close as in the bird's eye view of her local park.
These map-makings are fragments only, often beautifully coloured; but like jigsaw pieces they hint at a bigger picture and they too ask the ecological and existential question, 'What is our relationship with the world?' A question never more prescient than now."
All the paintings in the show are maps. They explore different themes in vivid colours. The
Farnham maps explore how built up areas in the town have changed over the years. The large dark areas on the paintings show where housing is now, with the collaged white areas comparing that with buildings from 1898. The 'in search of filmy fern' triptych is a map of Kent, centred on Eridge rocks where the rare 'Tonbridge filmy fern' is found. 'Cathedral of Denali' and 'the Harding Icefield paintings are from her 'Last Wilderness' collection – based on a trip to Alaska – a truly wild place where the impacts of climate change are already being felt. Finally, a set of seven smaller maps show places where a particular issue or solution manifests – the last white rhino in Kenya, or the protection of carbon capturing seagrass in Madagascar.Recent shows include 'Pandemonium' at the PZ Gallery, Penzance and 'Last Wilderness' at the Oxmarket Gallery, Chichester. A collection of her work is held in the Museum of Farnham, and brought together in a book 'Words and Colours: Reflections on Lockdown'. She is an alumni of Newlyn School of Art, a member of the Printmakers Council and regularly exhibits at Woolwich Contemporary Print Fair and the Royal Overseas League in London.
www.stephaniedraperartist.com
@stephaniedraperartist