13th November 2023
Award-winning project brings 542 new homes to Kings Hill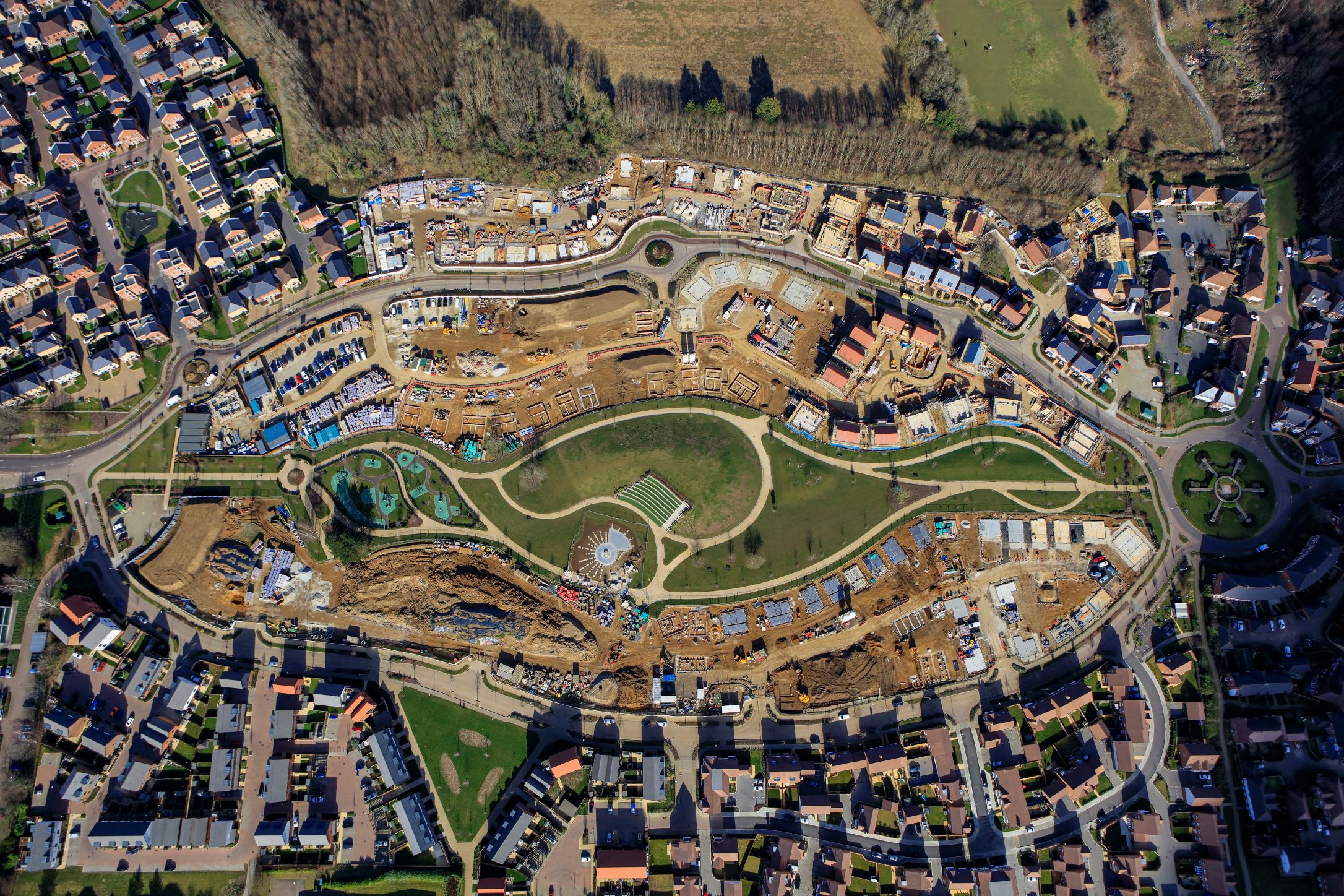 Bellway is building hundreds of homes as a part of an award-winning project within Kings Hill in Kent.
The housebuilder is delivering a total of 542 new homes across five developments at Aviation Park, part of the huge Kings Hill regeneration project which has been taking place over the past 30 years on the site of the former RAF West Malling base.
Within Aviation Park, Bellway Kent is building 140 properties at Blenheim Green and 52 homes at Liberty Quarter, both off Park Drive, where homes are currently under construction and for sale. The first of 70 apartments at Gloster Chase, off Kings Hill Avenue, have also just been released for sale, with 42 for private ownership and the remaining 28 as affordable homes for the local community.
DeHavilland Place, off Jubilee Way, which comprises a further 210 homes, and Westland Place, off Abbey Wood Road, which will bring 70 apartments, are due to be launched in spring next year.
These five sites will provide a total of 402 properties for the private market and 140 affordable homes available for local people through low-cost rent or shared ownership.
Aviation Park will also see the creation of hundreds of jobs in sales and construction.
Bellway won an award for its part in the Kings Hill regeneration project, claiming the Best Regeneration Project category at the Evening Standard New Homes Awards 2023 in September.
The description for the Best Regeneration Project category stated that the judges were looking for inspired schemes that have transformed a neglected site or zone into a vibrant new quarter, typically with a mix of residential, retail and commercial premises, and green space, and where the lives of local people and businesses have improved as a result.
Chris Moore, Bellway Kent Managing Director, said: "At Bellway, we are proud to be playing a part in this landmark project which is seeing the regeneration of this historic site and transforming it into a vibrant modern community. The award win is a tribute to its success.
"RAF West Malling played a major part in helping Britain defend itself from the German aerial attacks during the Second World War and was an important base during the Cold War. Aircraft based at the site took off from the base to fight the Luftwaffe during the Battle of Britain in 1940 and to shoot down the V1 flying bombs launched from across the Channel in 1944.
"Although Kings Hill is a project that looks to the future, we also wanted to acknowledge the past and have named Aviation Park and its developments in homage to aircraft manufacturers or planes involved in the Second World War and Cold War.
"Construction work is progressing well at all five sites within Aviation Park, where we are delivering a mix of one and two-bedroom apartments and two to five-bedroom houses to help meet the specific requirements of the local housing market.
"Many residents have already moved into their new homes at Liberty Quarter, while the build programme is advancing at Blenheim Green and Gloster Chase, where the first homes are now available to reserve."
Aviation Park is part of the wider Kings Hill project, where more than 3,500 homes have been built or planned since work began in 1990, along with a million square feet of commercial floor space, three new schools and 23 shops.
Bellway has previously delivered 381 new homes in Kings Hill since 2011, which has been masterminded by Kent County Council and Liberty Property Trust.
Residents are able to enjoy the green spaces on their doorstep within Kings Hill, which features 100 acres of public open space including a new linear park as its focal point.
Part of the military heritage of the site takes centre stage within the linear park, where a Pickett-Hamilton, a rare example of a sunken concrete gun fort built to defend the RAF base's runway, is on display. The structure, which has been restored, takes centre stage as the focal point of a grassed amphitheatre on the slope of a sculpted grass mound.
Also preserved at Kings Hill are a Bofors light anti-aircraft gun tower and a hexagonal concrete pill box, which, along with the fort, form part of a scheduled monument as defined by Historic England.
For more information about all five of the Bellway developments at Aviation Park, visit https://www.bellway.co.uk/new-homes/kent.