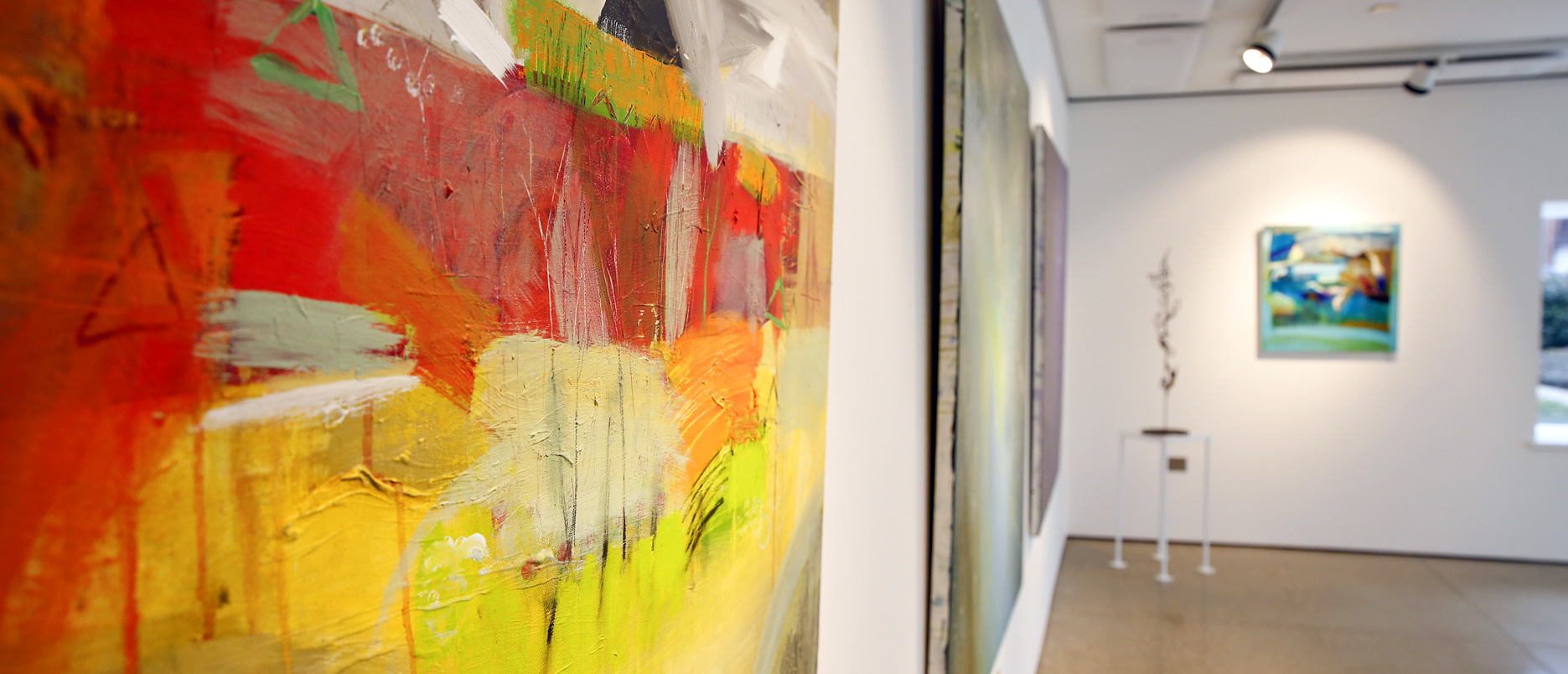 DISCOVER
CURRENT EXHIBITION
Exhibitions are updated three times a year in office buildings and in The Control Tower to create a fresh and changing environment, which it is hoped stimulates an interest in art for employees and visitors. The artists who generously loan their work benefit from increased exposure and potential sales.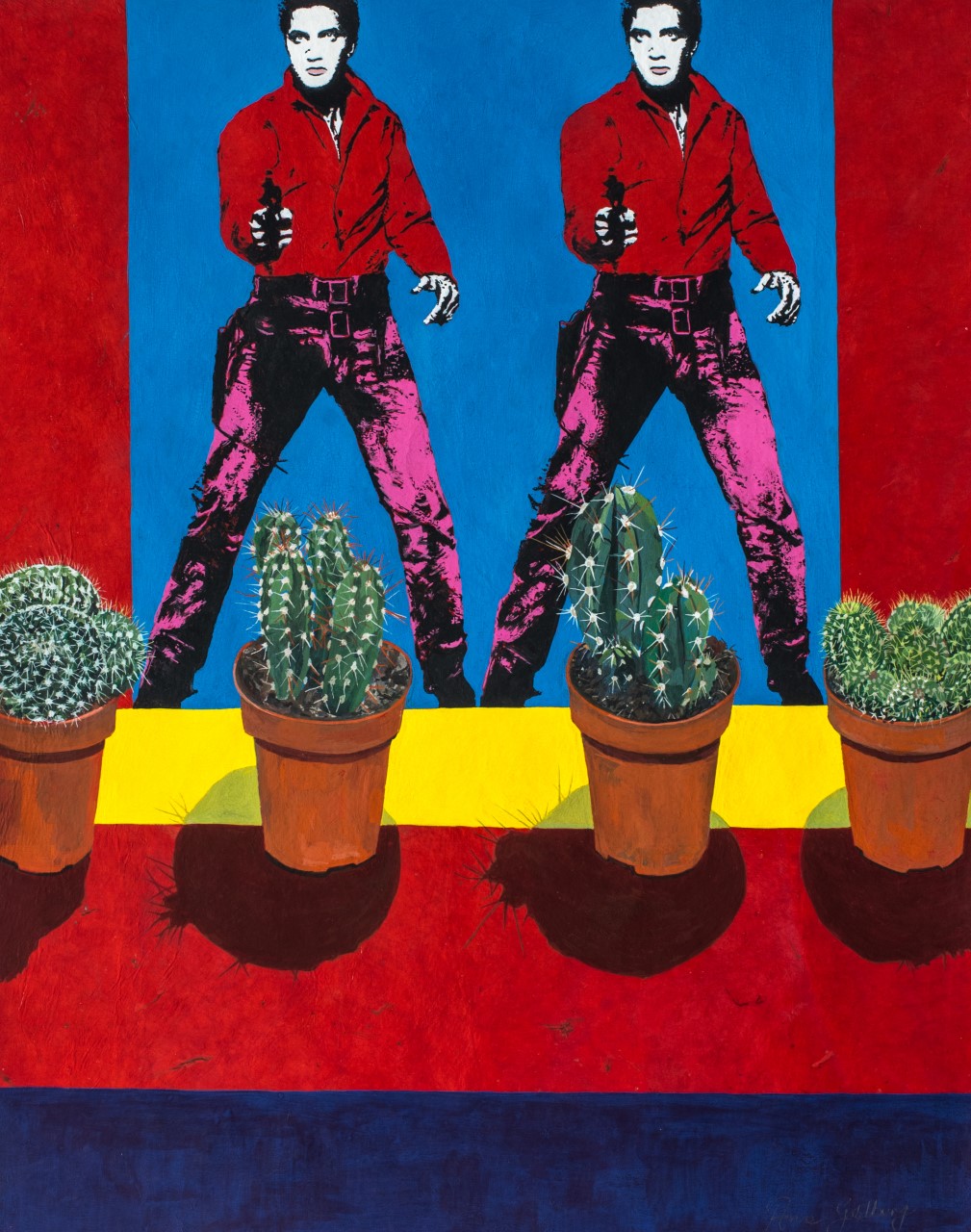 Anne Goldberg
Control Tower Gallery & 4 Abbey Wood Rd
ANNE GOLDBERG is an accomplished and experienced artist based in Manchester, England and frequently visits London.
Her recent work encapsulates vibrant colour and the integration of still life with the more abstract.
Formally trained with a degree in Printed Textiles from Manchester Polytechnic in the eighties, Anne's work illustrates her attention to detail through her portrayal of still life with an emphasis on texture and surface pattern.
Working mainly in gouache, Anne is able to use the medium to convey a richness and textural interest to her work.
Presented with a simplicity and freshness, her stunning visual images provide an instant impact, charm and statement of beauty.
Anne's style is the result of an openness in approach, developed through her days as a student, honed, refined and striving for perfection over three decades.
Having devoted considerable years to raising her family and teaching, Anne has recently re-emerged as a full time painter and has been recognised with her most recent works echoing a contemporary feel, which have earned her success in well respected and established galleries as well as selection for prestigious exhibitions. This is a new beginning.
www.instagram.com/annegoldbergpaintings/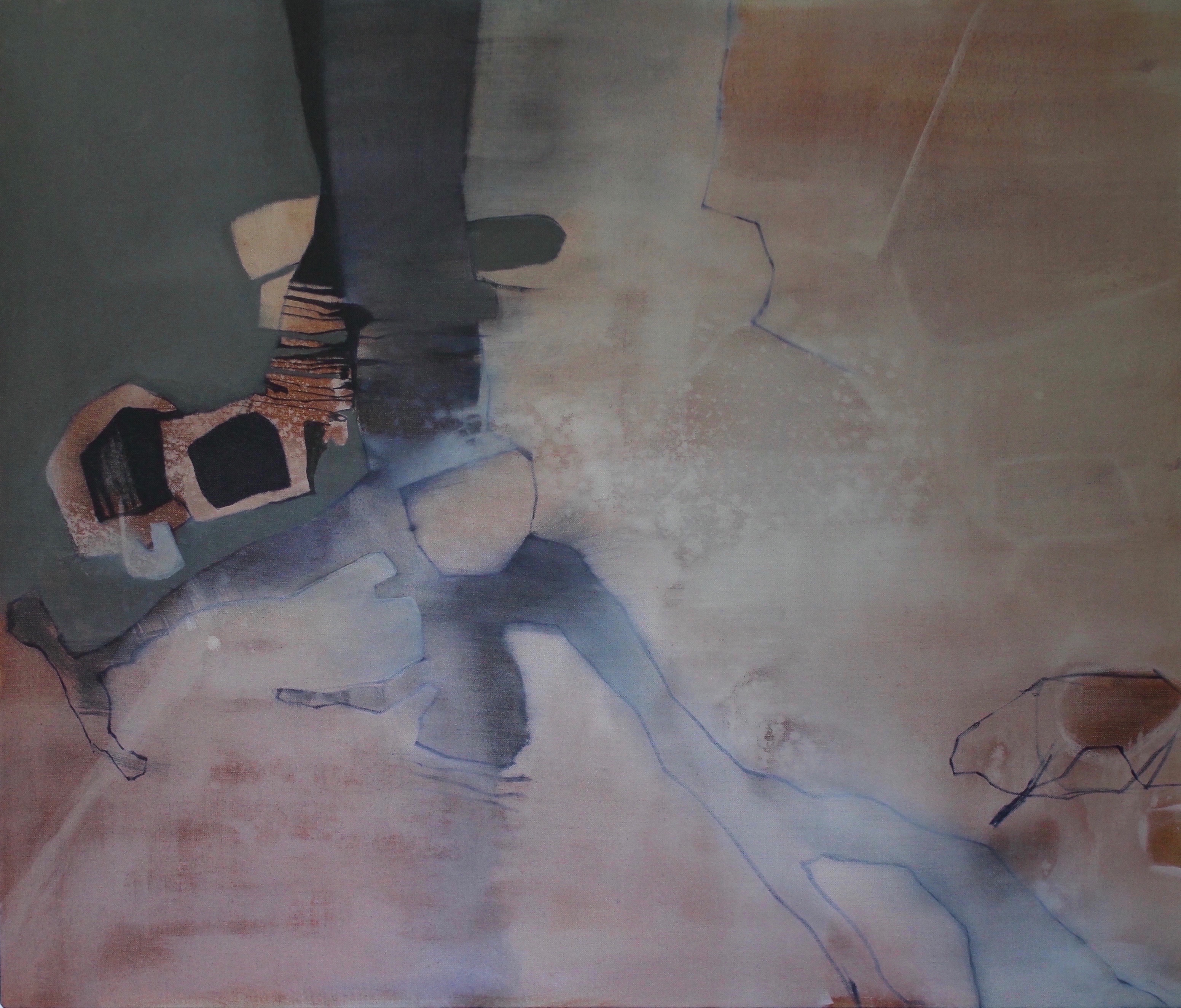 Clare Wilson
Control Tower Gallery & 1 Tower View
Clare Wilson
Clare Wilson's paintings evolve out of a process of layering, removing, reworking and pushing paint to find an inevitable form.It is a slow process and the results remain indeterminate as the multi layering of muted tones reveal traces and imprints of the origins of the paintings, often submerged in a veiled light. She is not concerned with the monumental or grand but in the detail of a moment, curious shadows, abstract movements, depths and recessions, textures, memories and allowing the unknown to resurface. Although these paintings are not about place, subtle shifts of tone and a restricted palette may refer to the diffused light and intervals of landscape and its potential as a space of transition and transformation.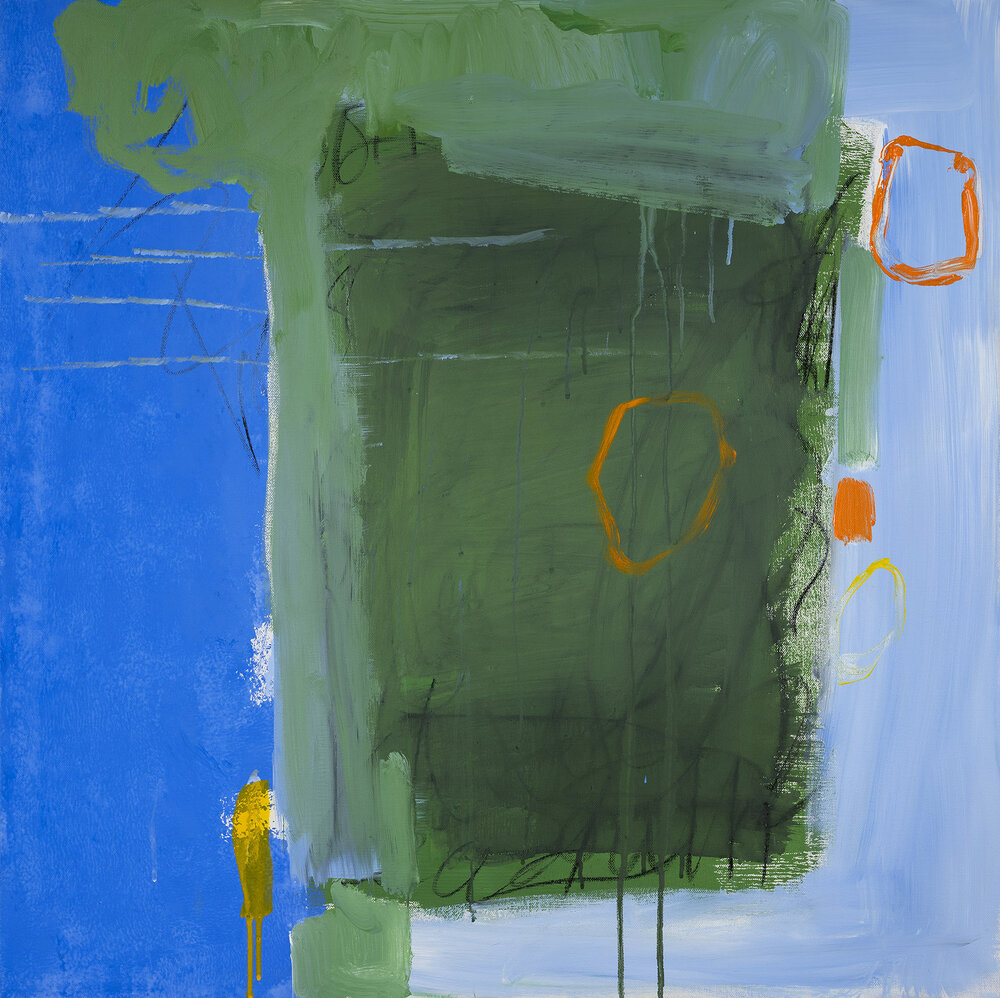 Jo Brown
Control Tower Gallery & 39 Kings Hill Ave
Jo Brown was born in Kent in 1945. She came to Yorkshire as a student and her first career was in Teaching.She is the mother of three children, and it was not until the youngest was a toddler that she began to realize her dream of becoming an artist. She gained BA(Hons) from Sheffield Hallam University i  1995 and has been making art and exhibiting since then, with work in many public and private collections.
She lives in the South Pennines, close to moorland , with views from her home and studio of fields and trees. All of this influences her work, though her use of colour is emotional rather than naturalistic.
As Terry Frost wrote:
Colour for feeling, imagination, reverie, inspired by actual visual experience.
www.instagram.com/jobrownartist/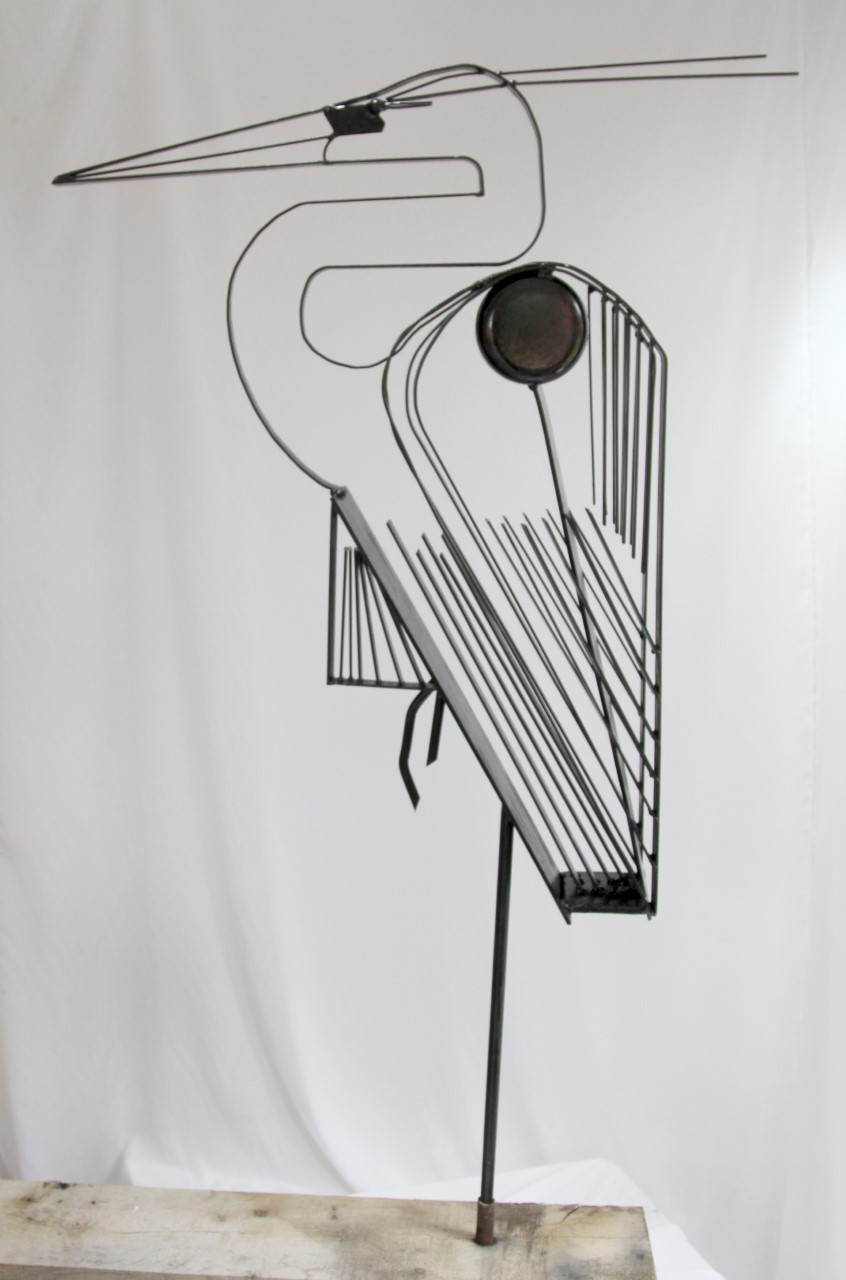 Elizabeth Cooke
Control Tower Gallery, 1 Tower View and 30 Tower View
I am a sculptor who works mainly in steel, using the natural world for my inspiration. I draw with steel: getting to the essence of my subject and bring out what I see so that others can share my vision. I'm not interested in padding. I want my art to get straight to the point. My work is sometimes figurative, sometimes abstract, but more commonly stopping at a point somewhere between. I like to make pieces that look abstract from some angles; realistic from others. I studied dance at the Laban centre. At the time, it was difficult to chose between art and dance and my choice meant I've come to be a professional artist later in my life. My dance training infuses my work with a choreographic sense of direction, line, movement and spacial connection. I start by exploring a piece in 2D often using print and wire. Once I'm happy, I start to draw with steel. I use virgin steel as well as a shed-full of recycled metal. Whatever inspires me to include it in a sculpture or to create something based on the feelings I have about bits of discarded ironwork. I have always loved cutting and sticking. Working in steel allows me to do this on a bigger scale. Weld a piece on, cut it off, adjust until I'm happy. I respond to the authenticity of the metal, trying not to dress it up as something it isn't. The wonder of the natural world and my experiences with wildlife drive me to communicate through art. As an introvert, I seek a quiet place in my sculptures – with a sparsity of line showing movement, capturing a moment in a bold, quirky and occasionally humorous style. Nature gives me a sense of well-being and I want my work to engender that feeling in my audience.
www. elizabethcookesculpture.wordpress.com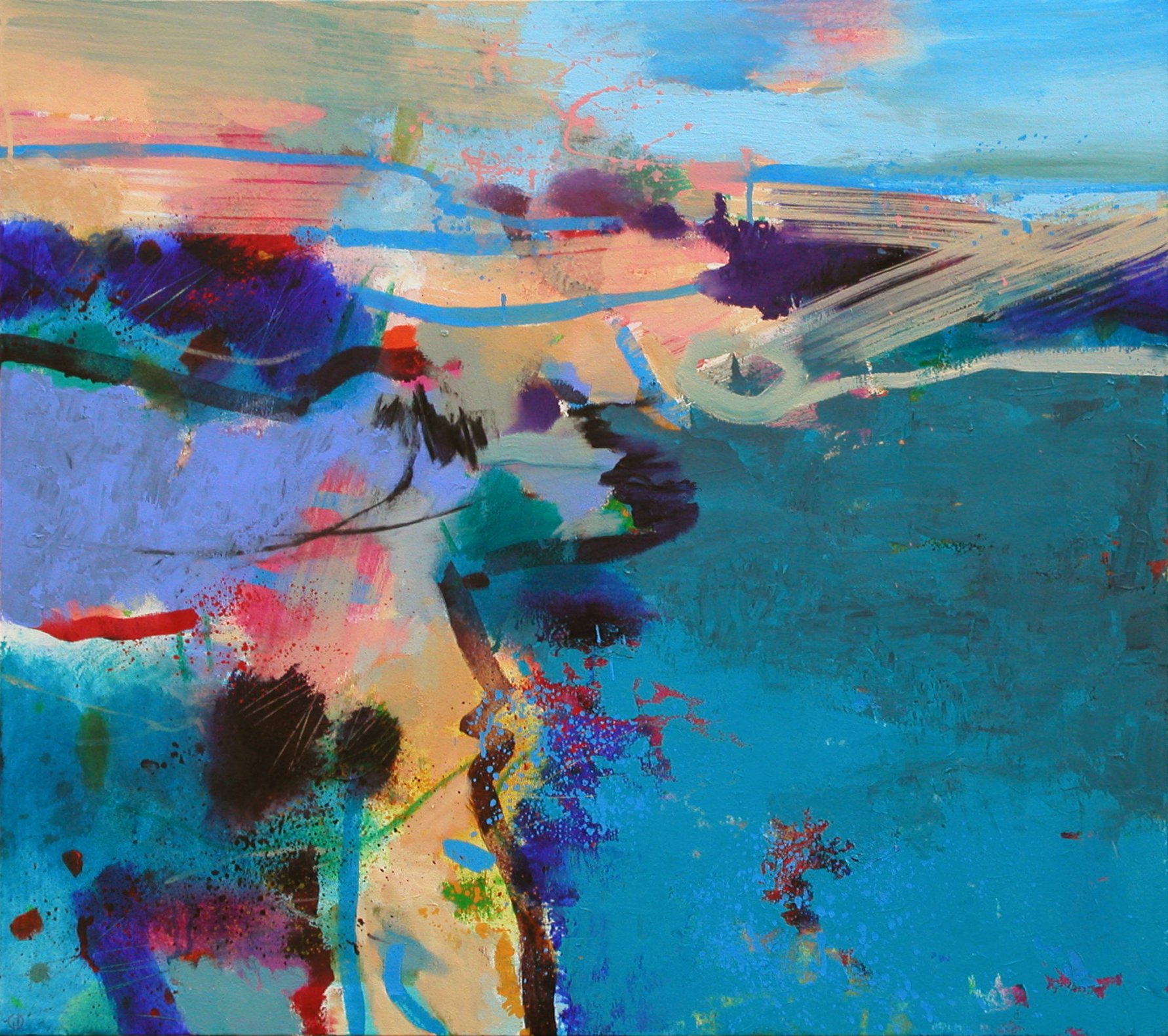 Gerry Dudgeon
Control Tower Gallery & 11 Tower View
Gerry Dudgeon trained at Camberwell School of Art, London (BA Hons Fine Art) and Reading University (MFA).
His recent work reflects an interest in vibrant colour and expressive mark-making and is based on the landscape of West Dorset, where he lives, and the coastline of the Chesil beach. He invites the viewer to find pathways through the paintings, often towards a source of light.
In the seascapes he investigates the way that light is reflected on water in a way which allows the underpainted colours to interact with the build-up of paint layers. Ultimately he wants the pictures to retain a freshness and looseness which conveys the excitement he experiences in painting them.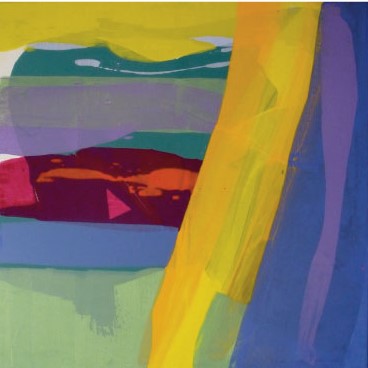 Rowena Comrie
Control Tower Gallery, 34 & 30 Tower View
Rowena Comrie
Rowena Comrie has worked as a professional artist for the past 30 years; in january 2010 she relocated from Aberdeen to Glasgow where she now works from Glasgow's Gallowgate Studios.
She was born in Southend-on-Sea, Essex, and in 1982 completed her BA(Hons) in Fine Art at Reading University where she embraced expressionist colourfield painting with confidence and passion.
She continues to develop this dramatic and emotive painting style saying,
"I make these works from a specific aesthetic point that personally expresses sublime elements of human experiences.  Over many years I have refined and developed my technique, a process that continues to challenge and intrigue".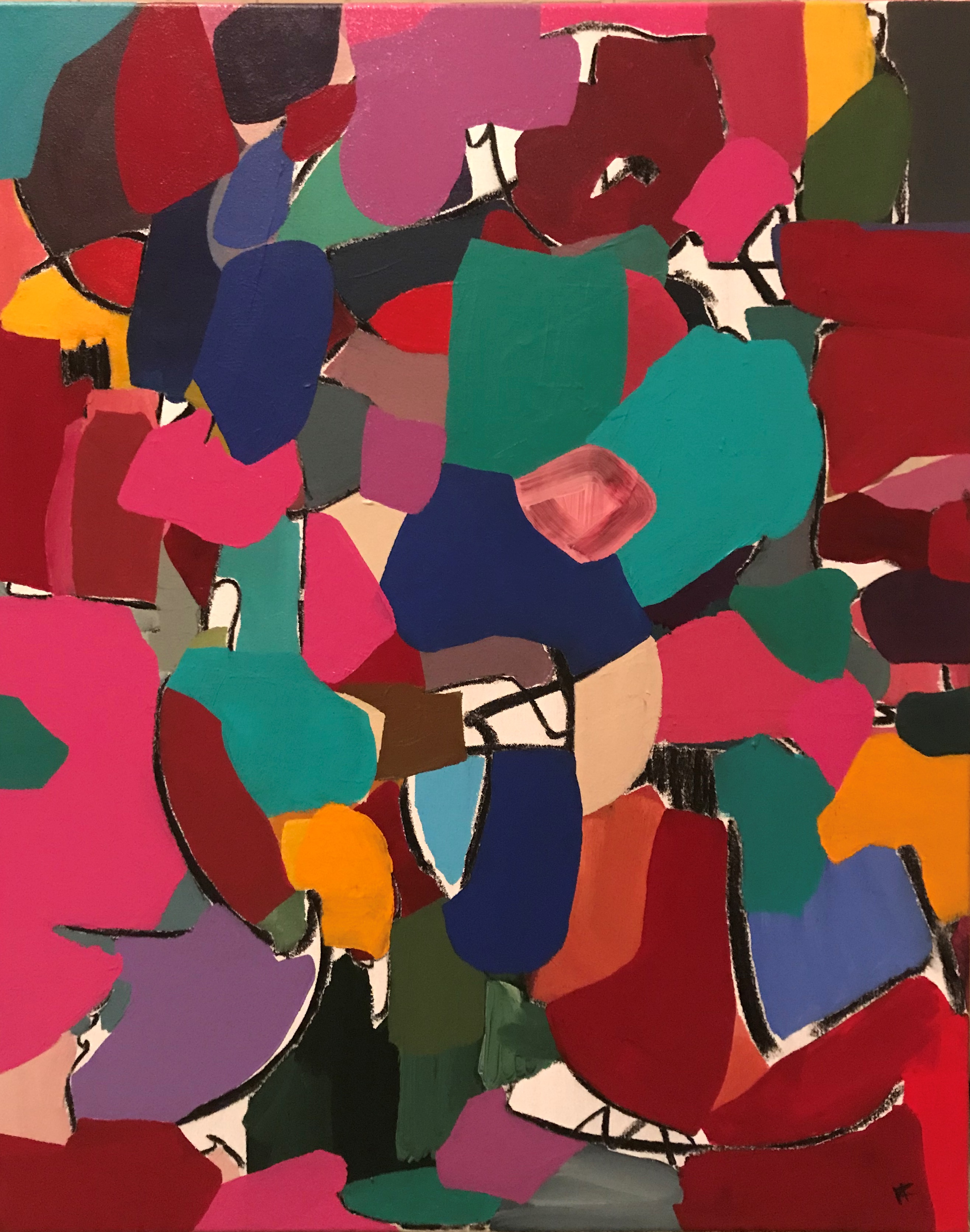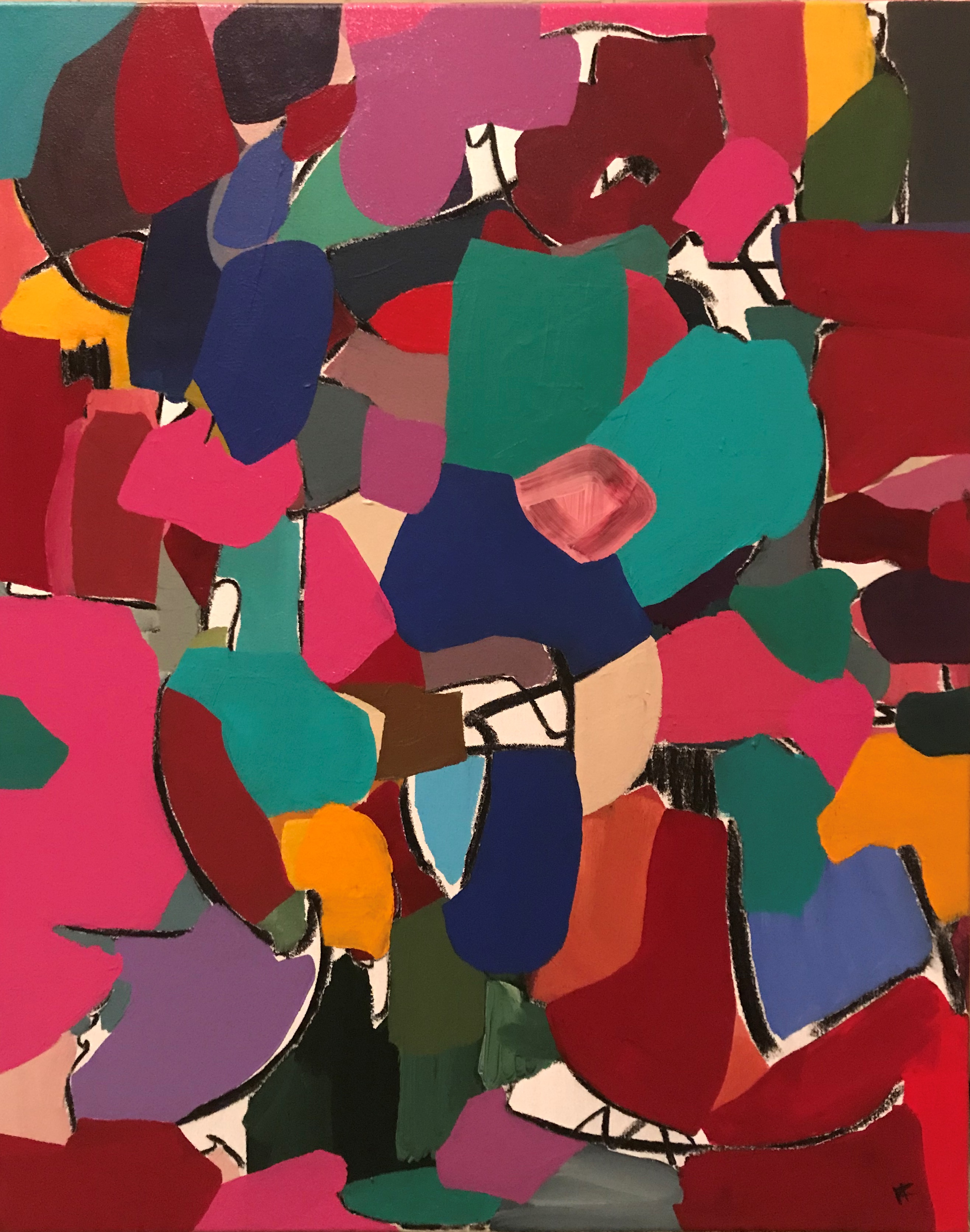 Rebecca Prout
17 Kings Hill Ave
Rebecca Prout
In my work I am currently exploring the expressive potential of painting and drawing.The nature of the lines, clean or scumbled, lyrical or direct, together with varied colour and facture characterise my visual language. I use contours to distinguish expressive relationships, juxtaposing colours, their chroma and value, thus distorting the perceived depth of the work.
I have explored primitive and surrealist mark-making in the structuring of my work. The two-dimensionality of abstract expressionist colour field painting also informs my investigation of space. Scale is a key feature, influencing the reading of the work; with a large painting the audience navigates the nuanced surface, simultaneously consumed by the holistic presence of the piece.