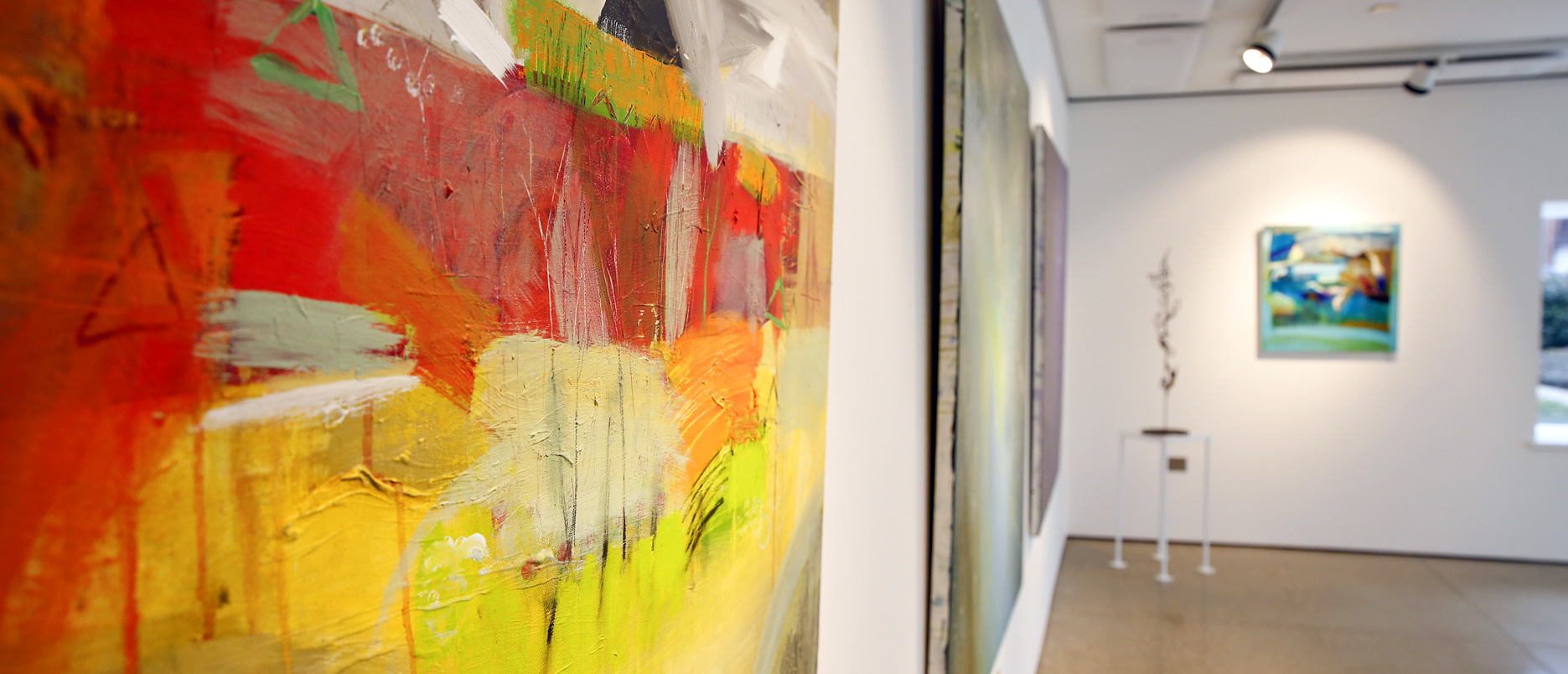 DISCOVER
CURRENT EXHIBITION
Exhibitions are updated three times a year in office buildings and in The Control Tower to create a fresh and changing environment, which it is hoped stimulates an interest in art for employees and visitors. The artists who generously loan their work benefit from increased exposure and potential sales.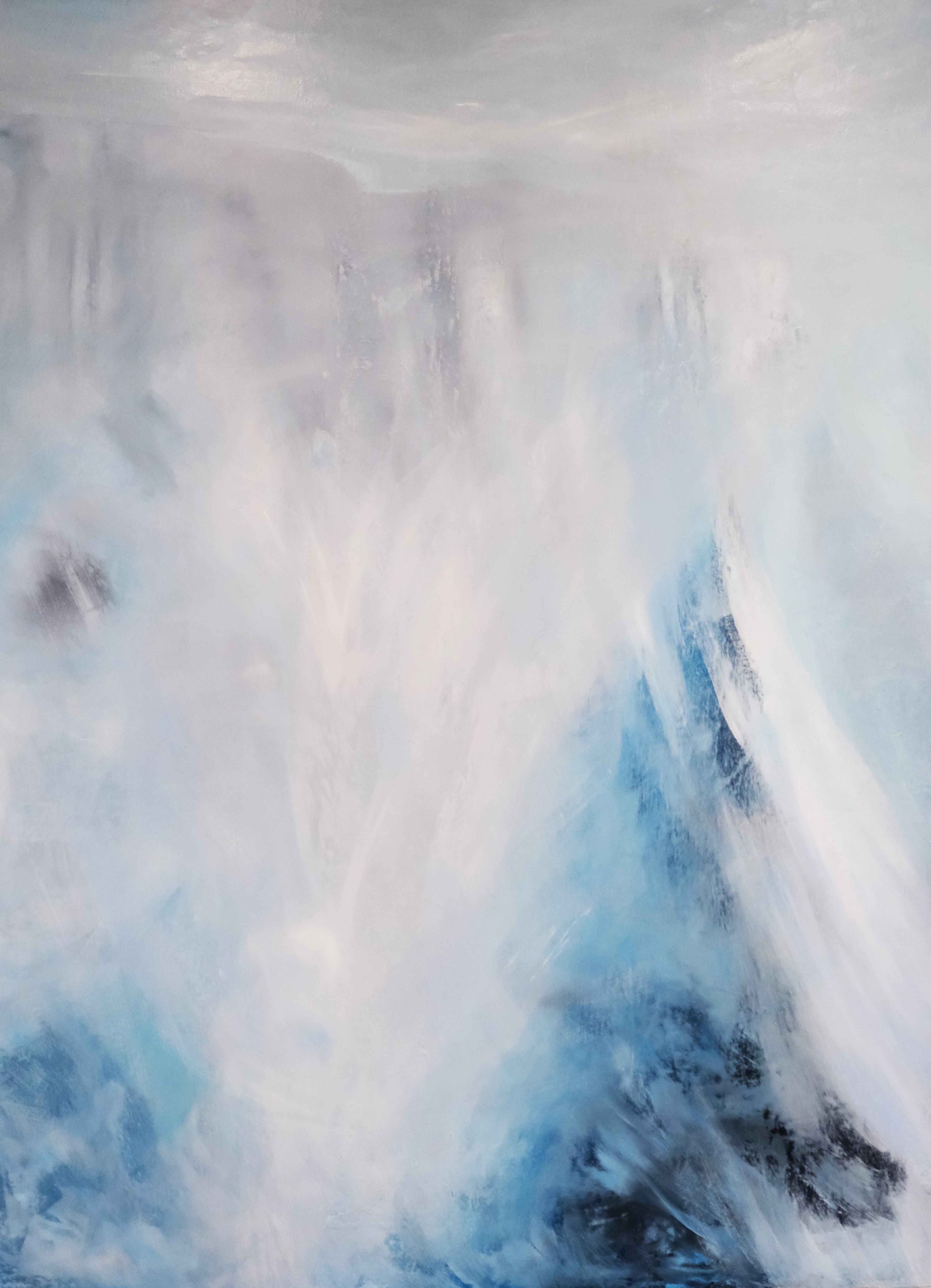 Adele Gibson
Control Tower & 6 Alexander Grove
I am essentially a landscape painter and love to spend time in nature.  My paintings aim to re-present the beauty of our natural world.  However, we are living in the Anthropocene and my work engages with this theme of present history: a time where the impact we are having on the planet is being considered within the longer history of the earth.  At this moment in time, how we negotiate this impact alongside our desire for progress and consumption will affect our very survival.
In July 2018 I participated in the Arctic Circle residency, a 3-week art and science expedition to Svalbard in the high Arctic.  This experience, together with time I have spent in Iceland and the Amazon basin has provided the inspiration for my work.
​I use different media in the making of my work however the theme and concerns are consistent.  My work in the environment uses nature directly: for example, the movement of the tide and the melting of frost together with carbon and iron oxide pigments.  These pieces aim to make lasting visible traces of these ephemeral processes.
​I draw inspiration for my paintings from historical aesthetic of the Northern Romantic tradition and I use the motifs of fire and ice as evocations of the environmental theme.  I consider my work to be elegiac in that it stems from my sadness for what we have already lost and my concern for the fragility of what remains.
Adele Gibson has painted professionally since completing her MA in Fine Art at the University of Brighton in 2017.  She represents herself alongside having work in galleries across the South of England.
www.adelegibson.co.uk      Instagram:@adelegibsonart

Bobby Boud
Control Tower Gallery & 30 Tower View
TIDE by Bobby Boud
New works featuring a series of seven inspirational paintings by Bobby Boud, inspired by the relentless inbound and outbound journey of the tide
Bobby Boud uses the medium of oil on canvas to encapsulate the place where the sea meets the land, one of constant change and visual magic. TIDE is about a landscape at your feet, small forms which at first glance seem insignificant, intimate, and often unnoticed. These observations through abstraction and conflation of scale, have become the focus of this series of works. As with the tide, the paintings come and go often beginning with a riot of colour and paint which is moved removed and replaced on the journey. The works are named after craters on the moon, the controller of the tide.
Bobby Boud has a BA (hons) in Fine Art and a diploma in printmaking. Her work is a mixture of observed visual facts, memory, imagination and composition. Exploring a subject through works in series enables variations and intimate details to expand over time.
Instagram: @bobbyboud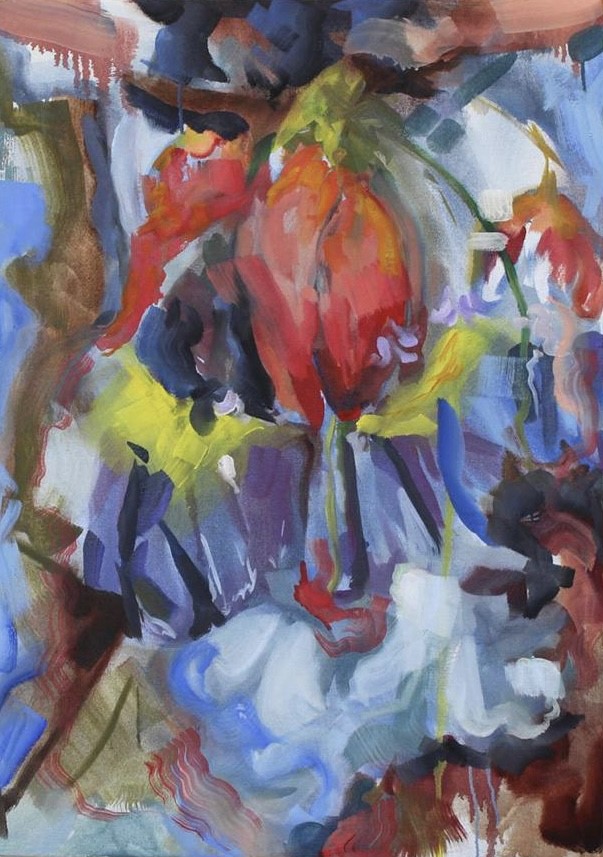 Emily Maguire
Control tower Gallery & 11 Tower View
"In my work, abstraction and figuration make playful accord, where the flower motif exists as the grounding component, and abstraction exists as the aftermath. Through my painterly renderings I commit myself to explore the possibilities of the flower and freeing it from its familiar contexts, creating an image that goes beyond something recognisable. My energetic arrays of sweeping and excessive application of vivid colour aim to evoke more than the literal representation. The distinction between the real, the decorative, and the imaginative become blurred, where the motif becomes the key to articulating emotion. I allow it to transform into an extension of my identity, as a young woman flourishing into adulthood."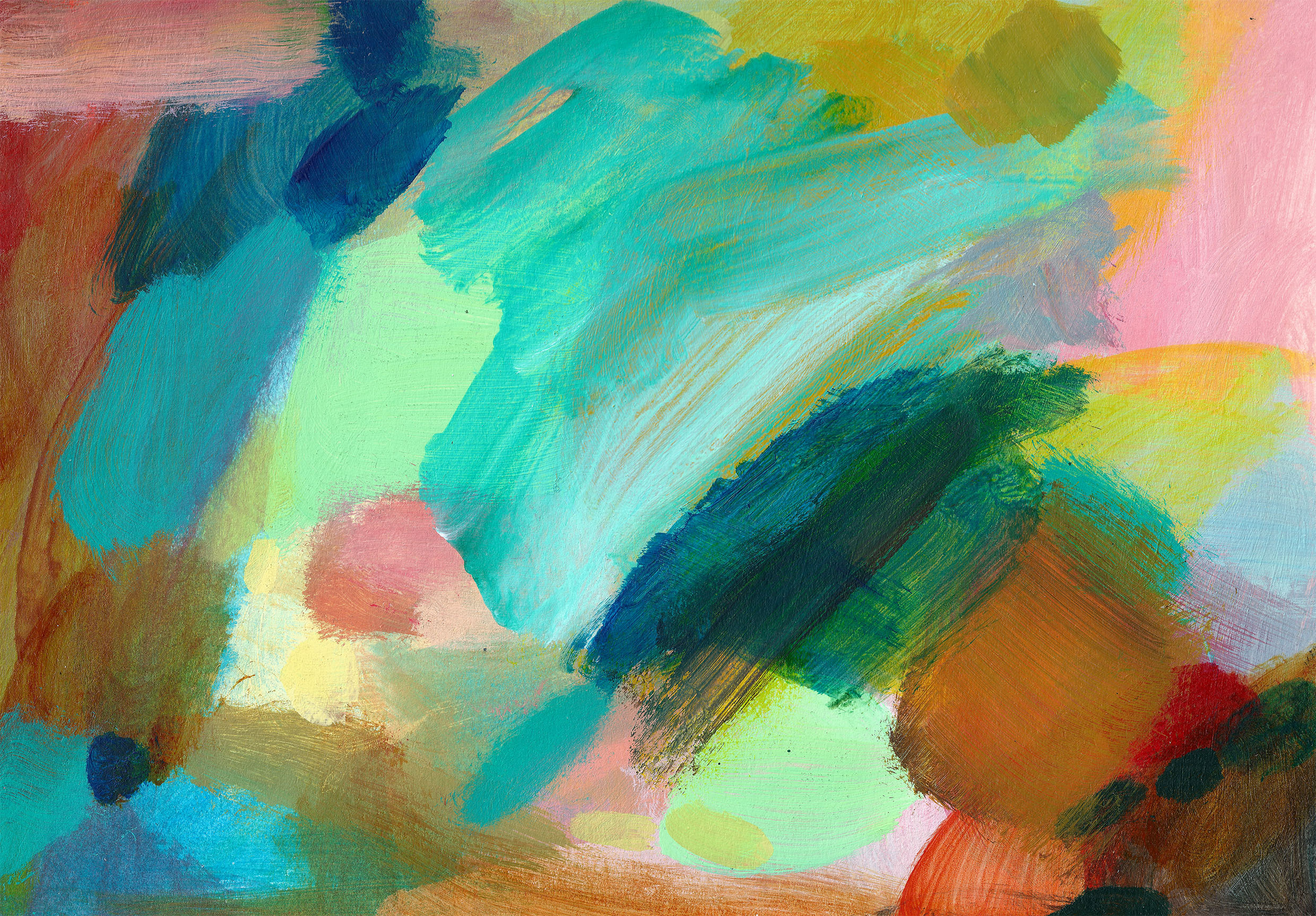 Emma McGowan
Control Tower gallery & 39 Kings Hill Ave
Colour is a key element of Emma's artistic practice. Working alone in the silence of her studio, mixing colours and laying down marks, Emma created this series of acrylic paintings on paper by working on multiple pieces in turn, moving from one to another and responding to the colour relationships as they developed. Each piece is intended as a place to let the mind and eye wander and then rest, evoking the deep quiet joy felt in the making, and the peace of those places in nature that are imprinted on our visual memory.
www.emmamcgowan.co.uk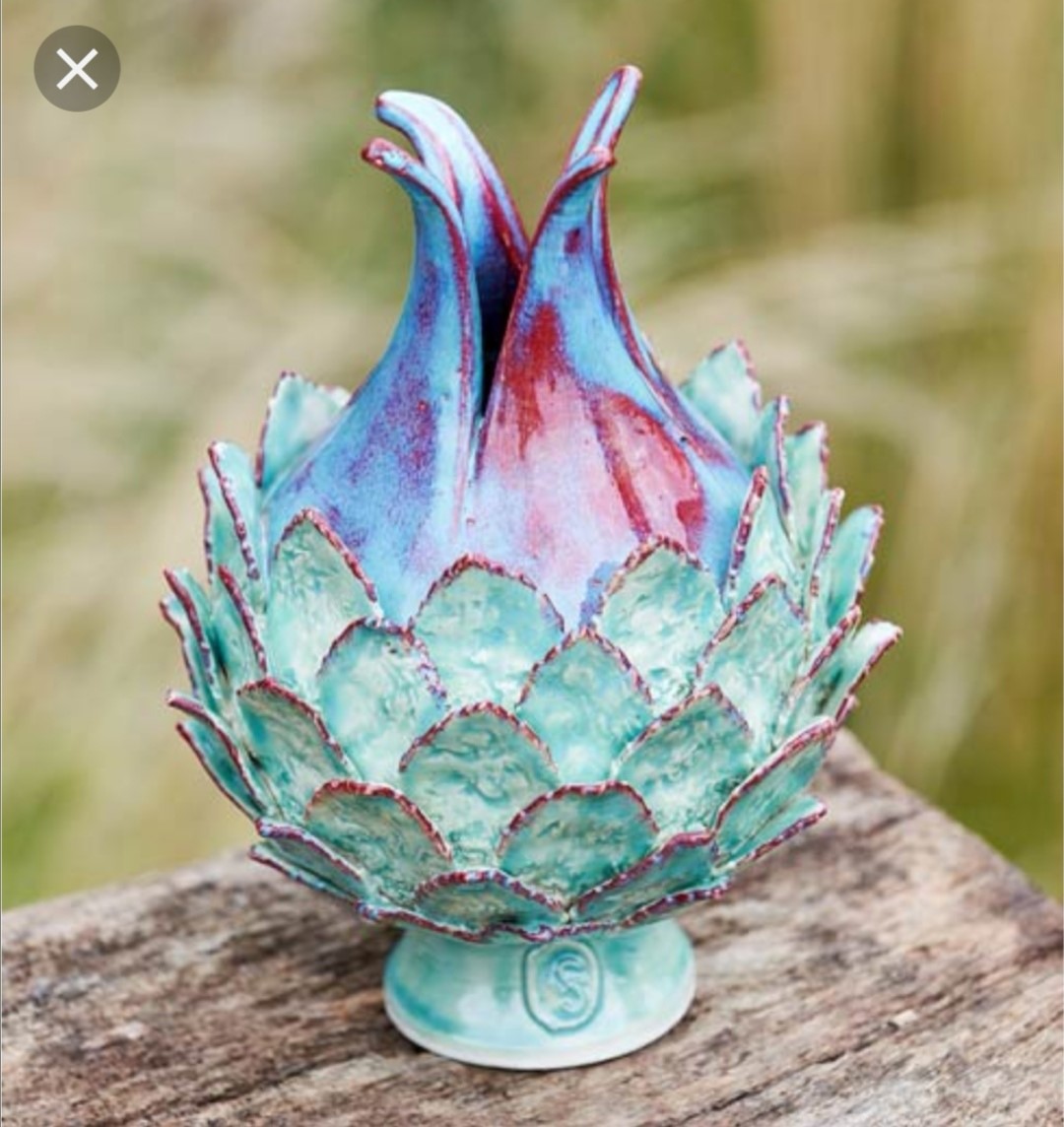 Frances Doherty
Control Tower Gallery
From 1986 to 1996 I owned a restaurant in Brighton and sold it when I became hooked on ceramics at an evening class. So that I could study the subject further. I spent five years at college, studying photography and plastics as well as ceramics. When I graduated in 2001, I took out a lease on workshop premises in Hove, and sublet spaces to other artists/craftspeople. Since then I have exhibited and sold my work at art fairs and galleries throughout the British Isles. In 2004 I won an award for Best Newcomer at BCTF, and have written features for their magazine "The Craftsman'. I took a post grad in teaching and learning in HE, and have worked part-time as a tutor at Northbrook College, Brighton University and HMP Ford.
My inspiration comes from flowers and plants that we see all around us, in gardens, fields even cracks in the pavement. I particularly love the secret worlds inside these flowers, in the patterns and textures hidden away that give a continuing sense of promise and renewal.
Until 2005 my work had been mainly in the domestic & functional arena, but then I decided to work on larger, often one off, sculptural pieces. So far, I have concentrated on the forms of seed pods and fruiting bodies which ties in with my earlier work, but which looks completely different.
I like to play with scale and will often imagine the size that a plant must appear to an insect…what is it about the flower that attracts or repels?  Often I will scale my sculpture up so that we can have an 'insects eye view' of it.
I work in stoneware, throwing the basic shape of the sculpture, then I alter and model onto it. This gives me a certain speed and control which is the way I prefer to work. My pieces are high fired so that they can go into an interior or exterior environment.
My glazes are chosen to compliment the form and are often slightly chrystalline or irradescent, this makes the pieces glow.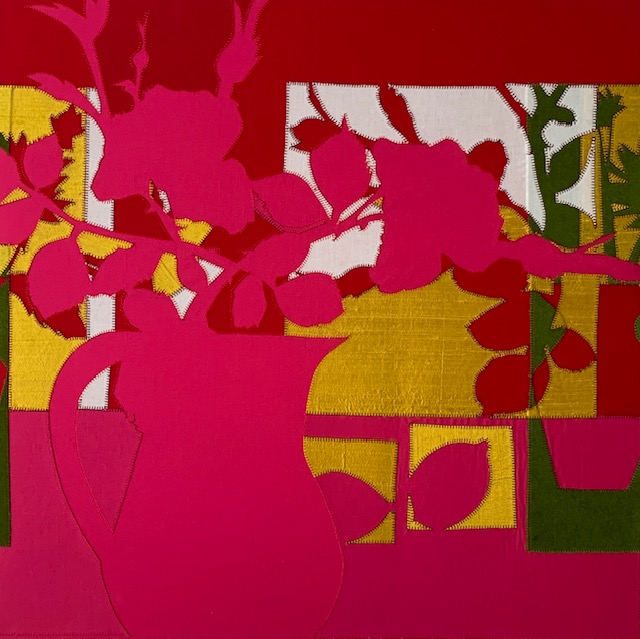 Linda Abrahams
Control Tower Gallery & 39 Kings Hill Ave
My work is inspired by music, dance, reading and my latest work shown here is from observing my garden. I am interested in the negative space and the shapes made by that space . The quote by Mondrian – " empty space has no other function than to make life possible " is what made me want to look at that " empty" space. I am not sure " negative" or "empty" are the right words – I agree they make life possible but I think the Japanese concept of Ma is morecomprehensive when describing the space. It can be a physical as well as psychology space . It is a small word but has a huge meaning in all aspects of life.
I am an artist whose medium is textiles. I use my textiles like a painter uses paint . I think of velvet as my oil paint, silk as watercolour and cotton as acrylic. My work is made from big, bold and colourful Ma shapes which I stitch to a fabric and then stretch onto a canvas, like a painting.
I think Ma is a fascinating subject and because it applies to so many aspects of life I am excited to explore it more within my work. I am looking forward to exploring the silence between the sounds for my next project.
Instagram : lindaabrahamsartist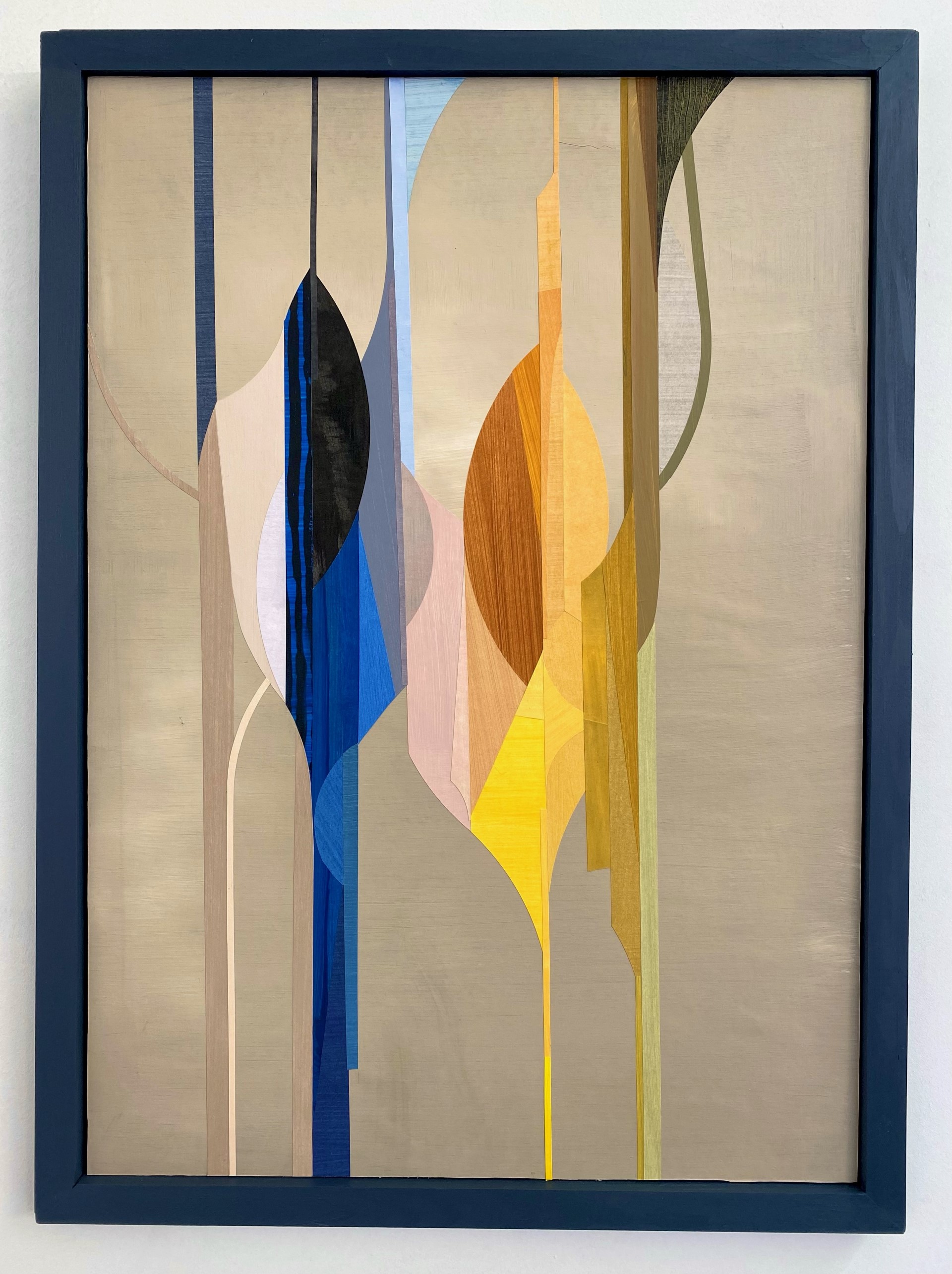 Rebecca Angel
Control Tower Gallery, 35 & 39 Kings Hill Ave
Rebecca Angel studied fashion and textiles at the University of Brighton in the 1990s, and has been working in the fashion and textile industry ever since. In her art, Rebecca acknowledges the wasteful processes of the fashion industry and the fact that she, as a textile designer, is complicit. For this reason, Rebecca eschews virgin paper, trying instead to repurpose the materials and surfaces that are both source and byproduct of her own textile design work.
In recent years, Rebecca has begun to diversify her practice, engaging with new opportunities to develop her own multi-disciplinary approach to art. She is based in the Red Herring Cooperative in Portslade.
"When the pandemic slowed the industry and paused the constant turnover of designing, I took time to create art works for their own sake. I felt I was allowed an opportunity to experiment visually without commercial influence or customer direction so I used what I had available in the studio to build pieces using collaged colour: old portfolio mounts, leftover paint, backs of drawings."
From a distance, her colour-based art suggests clarity and pureness of form; a closer look reveals subtle memories hidden in rough edges and layers of paint. Rebecca finds that collage offers her structural opportunities where the process is as important and significant as the end result, which can sometimes be re-translated yet again into a new and original textile.
rebeccaangel.co.uk
Instagram: @rebeccaangelcreative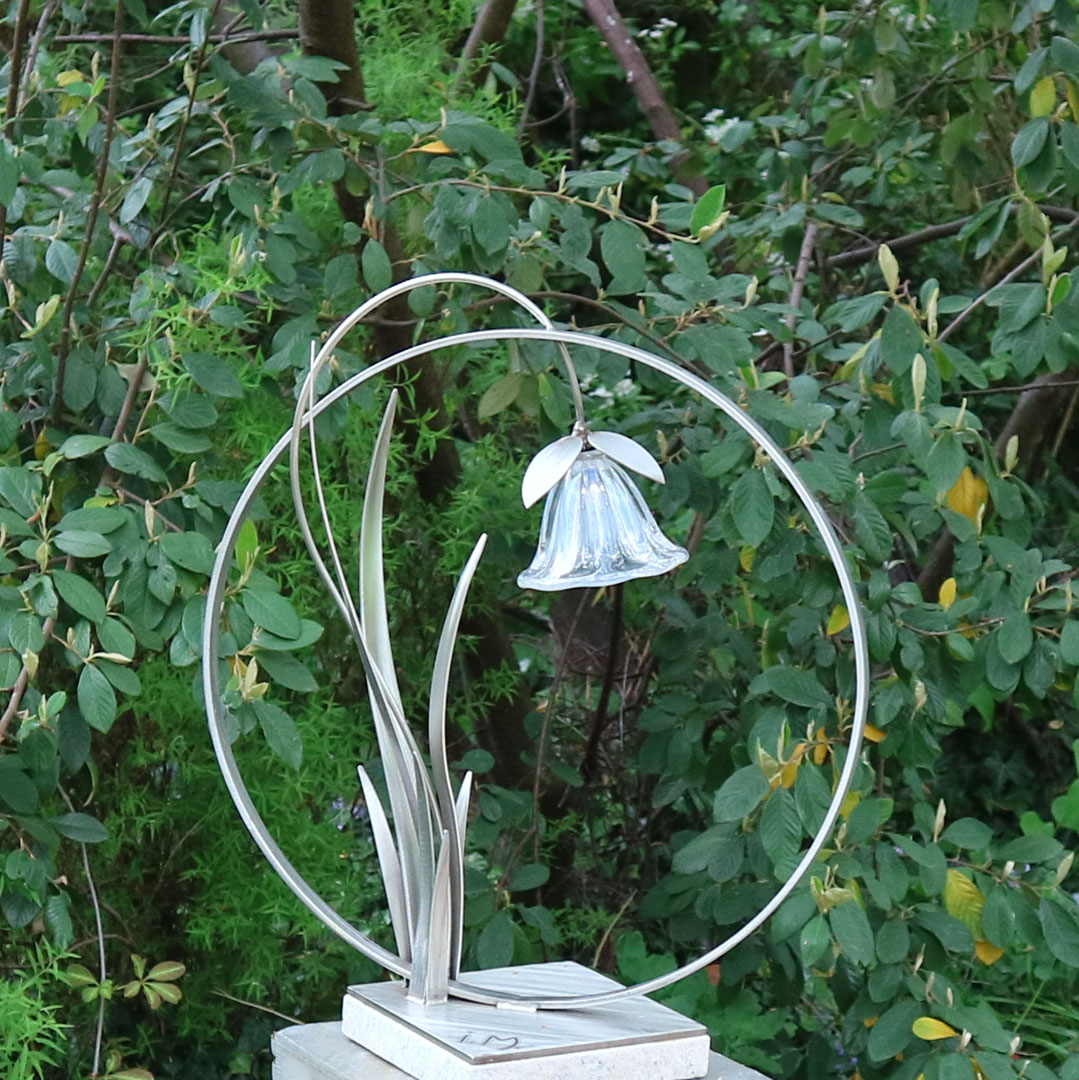 Ian Marlow
1 Tower View, 11 Tower View & Control Tower Gallery
Ian Marlow is a Somerset based sculptor, specialising in dynamic artworks from stainless steel, glass and bronze. With inspiration drawn from nature, Ian creates artworks that sit comfortably within any setting from formal gardens to minimalist urban landscapes. A member of the Royal Society of Sculptors, Ian Marlow is invited to exhibit widely and is regularly commissioned by private and corporate clients.
www.marlowsculpture.co.uk