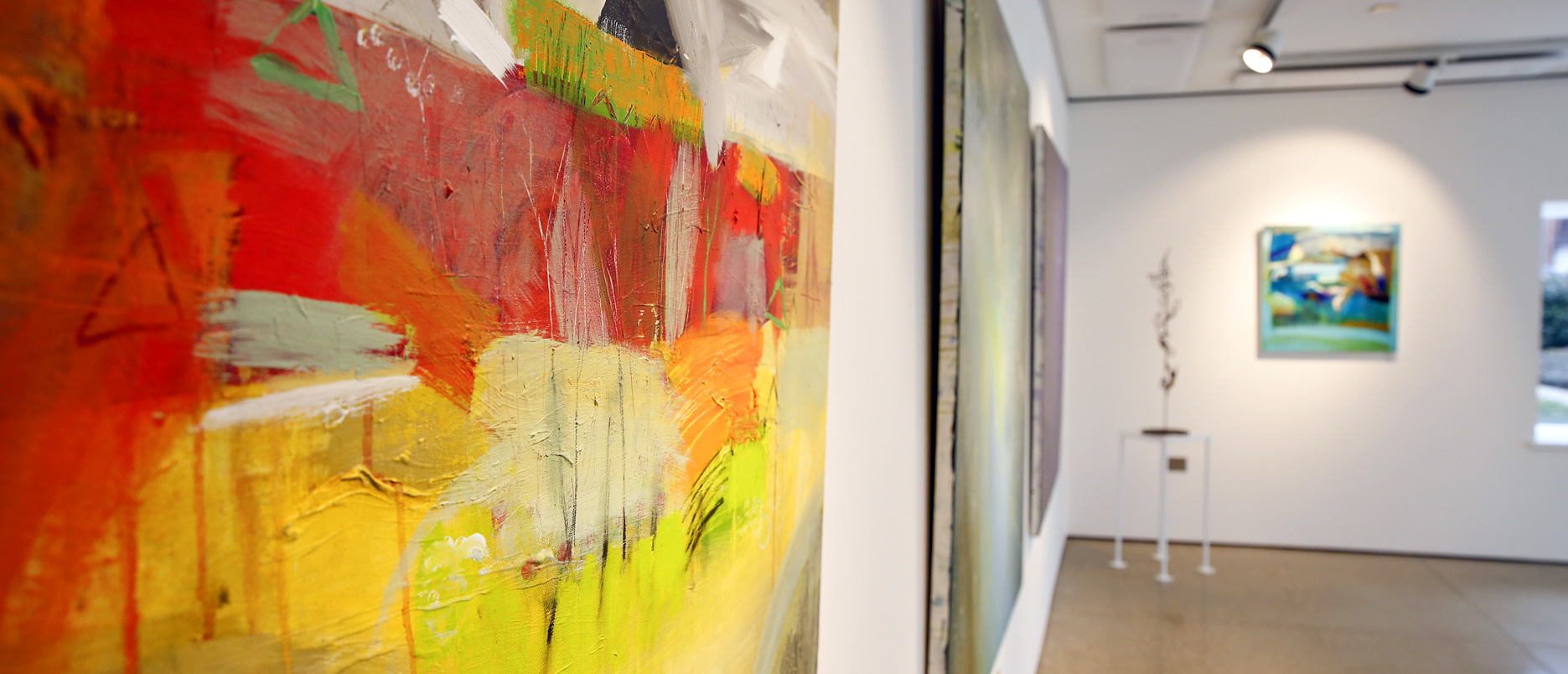 DISCOVER
CURRENT EXHIBITION
Exhibitions are updated three times a year in office buildings and in The Control Tower to create a fresh and changing environment, which it is hoped stimulates an interest in art for employees and visitors. The artists who generously loan their work benefit from increased exposure and potential sales.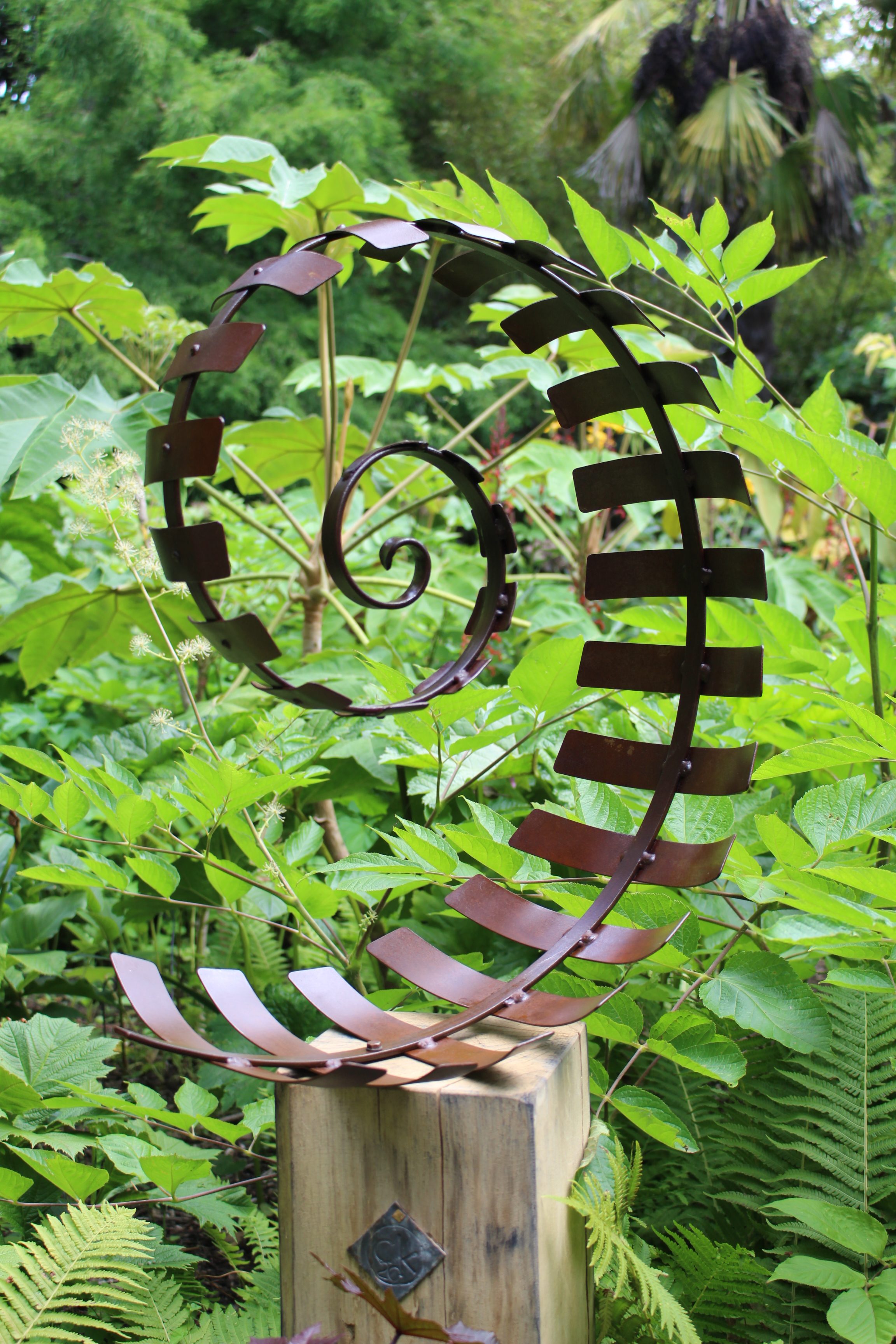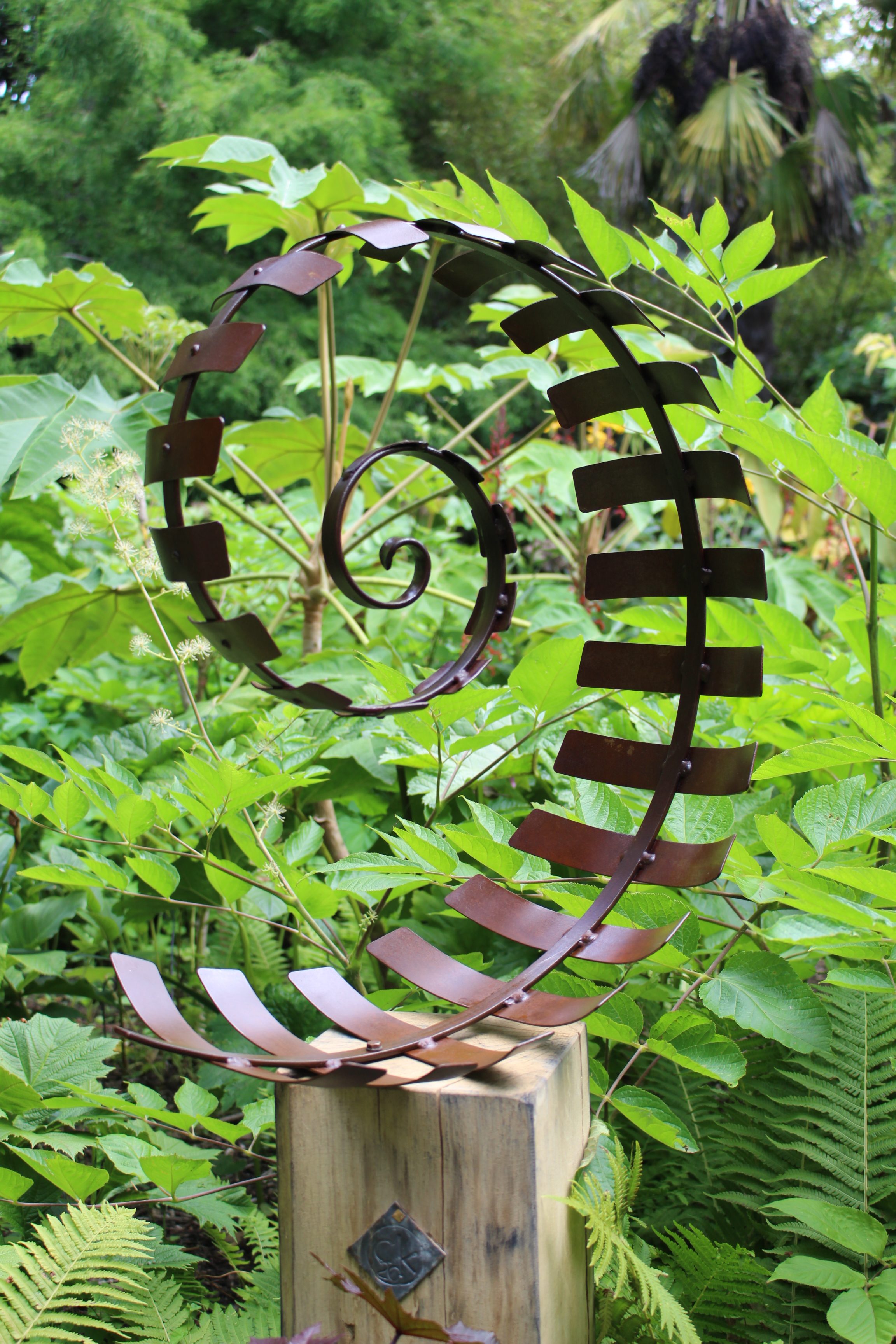 Chris Kampf
Control Tower Gallery, 1, 11 and 30 Tower View0
Chris studied at Leicester Poly gaining a BA Hons in jewellery and silversmithing back in 1988. Designed and made jewellery for three years before joining The Steelworks, which gave Chris a wonderful opportunity to weld various designs: desks, wall art lighting and a selection of weird animals, all from the Camden Lock gallery. In 1993, a move to Covent Garden and the creation of Rex the Mouse brought a whole new audience which has kept Chris busy for the best part of twenty five years, with Rex being sent all round the world.
After making so many small Rexes, Chris dipped his toe into much larger garden sculptures, for a change of scene. The success of the first show at Stone Lane Gardens in Devon inspired Chris to create more designs and start up a website. The show also brought interest from galleries and other sculpture exhibitions. Over the next few years, Chris has taken part in a wide range of events across southern England including Hampton Court, RHS Rosemoor and Delmore Arts, while having work on display in several galleries.
Based on natural forms, Chris' simple interpretation of leaves, buds and flowers in steel, stand out well against a garden backdrop. His designs have 360 degree interest, framing plants and buildings, while the steel surfaces reflect both sky and vegetation. Using either a 'rustic' or a flashy shiny stainless finish and sometimes a combination, Chris' sculptures can suit many situations, indoors or outside.
The making of these sculptures has taken several twists and turns but Chris has settled with mig welding the strips of mild steel to a thick steel rod or rebar, bending and sanding before welding on to a steel plate.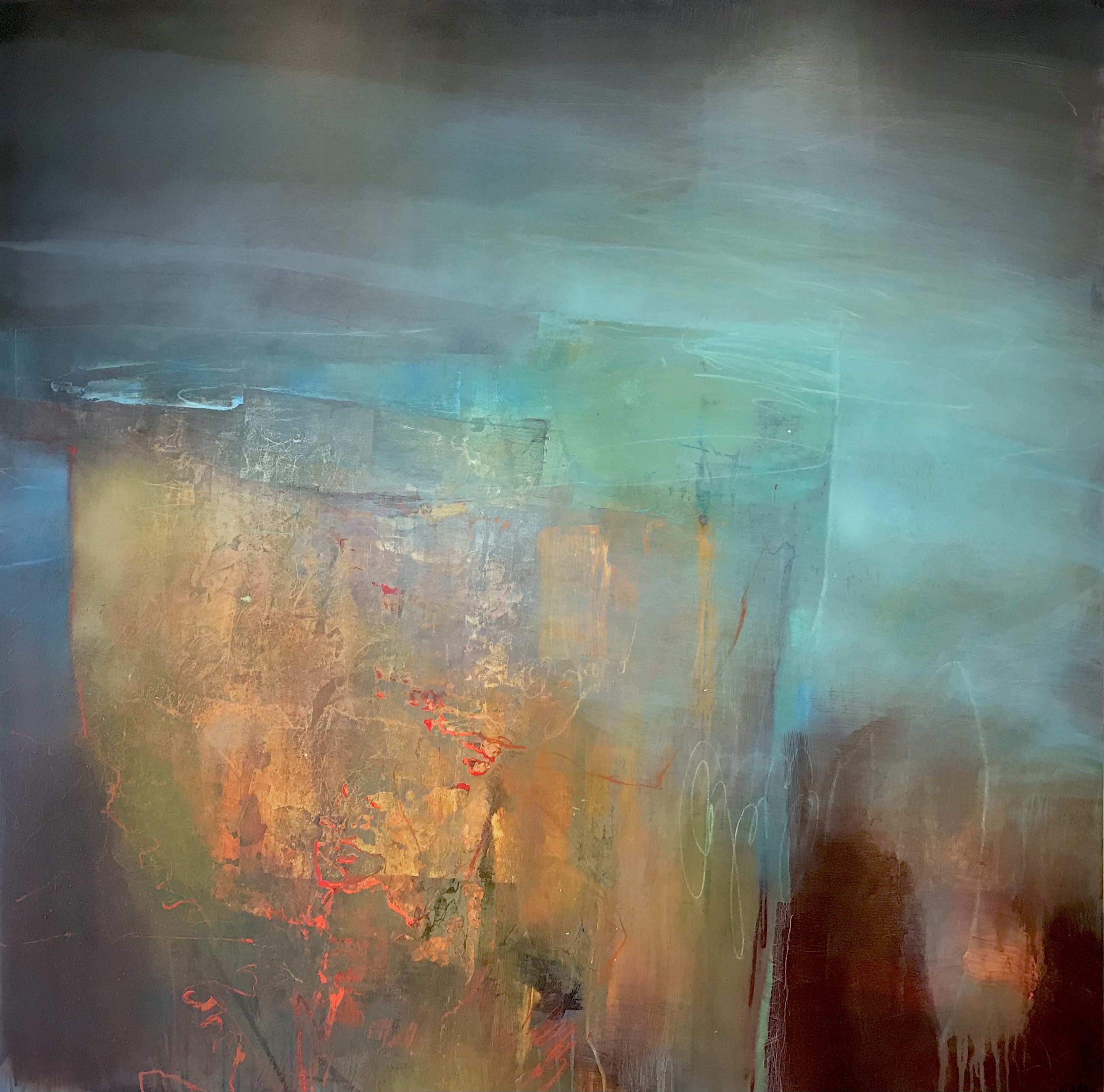 Clare Maria Wood
Control Tower Gallery & 30 Tower View
I see my paintings as a way of conveying an emotional connection to the land, sea, and sky. I use sensitive mark-making to transcend the viewer to space beyond physical sight, or human knowledge. Perhaps a place of nostalgia, of joy, of grief, of what it is to be human.
I walk by the coast each day, in all weathers with my dog, Poppy. To be at the edge of the elements, where light shifts and dances; reliant and yet independent of the darkness, is what inspires me to paint.
I work intuitively, to begin with, on several pieces at the same time, which allows me to see what is working and expand on ideas. I don't have an endpoint in mind but see the development as a journey of rhythm and space. I build up glazes of paint, drawn marks and hand-painted collage and then sand into the surface to reveal glimpses of hidden marks and suggested shapes. As each piece develops, I then take a more critical approach, refining areas whilst keeping the energy of the initial marks. When the balance and harmony feel 'right' then it is finished.
My day usually ends with another walk at sunset which gives me food for thought for tomorrow's developments.
Clare studied Fine Art Painting at Wimbledon School of Art in the late 1980s, continued with post-graduate studies at Goldsmiths University and recently completed the Curwen Printmaking Diploma. She exhibits in galleries around the UK as well as at art fairs. She has paintings in collections in the US, Australia and around Europe. Clare's work has been selected for shows at the Royal Academy of Arts, The Royal Institute of Painters in Watercolours and the Society of Women Artists.
She recently completed a new collection, Luminous Seas, which you can view online. She is currently working on a new collection for the Artists Open Houses in May/June.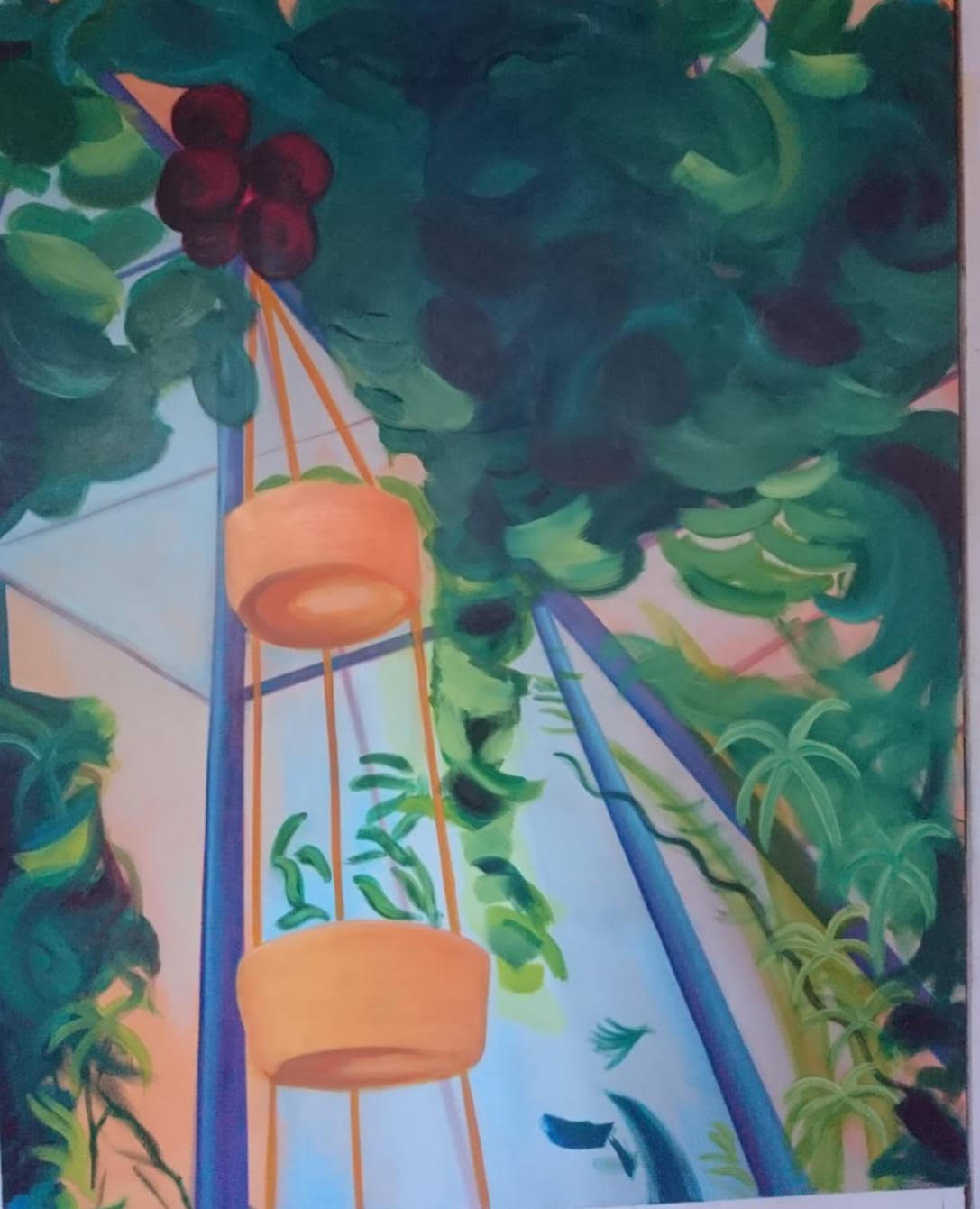 Denise Harrison
Control Tower Gallery & 30 Tower View
The landscape is the main subject of my painting. I am interested in painting conservation spaces, eco systems and places of sustainability, especially hidden or forgotten spaces that I stumble across on my walks.
I make sketches, take photos, research, and just spend time in every space that I paint and then take this back to my studio where I create the painting using oils or acrylics. I love the physicality of paint, it allows me to explore the landscape further through mark making, chance happenings and colour. I studied BA (hons) Painting and recently an MA Painting at Wimbledon, UAL, so research is incorporated into my practice.
www.deniseharrisonart.com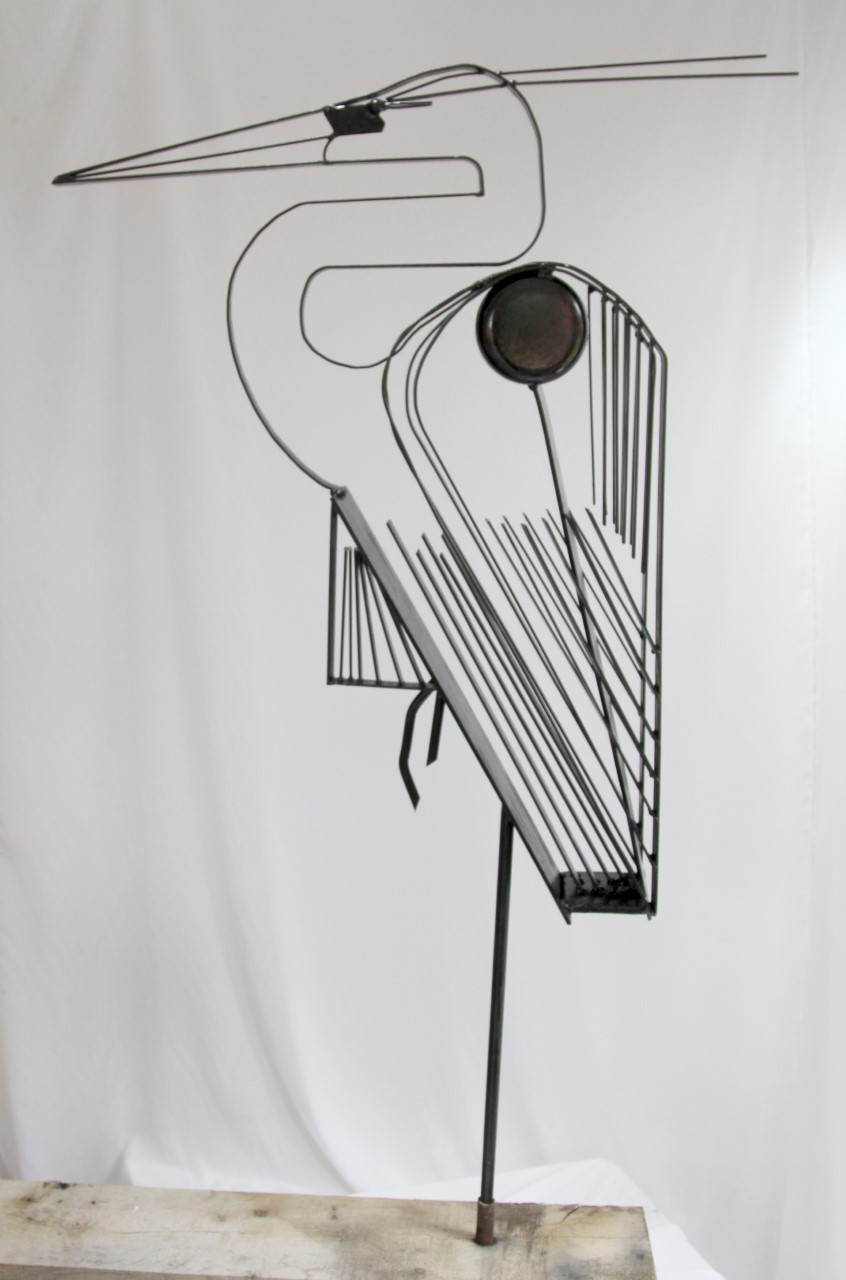 Elizabeth Cooke
Control Tower Gallery, 1 Tower View and 30 Tower View
I am a sculptor who works mainly in steel, using the natural world for my inspiration. I draw with steel: getting to the essence of my subject and bring out what I see so that others can share my vision. I'm not interested in padding. I want my art to get straight to the point. My work is sometimes figurative, sometimes abstract, but more commonly stopping at a point somewhere between. I like to make pieces that look abstract from some angles; realistic from others. I studied dance at the Laban centre. At the time, it was difficult to chose between art and dance and my choice meant I've come to be a professional artist later in my life. My dance training infuses my work with a choreographic sense of direction, line, movement and spacial connection. I start by exploring a piece in 2D often using print and wire. Once I'm happy, I start to draw with steel. I use virgin steel as well as a shed-full of recycled metal. Whatever inspires me to include it in a sculpture or to create something based on the feelings I have about bits of discarded ironwork. I have always loved cutting and sticking. Working in steel allows me to do this on a bigger scale. Weld a piece on, cut it off, adjust until I'm happy. I respond to the authenticity of the metal, trying not to dress it up as something it isn't. The wonder of the natural world and my experiences with wildlife drive me to communicate through art. As an introvert, I seek a quiet place in my sculptures – with a sparsity of line showing movement, capturing a moment in a bold, quirky and occasionally humorous style. Nature gives me a sense of well-being and I want my work to engender that feeling in my audience.
www. elizabethcookesculpture.wordpress.com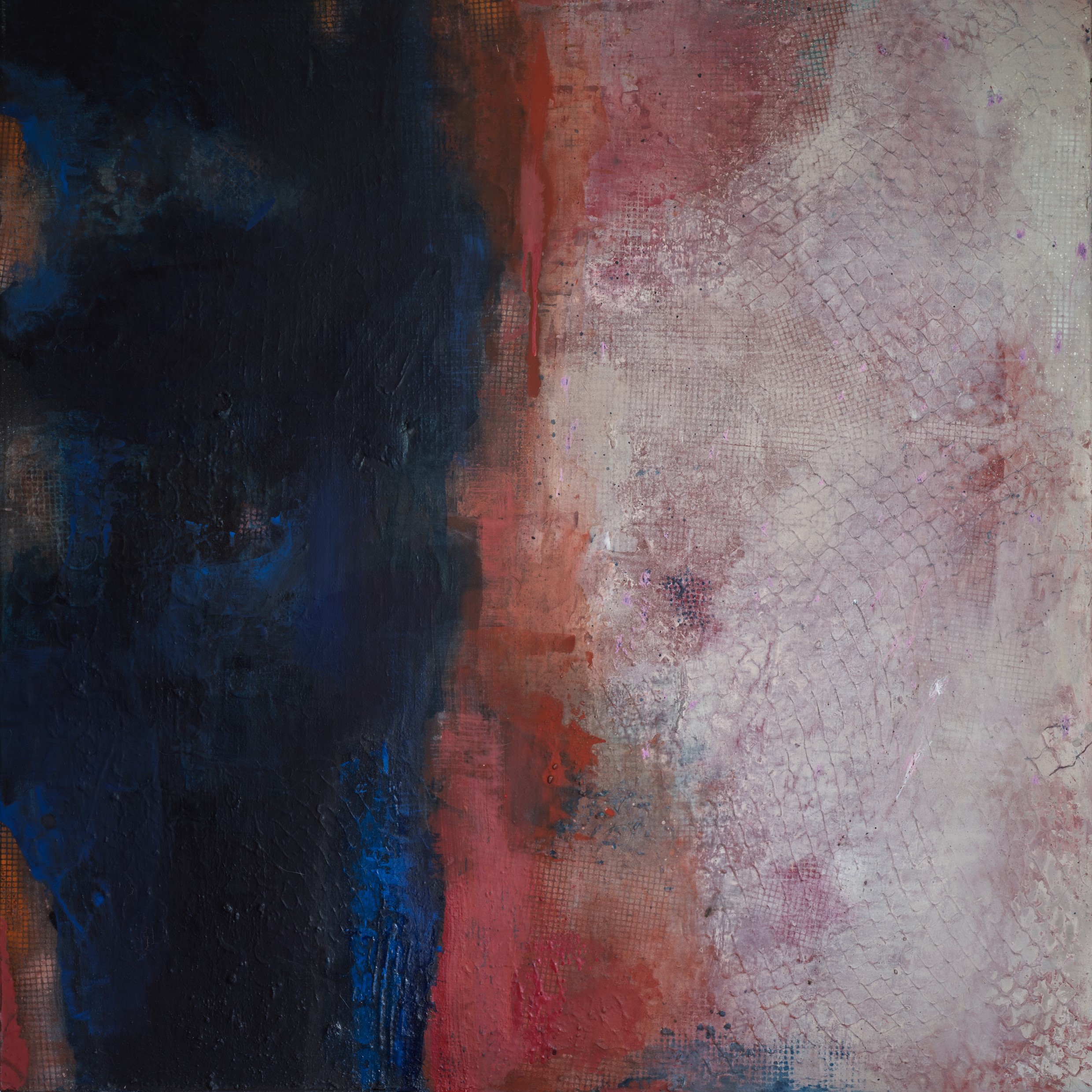 Jules Allan
Control Tower Gallery & 39 Kings Hill Ave
I am a Sussex based artist who has also practised as an art psychotherapist in the NHS for over twenty years. My dual practice as an artist and psychotherapist inform one and other: both reflect an enduring passion for using art as a way of giving form to what is unformulated, expressing things that may feel impossible to put into words.
I am interested in issues of the vulnerability of both the human body and psyche within its environment. Although my work has a human presence the forms I use are not human forms as such. They relate to the body rather that representing it directly. The forms are fragile or tough, are blurred or have edges, are separate or merged, each painting establishes its own identity.
My paintings are created in a constant state of revision, by layering, scraping and dissolving the paint I hope to distil the essence of a state of mind. The process is important, with the materials being subject to actions like being torn, stitched, layered and wrinkled. The surface of the paintings reveals the process of layering involved in making them, concrete, plaster, raw canvas and delicate stitching combine with monochromatic areas of black or grey as well as lighter tones that can refer to the human body. Each piece has its own mood, energy and atmosphere, I try and tune in to the feeling of the painting and let that feeling develop over a period of time.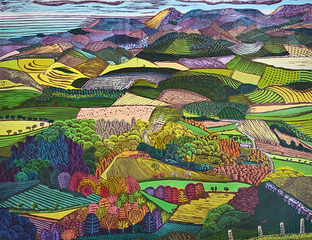 Liz Somerville
Control Tower Gallery & 35 Kings Hill Ave
Inspired by artists such as Edward Bawden, Rena Gardiner and Nikolai Astrup, Liz works with various forms of handcoloured relief print, sometimes using the more traditional lino but more recently, plywood and mdf board. They are mostly large, she finds it hard to work small, particularly with such monumental subjects. Also included are the drawings that inform and instruct her prints. These are either pen and ink wash or sgrafitto, a technique more like carving than drawing.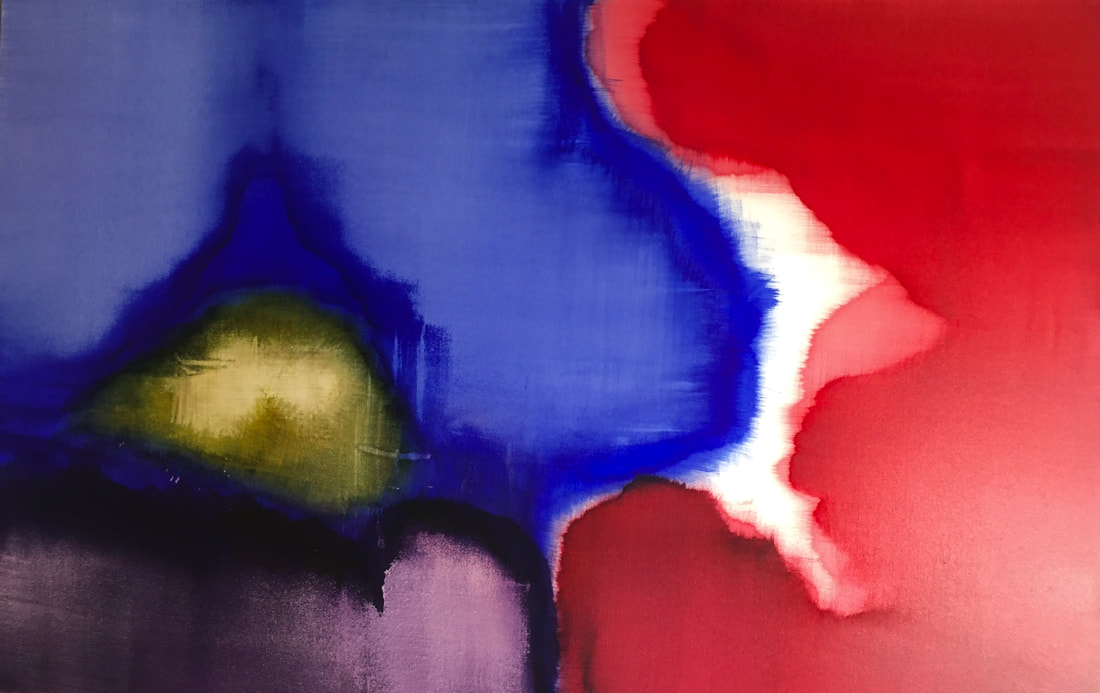 Sarah Needham
Control Tower Gallery & 1 Tower View
Sarah Needham is an abstract artist interested in the way there are pigment traces across our human history that reflect global interconnections. These traces offer material evidence of our histories without the slant of a particular historical written record, they are more open to nuance and the possibility of other voices.
Most of the work selected here is part of explorations into how historical and scientific events impact on our ways of seeing. The pieces from the "Making Decisions in the Dark " and "Alchemy to Chemistry" series explore how our ways of seeing are shifted by external factors such as technological change. Just as now, when the shift from real world to online and onscreen impacts on our point of view and perception of basic things like colour, the industrial revolution also shook up our perspective. These works are made with pigments that were based on ancient pigments that were then synthesised between the 17-1900s. These works include "Synthetic Colour, Shock of the New" , "Loosing You From Over The Sea", "The things You Brought Us From Over The Sea" and "Looking For a Way Out". At the heart of these paintings are questions about perception,  truth and lies.
Ochres, the oldest pigments in human visual culture sit at the heart of the works "North, ICI 2" and "Mars Red". In my work the fact that ochres have been used by people across the globe across all time has given them a poetic association for me for all things human. In "North, ICI 2 " ochre is combined with pthalo green, (developed by ICI in the twentieth century) .  "Mars Red" combines various reds from the history of painting building up a surface of various reds with Mars Red a synthetic ochre the dominant one. The titles reference, change and stability, power structures running through, and the way in which a history of violence can be hidden beneath a filtered sometimes glossy surface.
Sarah Needham makes abstract works, using the material history of pigments to trace human history that find echoes with events in the present. The paintings create spaces to fall into get a little lost and remember.
She is represented by UK galleries and art agencies, in London Oxford and Harrogate, has shown in public galleries abroad, and has work in private collections in the UK, USA, Middle East, Japan, Switzerland, Crete and France.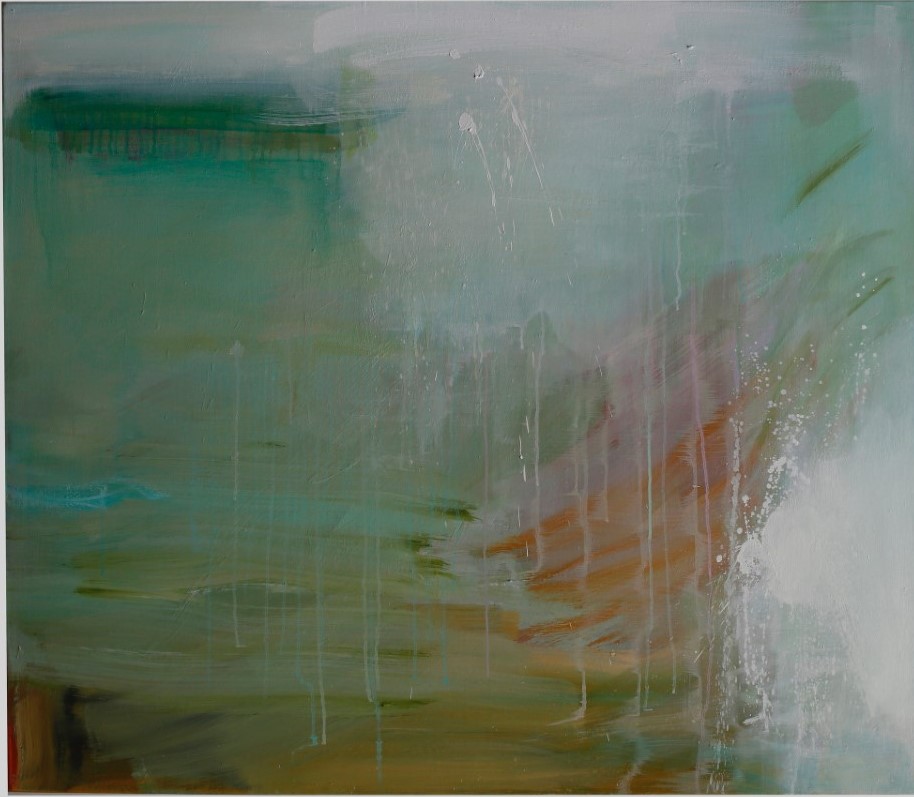 Sonya Walters
Control Tower Gallery & 11 Tower View
Memories of distant travels and a response to experience much closer to home are the trigger to my work, but it is a fascination with colour which is the all encompassing ingredient to my practice.
The immediacy and physical nature of the printmaking process is a different experience to the more contemplative and solitary nature of the painting studio, but the two areas have become a significant overlapping combination.
During the process in both painting and printmaking, the work will begin to take its own path, and I'm always fascinated and pleased when on completion, the piece does indeed encapsulate the spirit of the initial response, but in a form never initially envisaged.
After graduating from Chelsea School of Art worked as an artist, teacher and banner maker in London and Cornwall.
Has exhibited widely over the years including Royal Academy of Arts, Affordable Art Fair, Tate St Ives, Camden Arts Centre, Newlyn Exchange and Truro Law Courts to name but a few.
She now works from her garden in Brighton studio in Brighton, participating in the Artists Open Houses each year.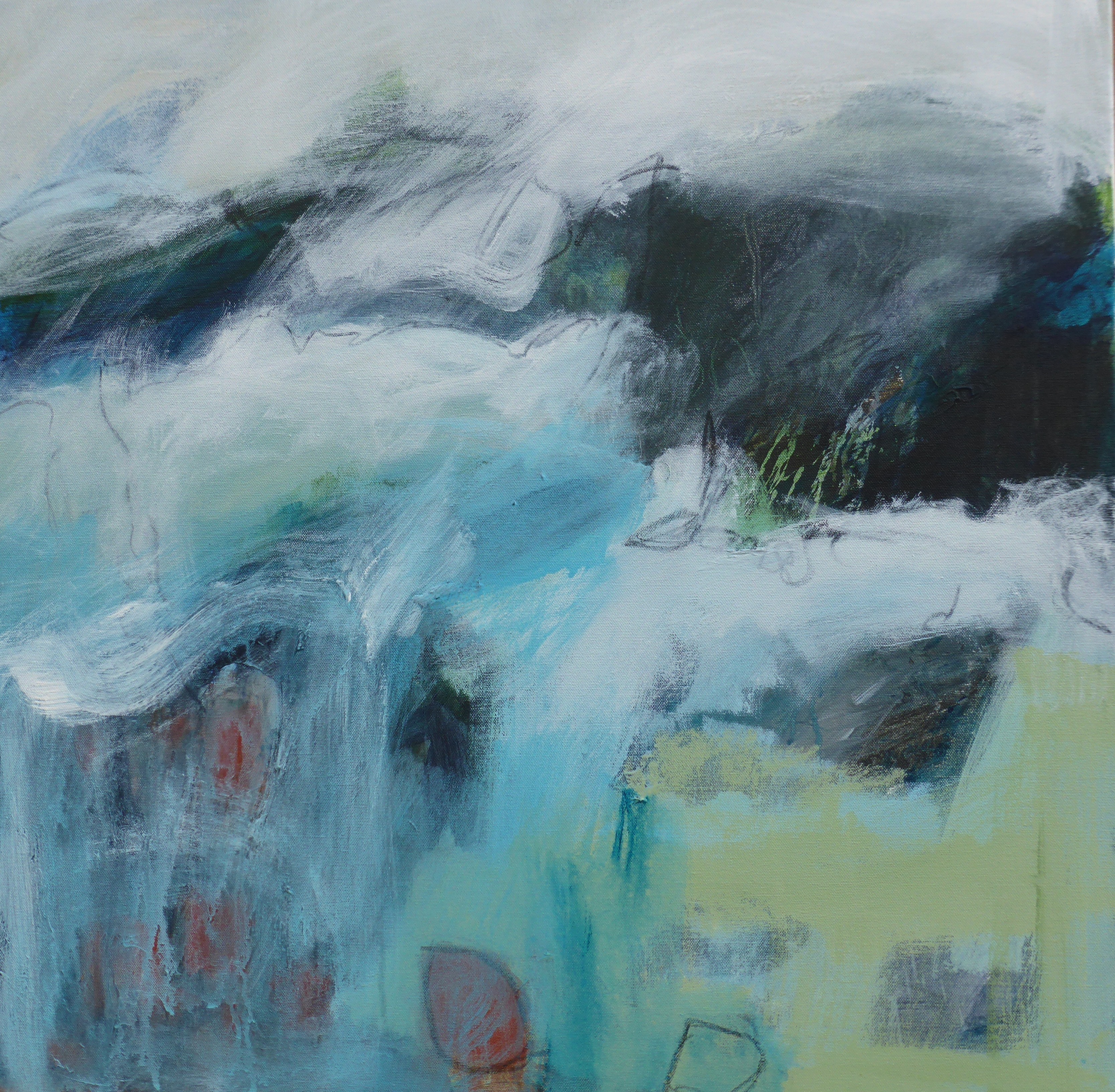 Terri Hogan
17 Kings Hill Ave
The forces of nature and its myriad effects on both the land and seascape provide an endless source of inspiration for my art. In situations both entirely formed by nature and those having felt the influence of the hand of mankind have imparted a powerful and poignant impression that demands expression through the filter of the artists sensibilities. The confluence of often monumental natural phenomena and the effects of tomb building, tillage and war, and the more mundane impact of daily life all serve to complete the overall finished image, although as all the aforementioned can never really be considered "finished" in any sense, neither can a particular work, allowing thankfully endless opportunities for revisitation.
I am interested in the physical and tactile qualities of paint, and I am intrigued by texture and the overall process of painting often becoming obsessed with certain places, ideas or impressions which have to be worked through. At times I have to ignore these tangents that I wish to explore, but these are documented through both writings and drawings with the intention of following them through at a later date.
In the interest of continuity of theme several paintings are worked on at once, each complementing and adding to the depth of the others whilst retaining their individuality. Often initial drawing is revealed as the processes used frequently involve sanding down or washing back to leave multiple layers of pigment and process.
My future work will include further investigation of marks left on the land by early man.
Major influences in the works are painters such as Tapies, Peter Lanyon, Wilhelmina Barns-Graham and Sandra Blow.
http://www.terrihogan.co.uk