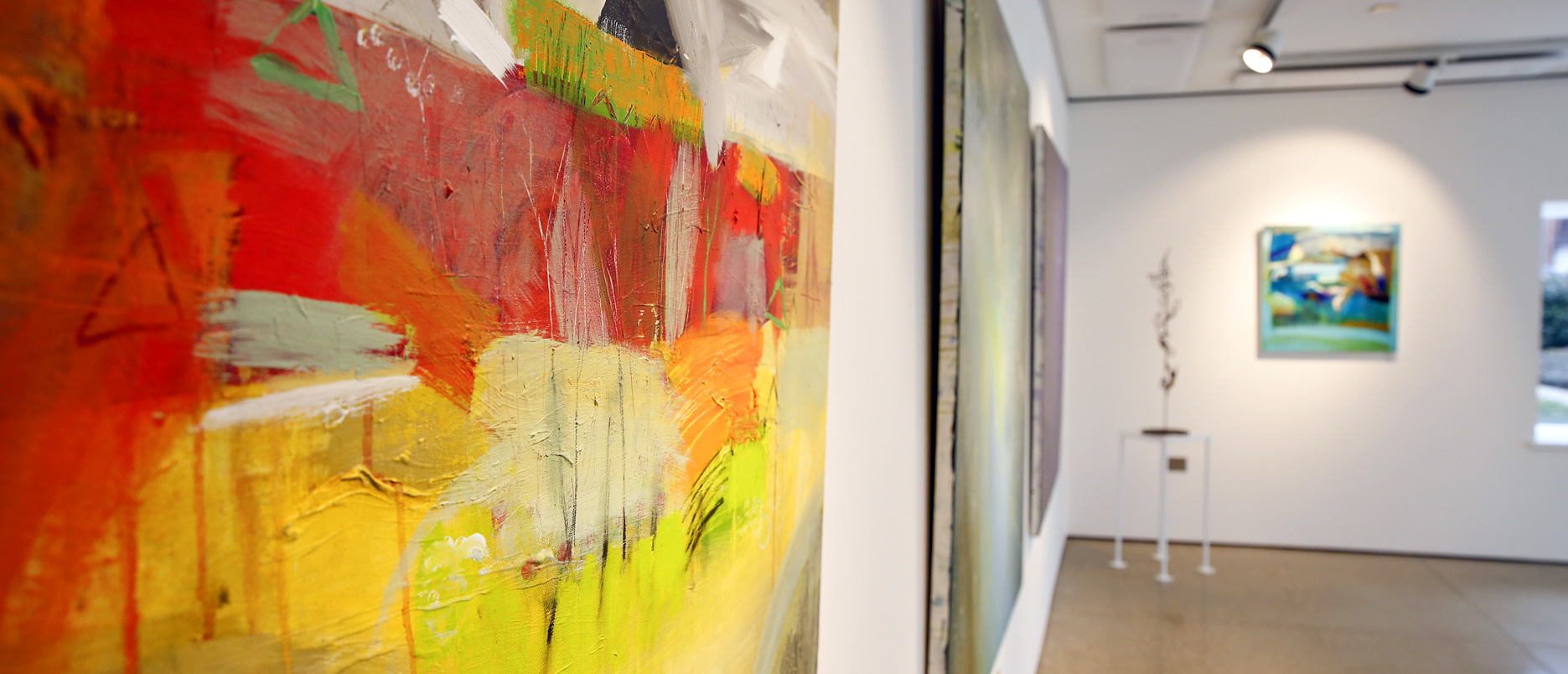 DISCOVER
CURRENT EXHIBITION
Exhibitions are updated three times a year in office buildings and in The Control Tower to create a fresh and changing environment, which it is hoped stimulates an interest in art for employees and visitors. The artists who generously loan their work benefit from increased exposure and potential sales.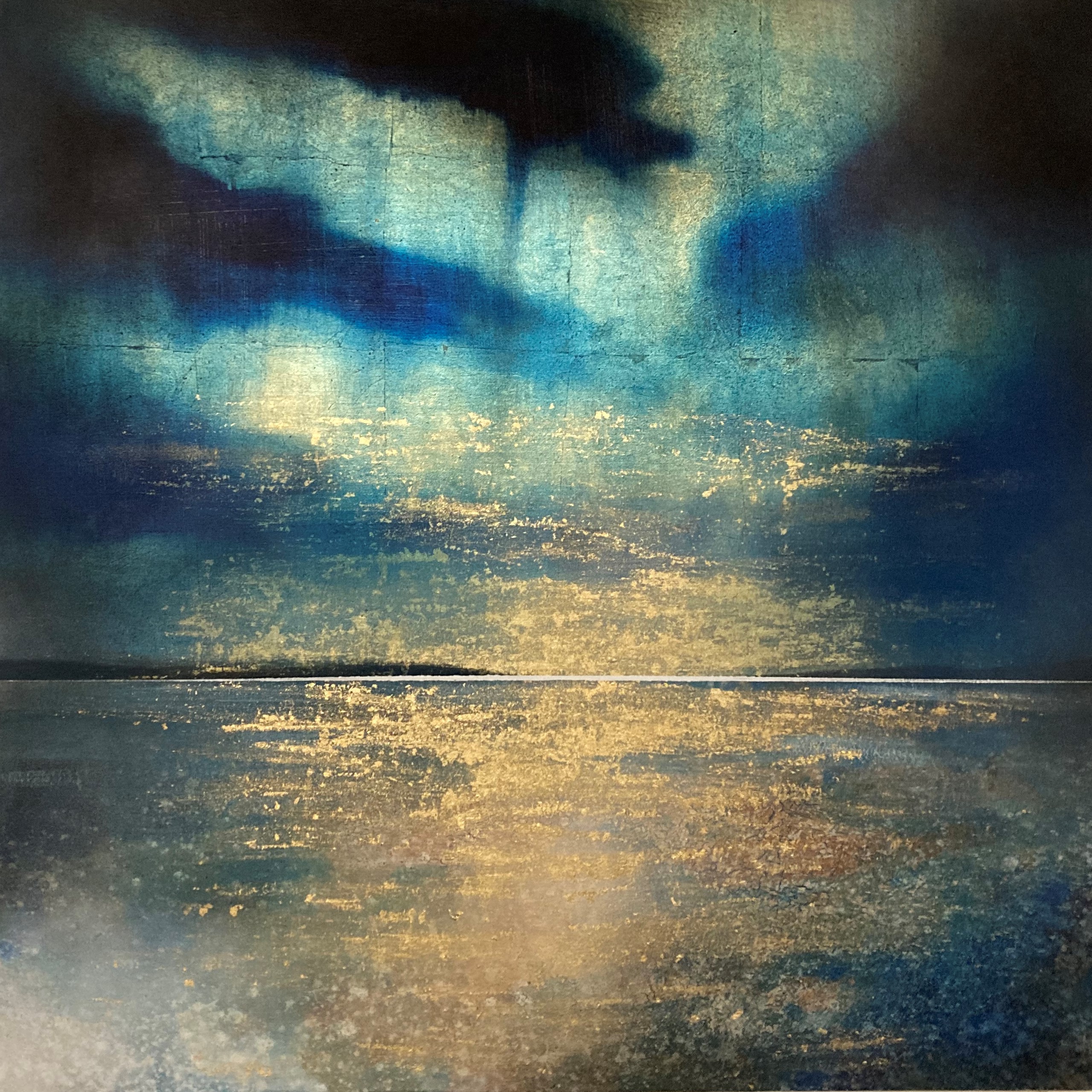 Barry Wilson
11 Tower View & Control Tower Gallery
"The mood is transformed by the changing light across the gold" John Sargeant
Barry Wilson trained at the Camberwell School of Art and was taught by influential artists such as Bruce Mclean, Cornelia Parker, Jock Mcfadden and Ian Mckeever.
"My aim with this set of pictures has been to emulate a faint image in an antique mirror or a creased and faded much loved photo. I believe the delicate, fragile beauty of the gold leaf finish belies the somewhat brutal techniques I employ. These include using industrial spray guns, scouring pads and water jets, scrubbing back the layers of paint to reveal the gold leaf base which seems to give the structure / framework of the painting. I believe the result is a vibrant and edgy captured moment; contemporary and beautiful."
.
Barry's highly distinctive paintings have been exhibited in major museum and galleries worldwide with international acclaim, winning the celebrated Saatchi award in 2012.
Instagram: @barrywilsonart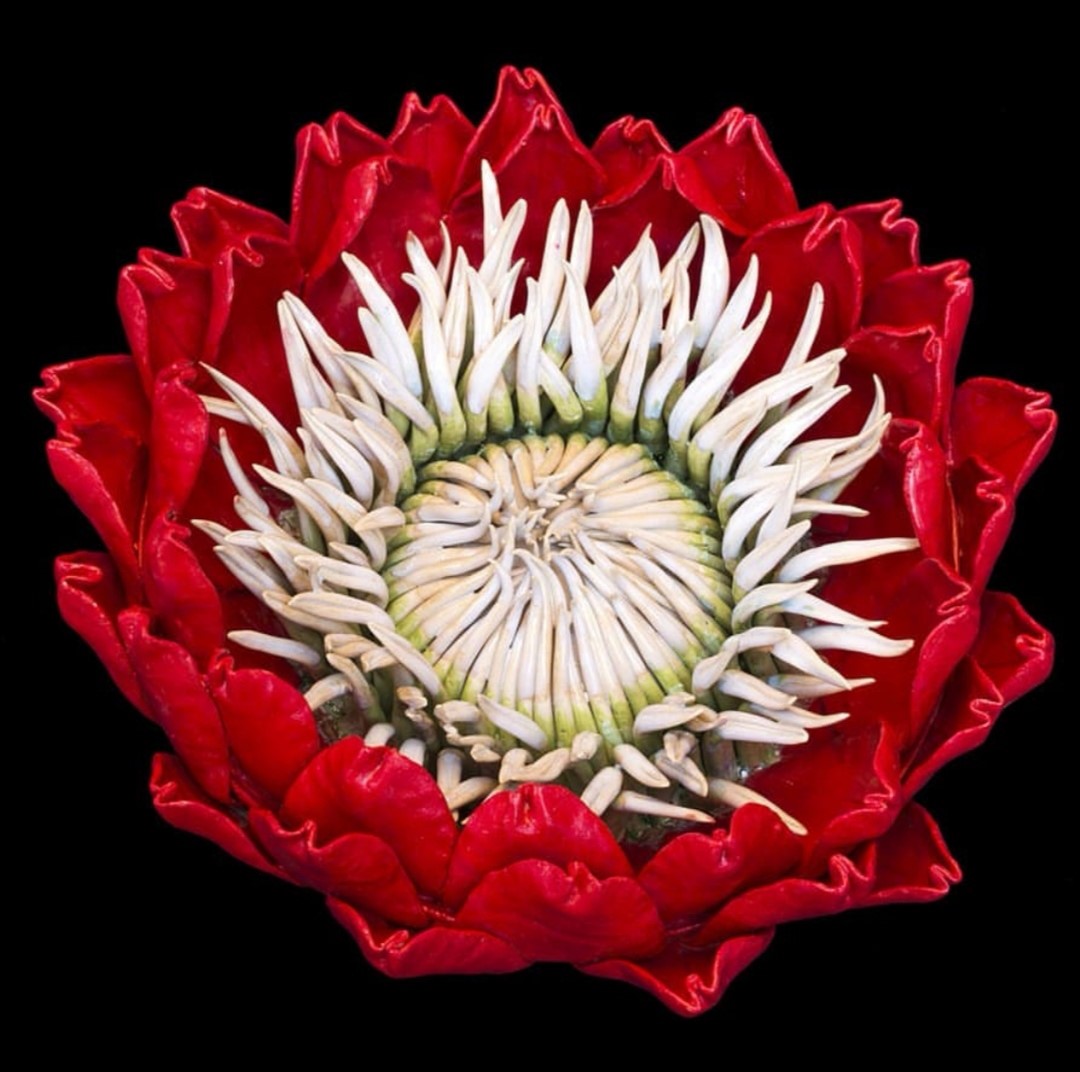 Frances Doherty
Control Tower Gallery
From 1986 to 1996 I owned a restaurant in Brighton and sold it when I became hooked on ceramics at an evening class. So that I could study the subject further. I spent five years at college, studying photography and plastics as well as ceramics. When I graduated in 2001, I took out a lease on workshop premises in Hove, and sublet spaces to other artists/craftspeople. Since then I have exhibited and sold my work at art fairs and galleries throughout the British Isles. In 2004 I won an award for Best Newcomer at BCTF, and have written features for their magazine "The Craftsman'. I took a post grad in teaching and learning in HE, and have worked part-time as a tutor at Northbrook College, Brighton University and HMP Ford.
My inspiration comes from flowers and plants that we see all around us, in gardens, fields even cracks in the pavement. I particularly love the secret worlds inside these flowers, in the patterns and textures hidden away that give a continuing sense of promise and renewal.
Until 2005 my work had been mainly in the domestic & functional arena, but then I decided to work on larger, often one off, sculptural pieces. So far, I have concentrated on the forms of seed pods and fruiting bodies which ties in with my earlier work, but which looks completely different.
I like to play with scale and will often imagine the size that a plant must appear to an insect…what is it about the flower that attracts or repels?  Often I will scale my sculpture up so that we can have an 'insects eye view' of it.
I work in stoneware, throwing the basic shape of the sculpture, then I alter and model onto it. This gives me a certain speed and control which is the way I prefer to work. My pieces are high fired so that they can go into an interior or exterior environment.
My glazes are chosen to compliment the form and are often slightly chrystalline or irradescent, this makes the pieces glow.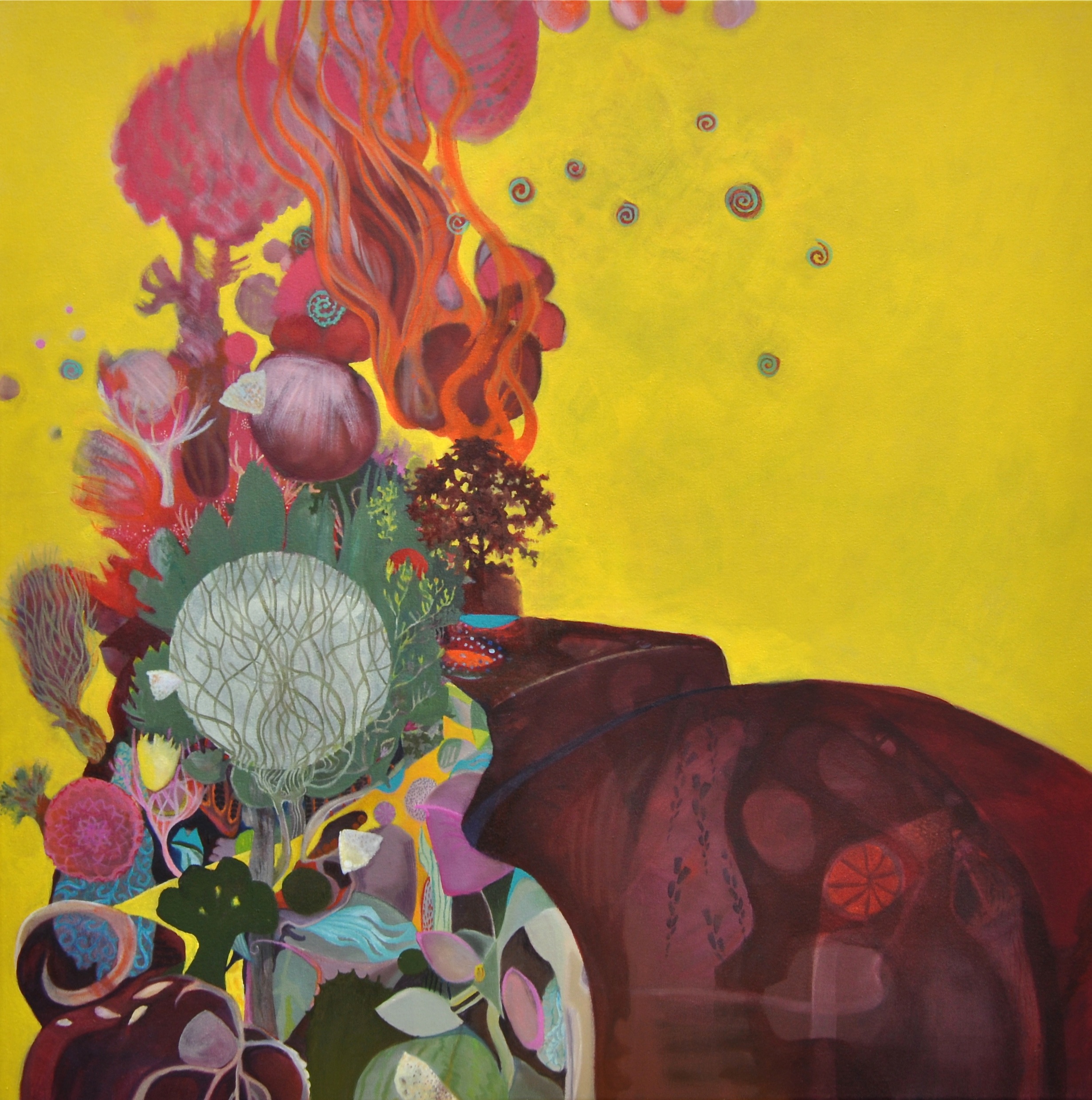 Rebecca Bergese
39 Kings Hill Ave, 11 Tower View & Control Tower Gallery
Rebecca BergeseRebecca  studied Fine Art at Chelsea College of Art, but originally worked as a Costume Designer designing and making costumes for plays and small dance companies . Since finishing her degree course, she has continued to paint,  and her work has been included in a number of group shows, as well as several solo shows. She has exhibited work in the ING Discerning Eye Show, and was awarded the Sentinel Gallery prize in the Royal Watercolour Society Open Show in 2017.  Her work has also been selected for  the Royal Watercolour Society, Wells Contemporary Art Show, and has appeared in group shows at the Espacio Gallery and Gallery East. She has paintings  in  private collections  in the UK. Rebecca  currently lives in Sussex, where the beautiful landscape provides many possibilities for new developments.
Growing up and then living most of her adult life in the city, Rebecca has always been drawn to the pleasure and consolation the colours the natural world can offer. With the colours come the organic forms, and the shifting atmosphere of the weather and the light. It is the potency of these environments to act as cyphers for dreams , memories,  or feelings, that prompt her work. The external environment  often reflecting an internal environment,  a climate that can be guessed at through the medium of the colours and spaces on the canvas.
The paintings may refer to the dreamworld of childhood, or the half-perceived  unconscious locations, but each provides the viewer with a space for their own musings and reminiscence.  Paint and painting are the media through which the unclassified, and liminal can be explored.
The images are not intended as narratives, despite their reference to landscapes or gardens, but rather explorations of the edges, the spaces, or the cusps. They are  worlds not bounded by the conventions of our real one, but the images offer a glimpse of an alternative, hidden in plain sight. Like a child who has not yet understood the static nature of objects, the paintings may allude to both the pleasure and the longing for a flux, or a dissolve, that usually only exists in our dreams.
With this in mind, the paintings are not predetermined, nor planned, but grow out of the meeting of paint and canvas, marking and erasure. They tell what they wish to be, emerging from the space between more significant objects. Sometimes intense and bright, at other times quiet and dreamy, they could be the world at the bottom of the garden, or under the fence perhaps, or is it the silence of the fading light amongst the trees?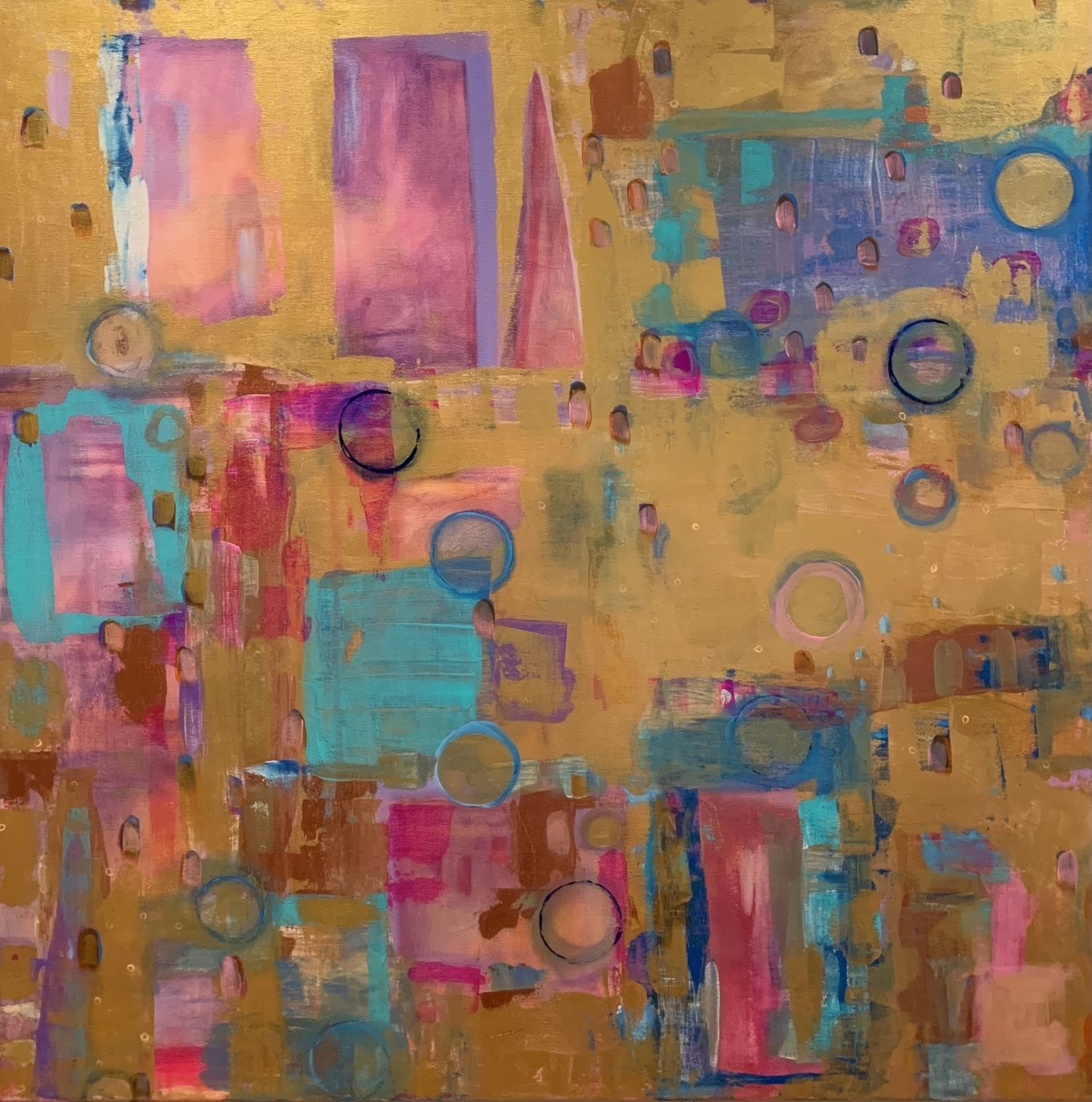 Sarah Rawlinson Beaven
35 Kings Hill Ave & Control Tower
Sarah Rawlinson Beaven is a Hampshire based artist.
Sarah read Philosophy at Southampton University and graduated in 2002. Influenced by nostalgia, nature and people she meets, Sarah demonstrates her passion for art with her expressive and organic style.
A note from the artist:
'My artwork reflects my respect for human life. I love to include hidden details; faces, flowers, buildings. I believe original art should be accessible and affordable for all and am grateful for some of my pieces to be included in the current exhibition at Kings Hill.'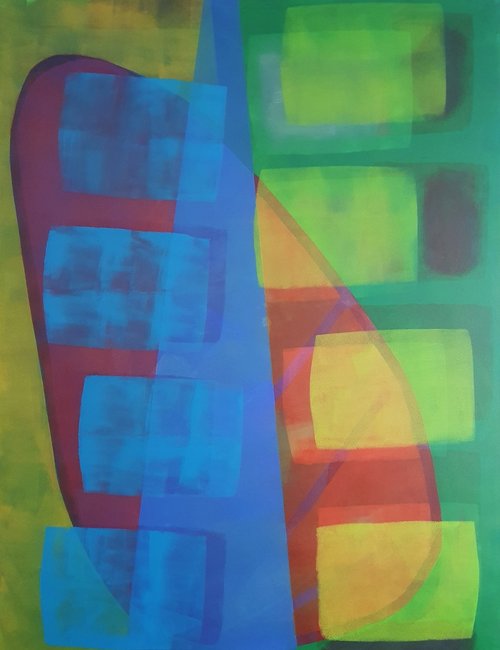 Susan Thompson
17 Kings Hill Ave, 30 Tower View and Control Tower Gallery
Susan Thompson
Susan has spent the majority of her working life nursing. However she has always made time to engage in some form of art making and further education.‌ ‌‌As a nurse she believes that the disciplines of nursing and art are closely connected. In both practices you give something of yourself in the encounter to build a relationship. One that aims to engage one soul with another.
Her approach ‌ to ‌ painting  can ‌be‌ ‌described‌ ‌as‌ ‌unpremeditated. ‌ A start of a painting can begin from a random mark, a piece of music or a choice of colour. Her works are a combination of colour, mark making and shapes. The images emerge from the manipulation of the paints transparency or opacity combined with geometric shapes and curves.
She works mostly in acrylics but also uses inks, charcoal and oils to create improvised abstract paintings on canvas, linen, paper and gesso panels. Susan takes inspiration from nature's rich array of colours and her own external and internal reservoir of experiences and feelings.
www.susanpthompson.co.uk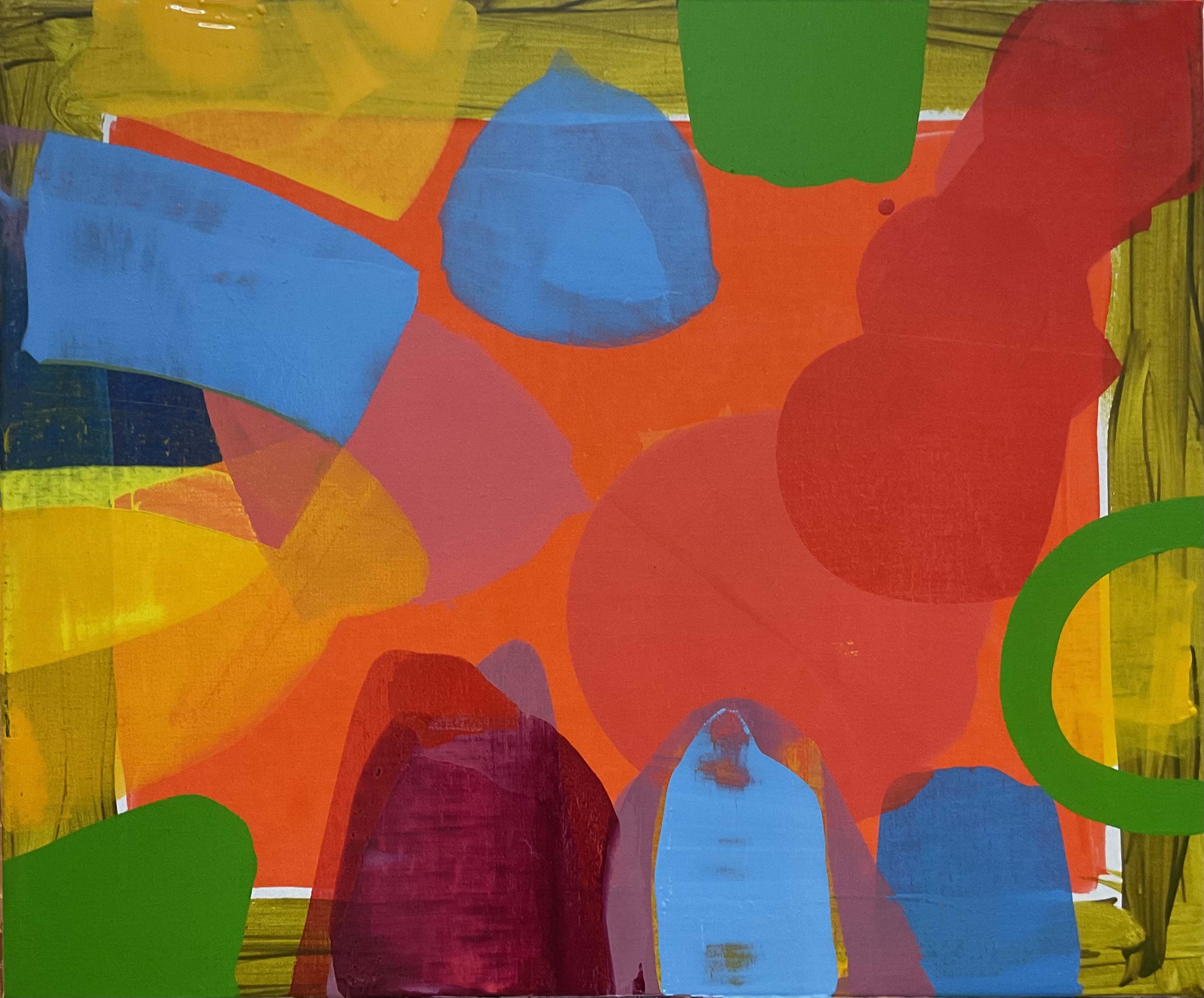 Rowena Comrie
39 Kings Hill Ave & Control Tower Gallery
Rowena Comrie has worked as a professional artist for the past 30 years; in january 2010 she relocated from Aberdeen to Glasgow where she now works from Glasgow's Gallowgate Studios.
She was born in Southend-on-Sea, Essex, and in 1982 completed her BA(Hons) in Fine Art at Reading University where she embraced expressionist colourfield painting with confidence and passion.
She continues to develop this dramatic and emotive painting style saying,
"I make these works from a specific aesthetic point that personally expresses sublime elements of human experiences.  Over many years I have refined and developed my technique, a process that continues to challenge and intrigue".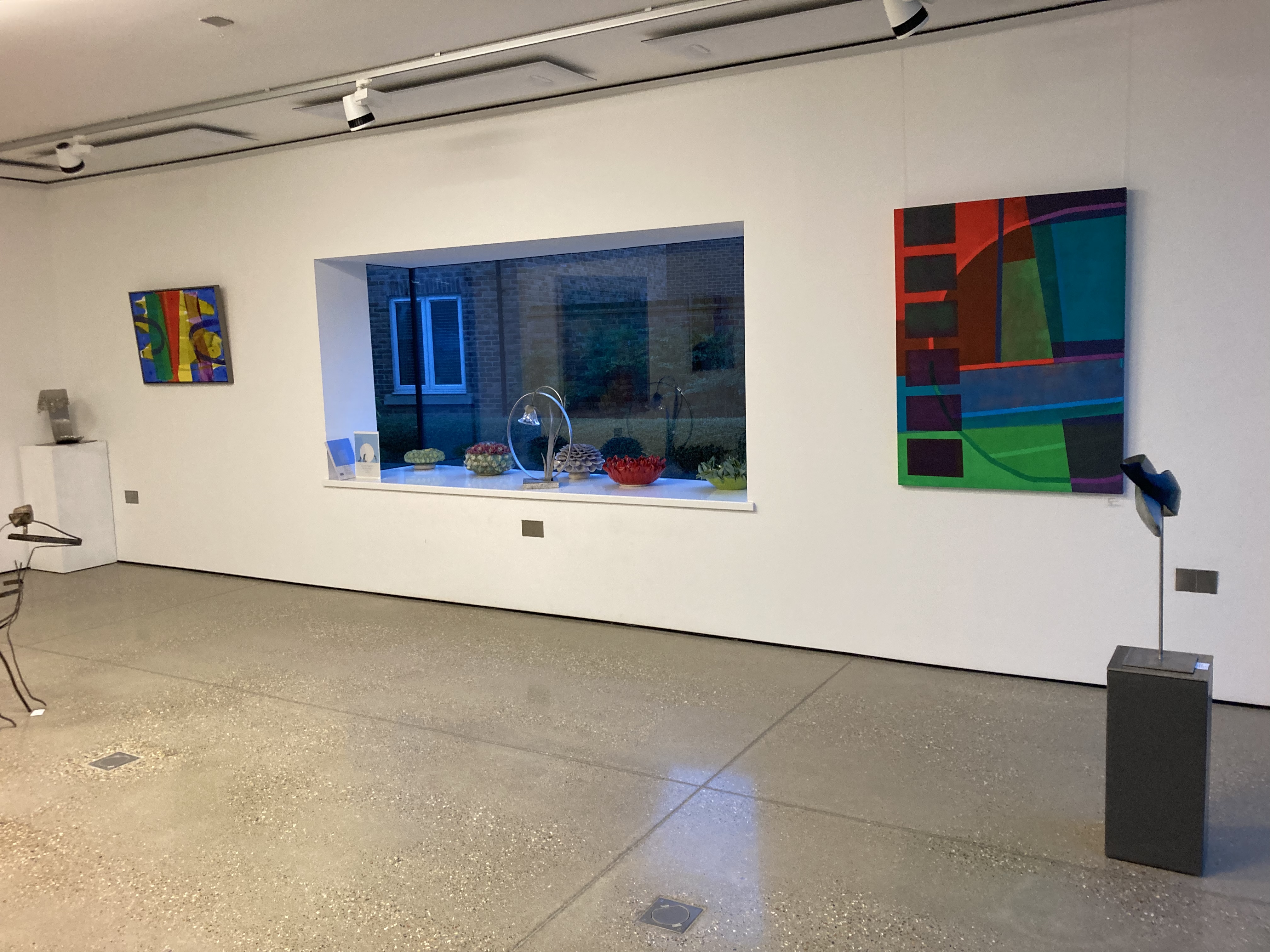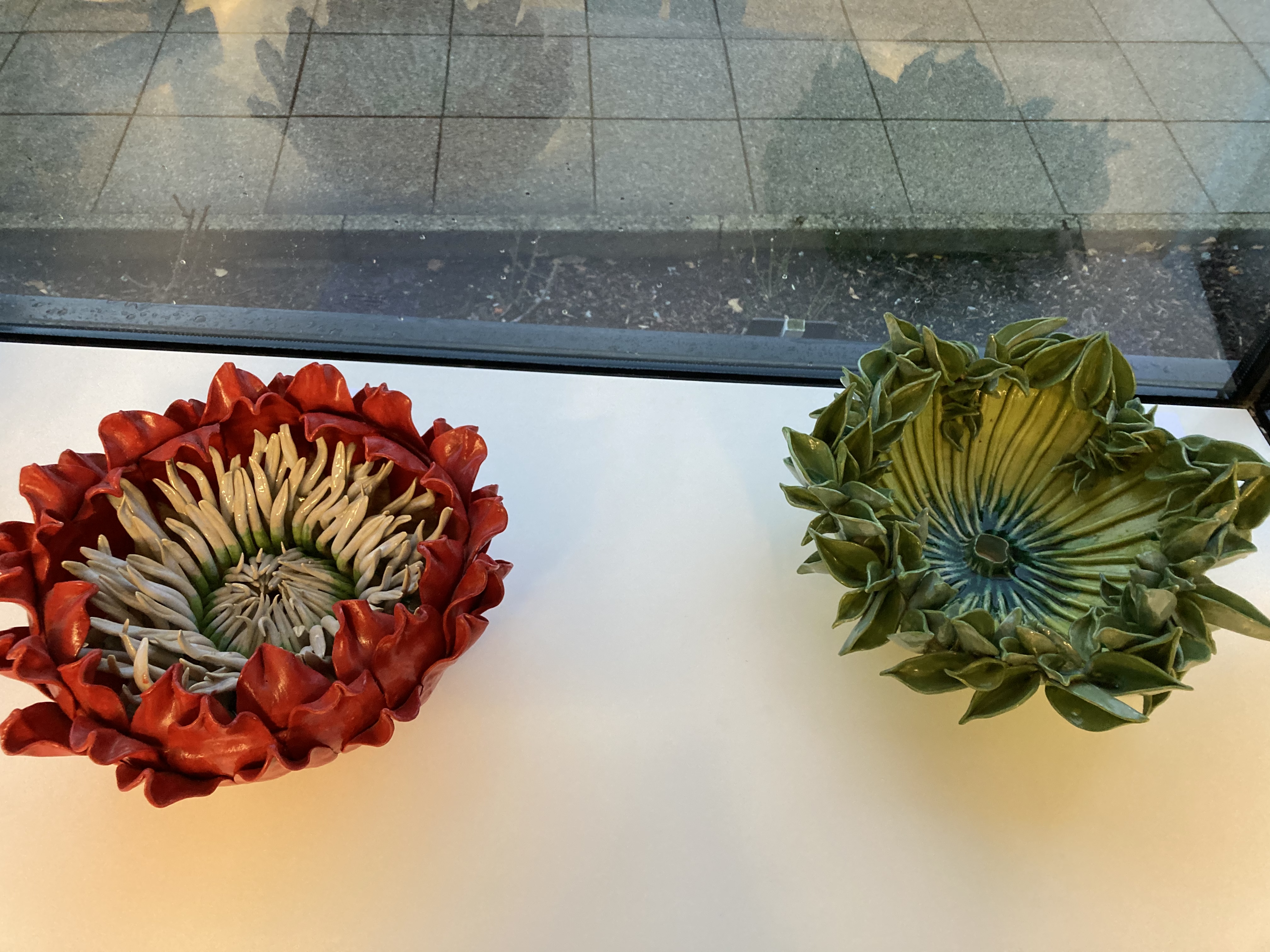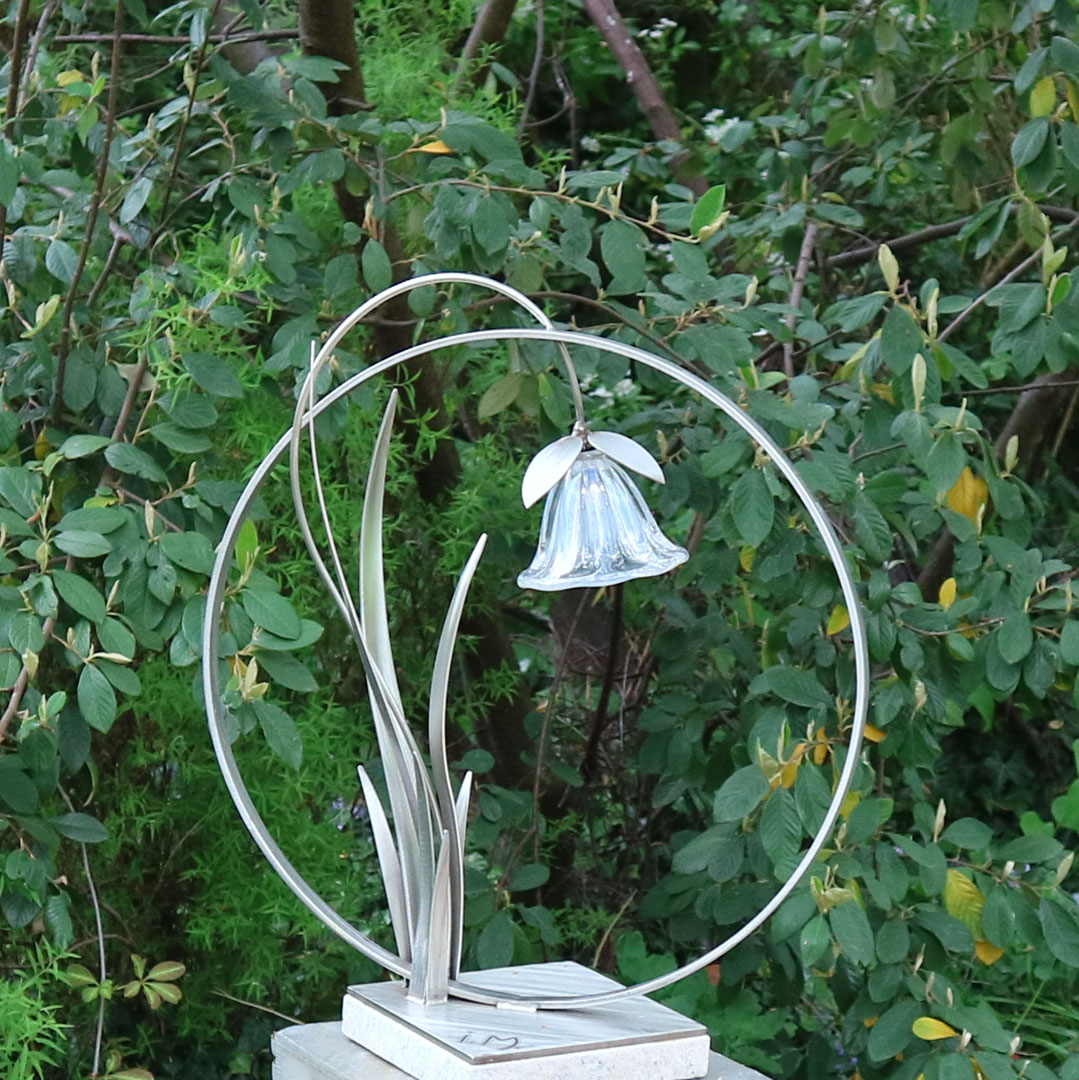 Ian Marlow
1 Tower View, 11 Tower View & Control Tower Gallery
Ian Marlow is a Somerset based sculptor, specialising in dynamic artworks from stainless steel, glass and bronze. With inspiration drawn from nature, Ian creates artworks that sit comfortably within any setting from formal gardens to minimalist urban landscapes. A member of the Royal Society of Sculptors, Ian Marlow is invited to exhibit widely and is regularly commissioned by private and corporate clients.
www.marlowsculpture.co.uk