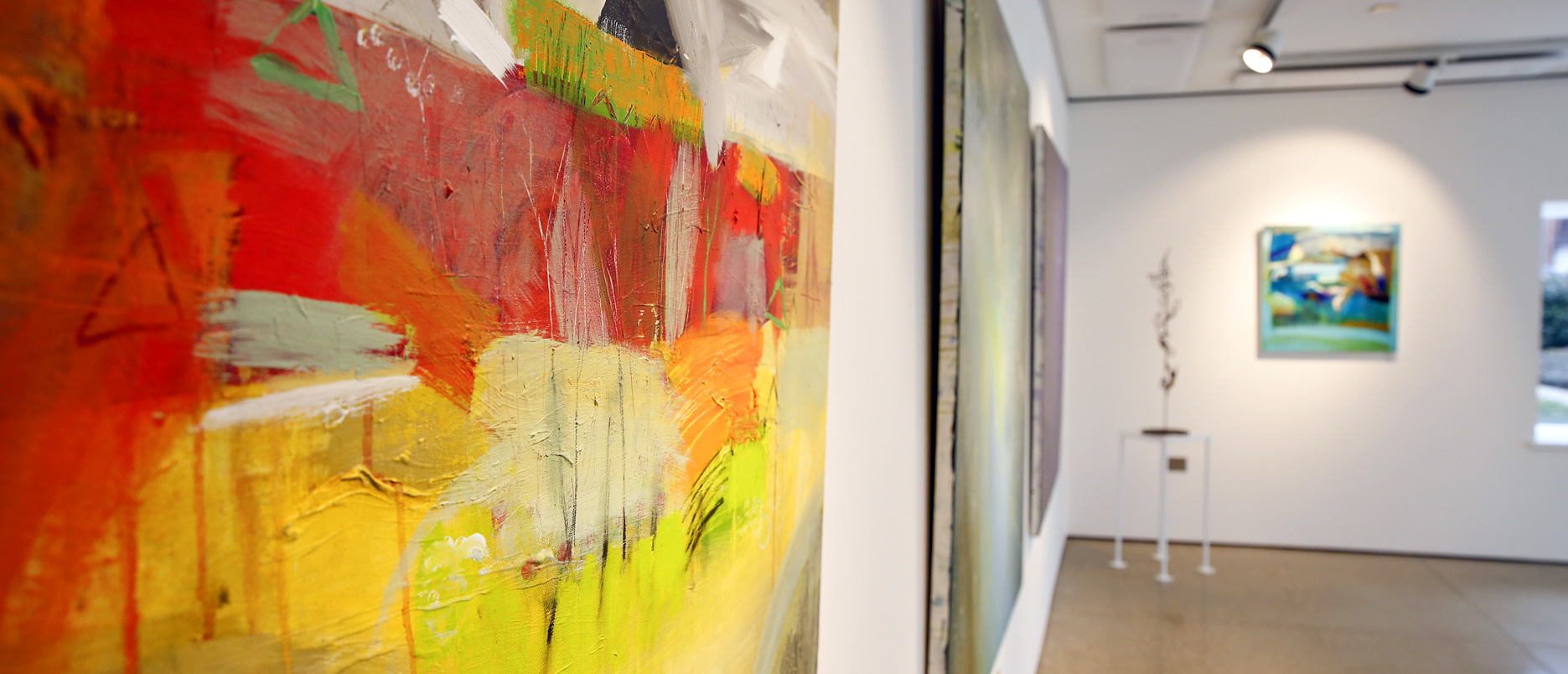 DISCOVER
CURRENT EXHIBITION
Exhibitions are updated three times a year in office buildings and in The Control Tower to create a fresh and changing environment, which it is hoped stimulates an interest in art for employees and visitors. The artists who generously loan their work benefit from increased exposure and potential sales.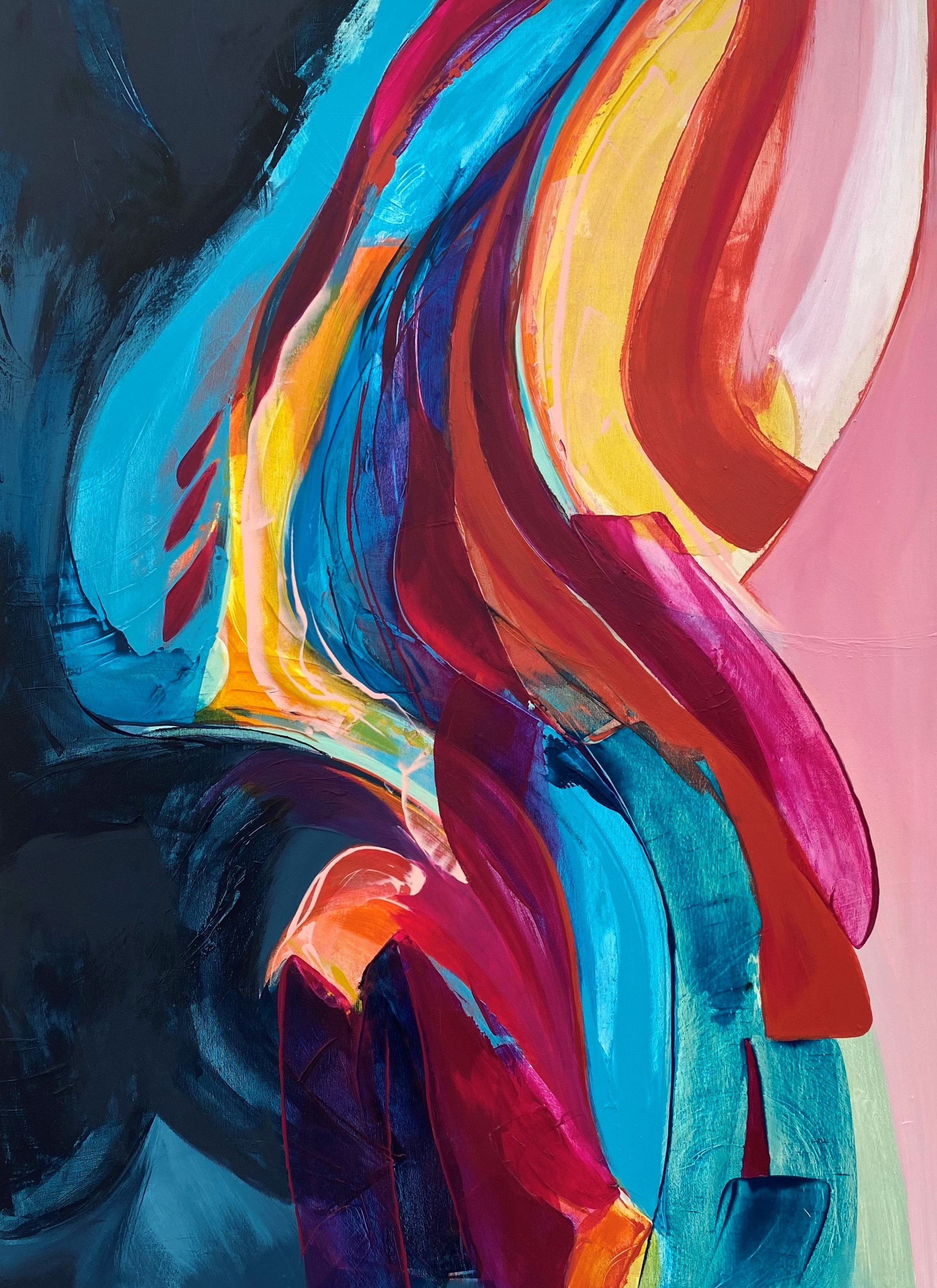 Alice Twamley
11 Tower View & Control Tower Gallery
My paintings offer an insight into the context of my life and identity, exploring a complex and subconscious landscape that reflects my colourful and lively upbringing. I draw inspiration from memories and images of beautiful places and landscapes I have experienced, such as seaside towns and the rolling Devon hills. Music fuels my creativity and by combining it with fluid paint, along with my own gestures and whole bodily movements, I create compositions through instinctive chance, finding forms through process and working to develop them once they appear.
Painting for me often feels like a performance, allowing an intuitive flow state to overcome me, enabling a place where I do not have to think. This somehow makes my 'not thinking' become 'the thinking'. It's the same 'zone' you need to be in to get something mundane completed, such as a household chore. When you aren't overthinking things, you are just letting yourself be. My passion for improvised expression is enhanced from my love of music and dance that I have enjoyed throughout my life and my process aways seems to embody this.
I want my paintings to offer an escape for the viewer, somewhere to immerse themselves away from the pressing challenges of reality and for my colours and compositions to uplift their experience, providing a change from the concrete and digital landscapes we all live in.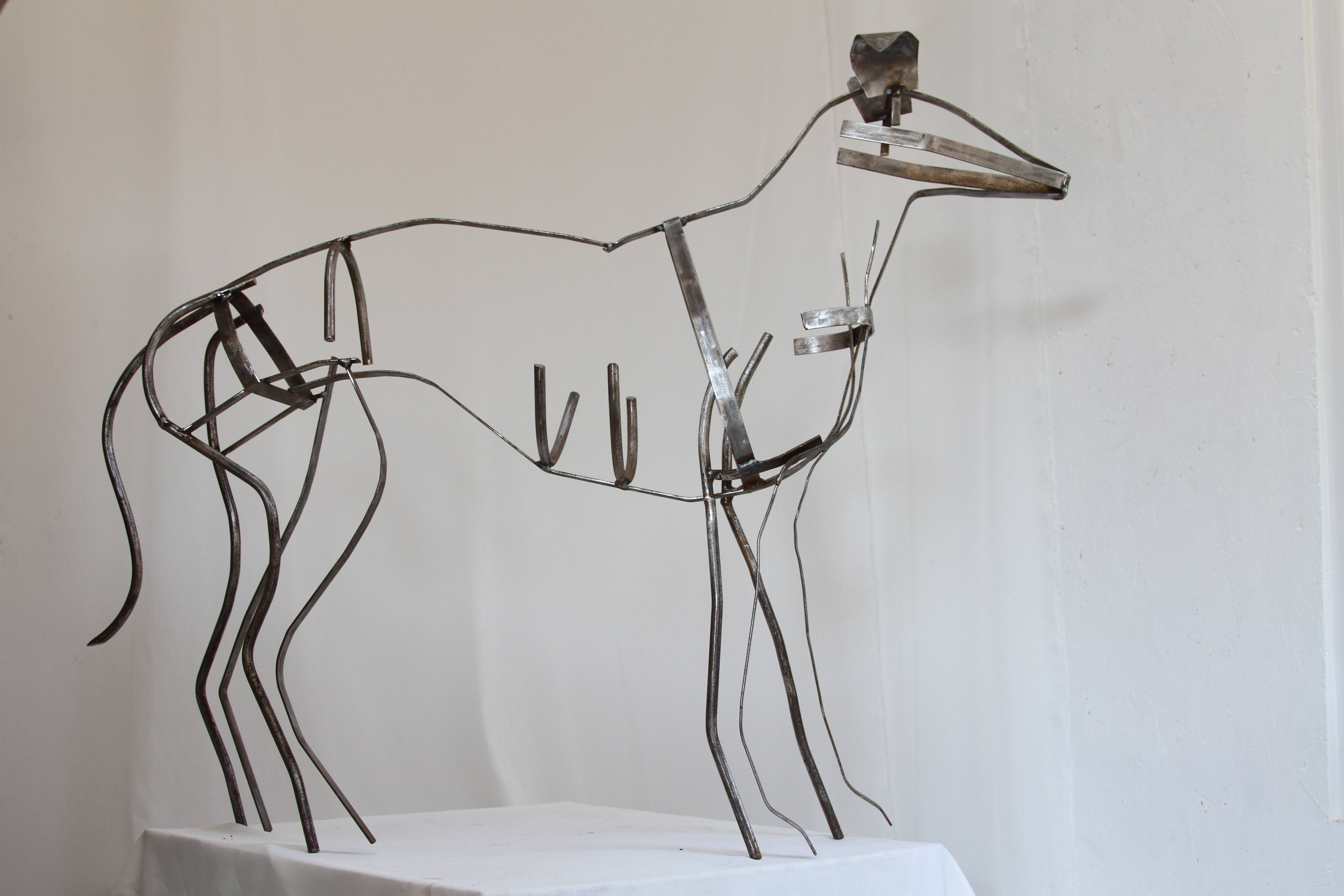 Elizabeth Cooke
1 Kings Hill Ave, 17 Kings Hill Ave & Control Towere & Co
I am a sculptor who works mainly in steel, using the natural world for my inspiration. I draw with steel: getting to the essence of my subject and bring out what I see so that others can share my vision. I'm not interested in padding. I want my art to get straight to the point. My work is sometimes figurative, sometimes abstract, but more commonly stopping at a point somewhere between. I like to make pieces that look abstract from some angles; realistic from others. I studied dance at the Laban centre. At the time, it was difficult to chose between art and dance and my choice meant I've come to be a professional artist later in my life. My dance training infuses my work with a choreographic sense of direction, line, movement and spacial connection. I start by exploring a piece in 2D often using print and wire. Once I'm happy, I start to draw with steel. I use virgin steel as well as a shed-full of recycled metal. Whatever inspires me to include it in a sculpture or to create something based on the feelings I have about bits of discarded ironwork. I have always loved cutting and sticking. Working in steel allows me to do this on a bigger scale. Weld a piece on, cut it off, adjust until I'm happy. I respond to the authenticity of the metal, trying not to dress it up as something it isn't. The wonder of the natural world and my experiences with wildlife drive me to communicate through art. As an introvert, I seek a quiet place in my sculptures – with a sparsity of line showing movement, capturing a moment in a bold, quirky and occasionally humorous style. Nature gives me a sense of well-being and I want my work to engender that feeling in my audience.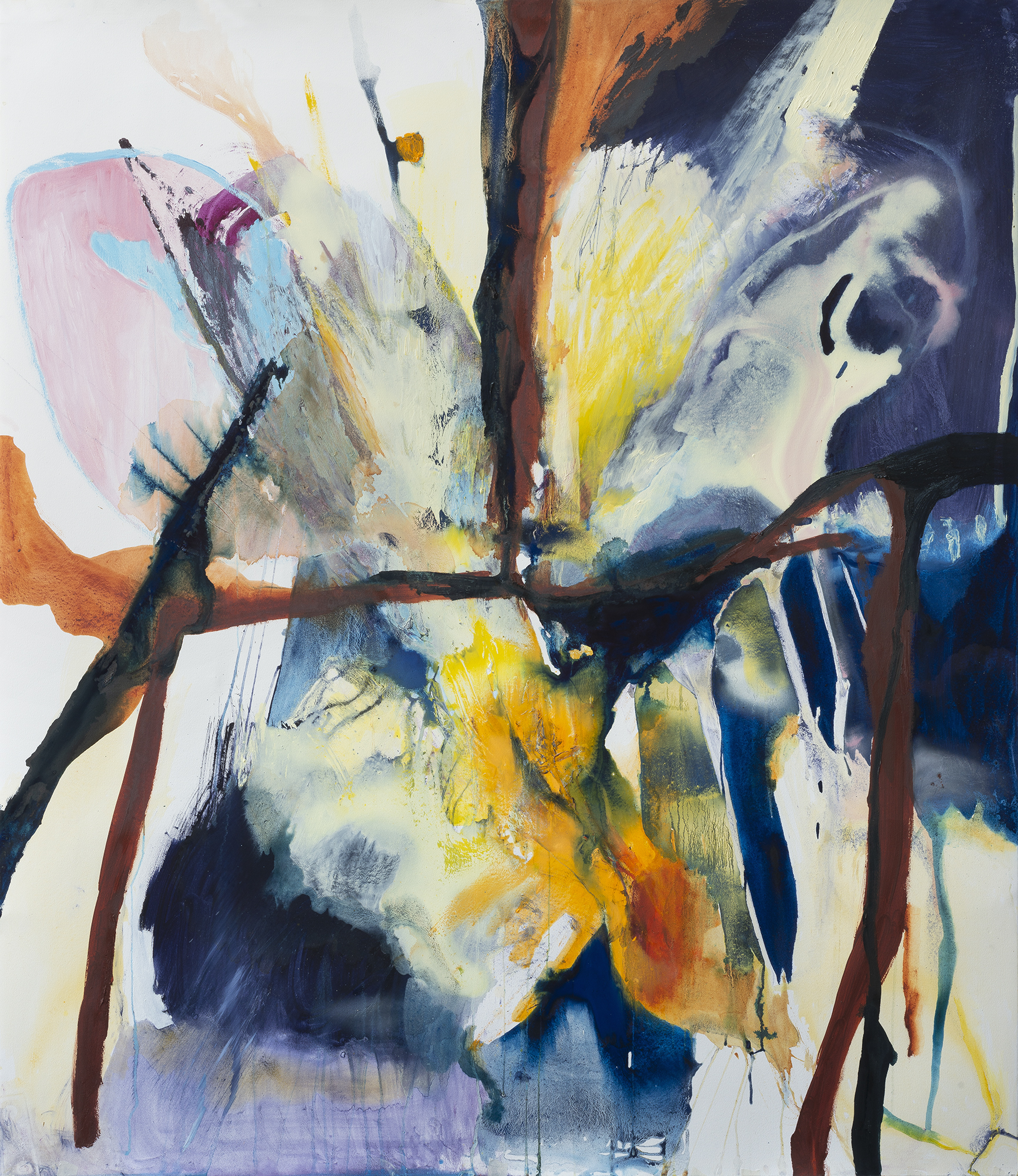 Lucianna Whittle
35 Kings Hill Ave & Control Tower
Since graduating from my Fine Art Painting degree in 2001 and my MA in 2003, I have been steadily painting and developing my artistic practice to create the paintings you can see here. The career path to becoming an artist is not a straight line, and I believe it takes years to become a fully authentic and successful painter. This is not just a technical matter; learning to paint is about finding your voice amid the cacophony of other art that is 'out there' now, as well as the art that has come before in a very rich and varied art history heritage.
Throughout the challenges of earning a living, navigating motherhood and single parenting, my ambition to be a good painter has never wavered. The one thing that has anchored me to my dream has been my dedication to abstraction. I never tire of looking at the paintings by my favourite abstract artists, such as Joan Mitchell, Hilma af Klint and Cy Twombly. These artists among others, have consistently opened my eyes, my mind and my heart.
I can't overstate the impact art has had on my life. My drive to keep painting and, through my work, give people the kind of experience that art gives me, is as alive now as it was twenty years ago when I was an art student.
Instagram: @luciannawhittle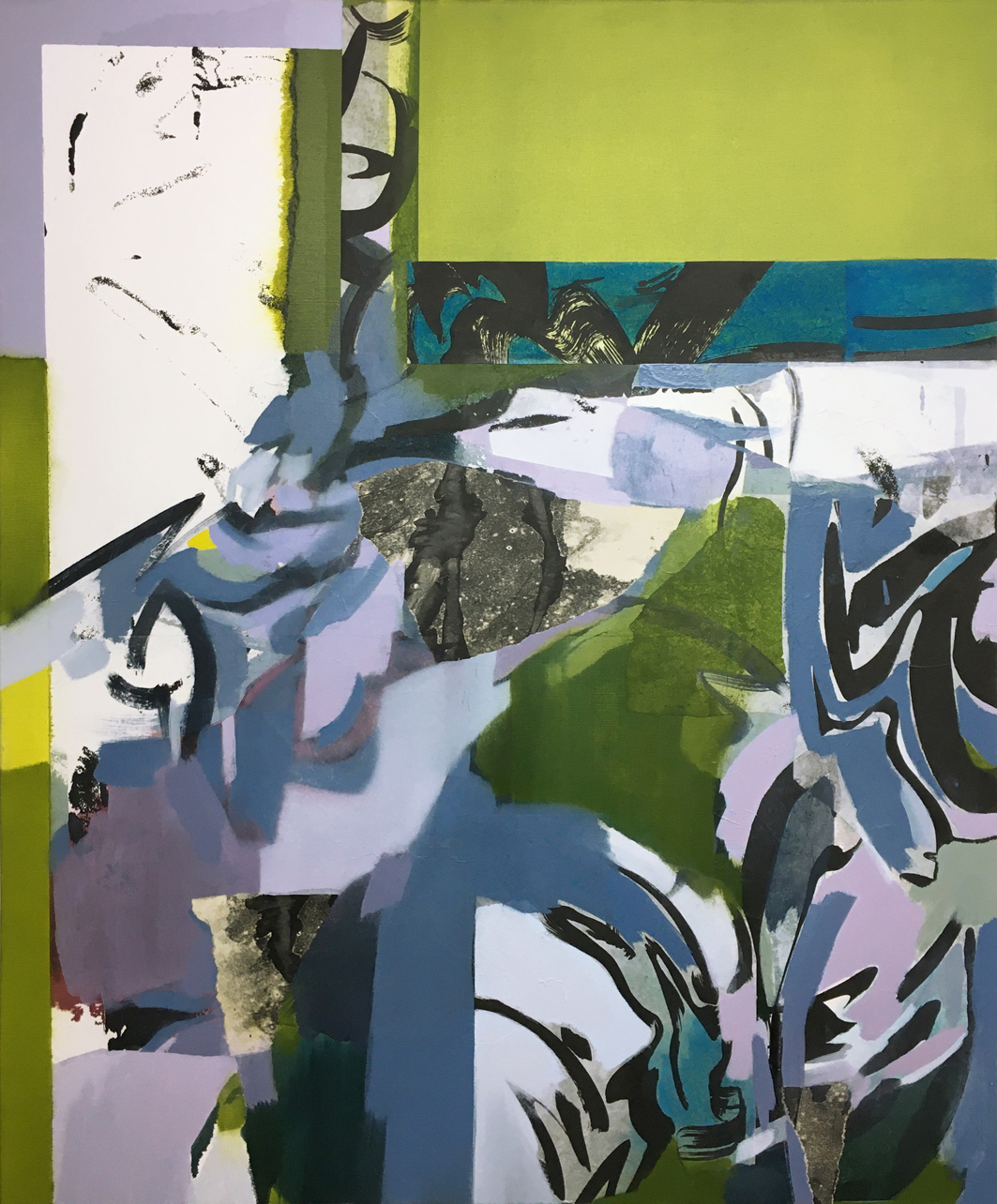 May Everett
11 Tower View, 4 Abbey Wood rd & Contreol Tower
My visual references are wide ranging, I tend to work instinctively and discover the idea while working. Having said that, recurring themes tend to emerge: figures, foliage, windows, archways. These motifs shift, repeat, dissolve, and reappear, through a process of layering and reworking. Some representational elements are usually present, but they are fleeting, and distorted by calligraphic marks and flooded colour plains.
Drawing, printmaking, painting and collage inform each other as I often work on several different surfaces at the same time. My current work explores the relationship between printmaking, drawing and painting: I have been producing monoprints and painterly woodblock prints, and collaging the offcuts on to large-scale canvases. Semi-translucent paper is torn away and reapplied leaving a residual impression before being reimagined on a new scale.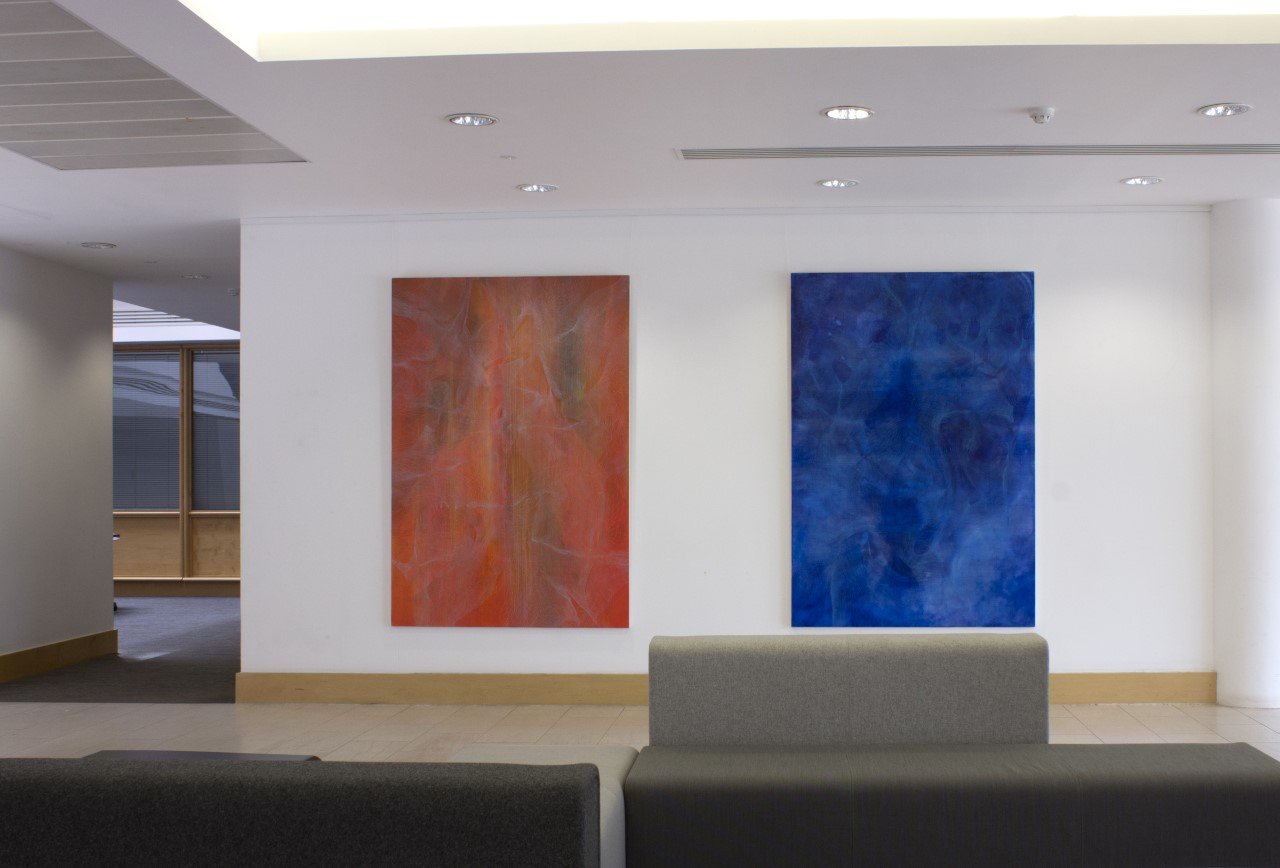 Natalie Ryde
1 Tower View & Control Tower
Natalie Ryde's art practice encompasses drawing, painting, printmaking and 3-Dimensional making.  United by a hand drawn lattice network and expanded drawing; Natalie's diverse creative output explores the dichotomy between theoretical and physical nature and touches on the human experience of reconciling rational and emotional responses.  
"I look at natural structures that replicate at different scales and imagine the invisible, vital, animating energy running through the veins of living things. I think about the cosmic forces, tides and elements that impact the world around me and space beyond.   I am drawn to patterns I observe both in nature and the man-made environment and the way objects and places are shaped by their interactions, particularly by the repetitive rhythms of life.  There is a grounding in pattern, a security that things will continue, like reaching the edges of a map, there is a certainty that the terrain extends beyond the visible."
Drawing and painting predominantly in acrylic inks, colour and line are layered in degrees of concentration and intensity to create depth and chromatic complexity.  Brushes and rags are used to apply and remove pigment and paint mediums whereas the intricate line work is executed in dip pen or refillable, 0.8mm nib, ink drawing pens. Drawings made directly onto the paper surface are made with fine nib, archival ink pens where tonal depth comes from the contraction of the woven lines into finite space. Natalie employs a free-hand generative drawing technique reminiscent of textile construction, a skill she attributes to the generations of textile workers in her family lineage.  Inherited by nature rather than nurture, Natalie imagines the pattern of labour locked into her genetic muscle memory.  The time taken to produce a drawing can be seen in the moment to moment marks made on the surface and these notions of time-passing and work-done are of value to the artist descended from a craft tradition.
The printmaking branch of Natalie's practice links closely to her drawing and making practice.  She produces all elements of the process herself, from hand drawing positives, to exposing screens and pulling the squeegee across the printing bed.  She often works in gradient colour and lays strips of cut paper onto the printing surface to produce unique state and variable edition prints.  Working live on the printing bed making intuitive decisions during printing introduces an element of surprise and discovery in the process which in turn feed back into the painting studio.
Alongside her studio practice, Natalie works as an artist educator and art directs participatory events with high profile museums, heritage sites, galleries and arts organisations as well as supporting community led initiatives.  She is Bow Arts artist-in-residence at St.John the Baptist School in Islington for the 2022/23 academic year and is a visiting drawing lecturer for BA(Hons) jewellery, glass and ceramic students.  Natalie works at Crawley Road Studios, London N22 and produces her screen-print editions at Bainbridge Print Studios.
www.natalieryde.com
Instagram: @natalieryde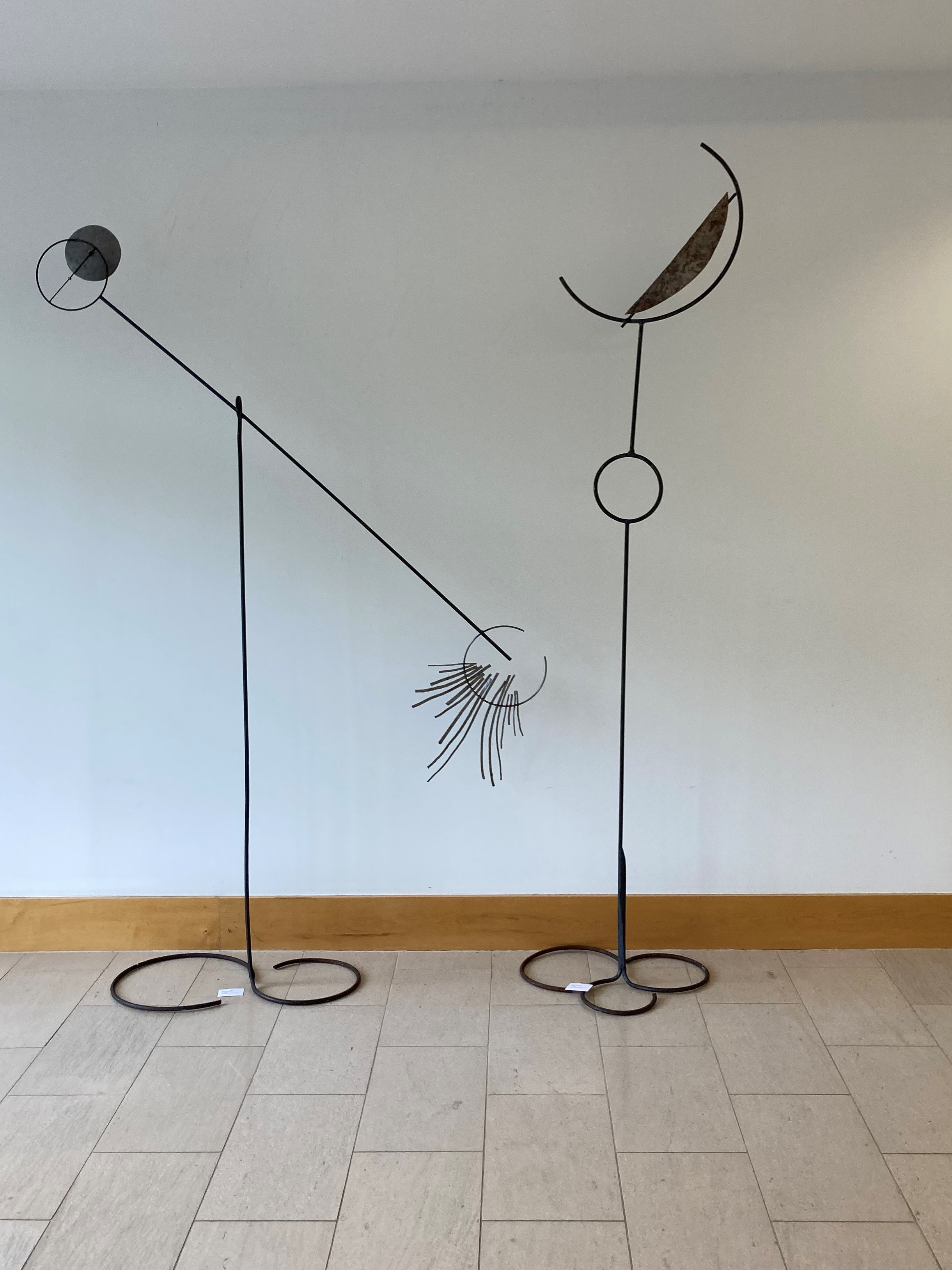 Rowena Hambridge
1 Tower View & Control Tower
The inspiration for this project is the natural landscape where I grew up in Pett Level. This place I call home has been an area where my family have lived for generations and still to this day is a place we all deem a dream.I look at my memory of the landscape from growing up amongst it, the sentimental aspects and the emotions it evokes. I explore these mainly through drawings, then respond to these through three dimensional physical forms, physicalising my relationship with the marsh and sea-land of Pett Level.
At noon the shore ran along the beaten break waters. The tide fell up and down the warm stones. As the sun warmed up the land, the sea trickled all the way out. Across the rocks and sand – revealing the sea bed below, and then it crawled back in again, a blanket of water covering all it had exposed. As the water rose, the moon appeared as if it was waiting patiently under the waves, rising up as the last of the sunlight fell behind the hills of the marshland- a sweet exchange.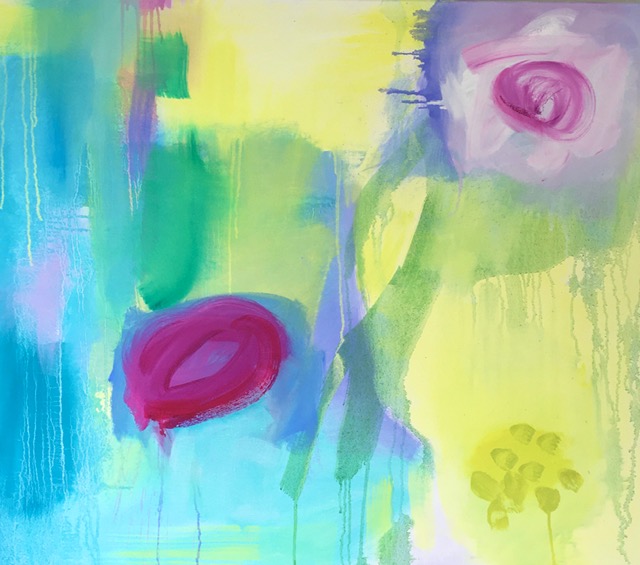 Sonya Walters
11 Tower View & Control Tower
Memories of distant travels and a response to experience much closer to home are the trigger to my work, but it is a fascination with colour which is the all encompassing ingredient to my practice.
The immediacy and physical nature of the printmaking process is a different experience to the more contemplative and solitary nature of the painting studio, but the two areas have become a significant overlapping combination.
During the process in both painting and printmaking, the work will begin to take its own path, and I'm always fascinated and pleased when on completion, the piece does indeed encapsulate the spirit of the initial response, but in a form never initially envisaged.
After graduating from Chelsea School of Art worked as an artist, teacher and banner maker in London and Cornwall.
Has exhibited widely over the years including Royal Academy of Arts, Affordable Art Fair, Tate St Ives, Camden Arts Centre, Newlyn Exchange and Truro Law Courts to name but a few.
She now works from her garden in Brighton studio in Brighton, participating in the Artists Open Houses each year.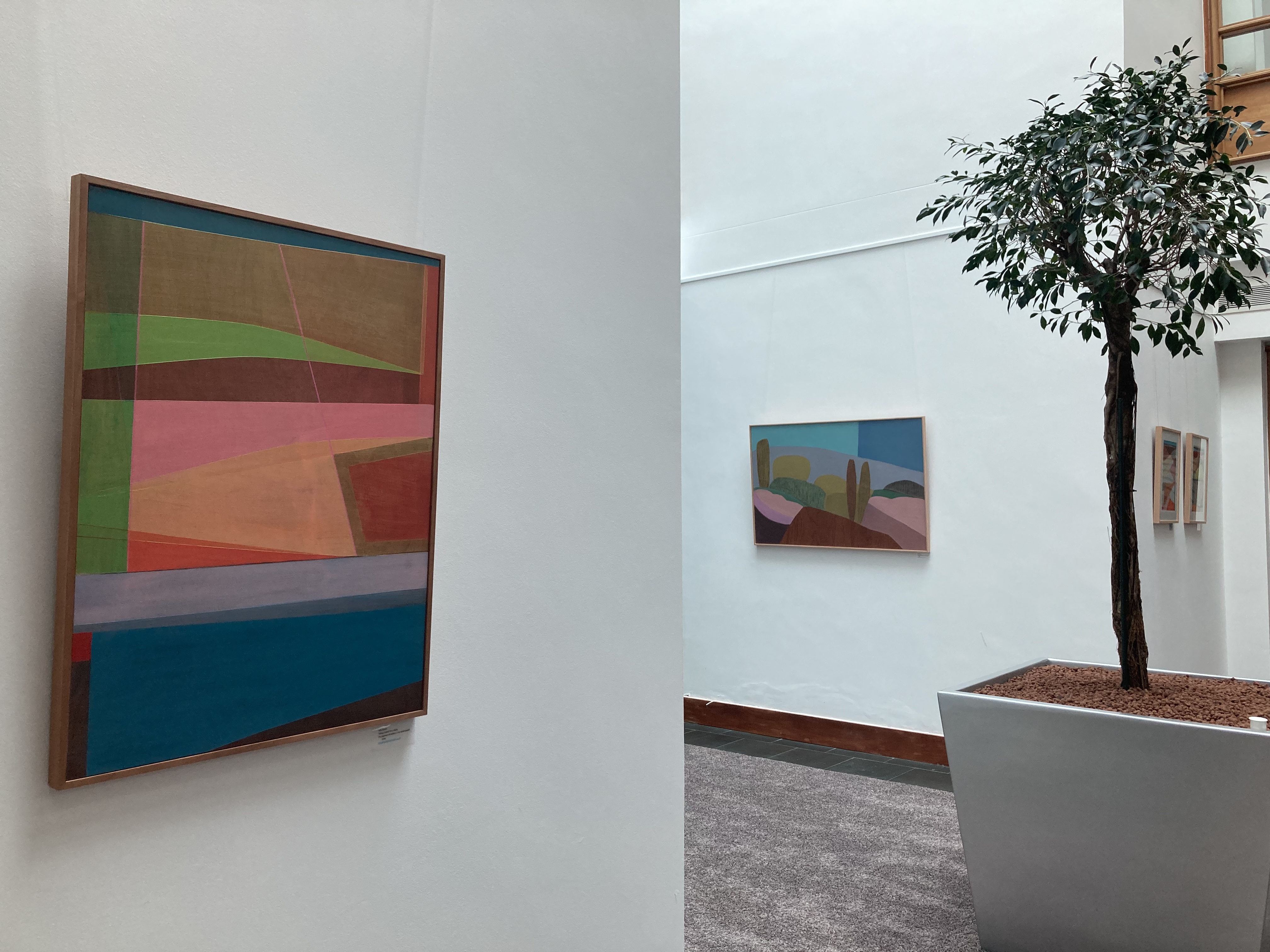 Sally Burch
17 Kings Hill Ave, 30 Tower View & Control Tower
My art practice explores the natural and manmade spaces that we inhabit, through the use of abstract shapes, colour and mark making.
My working practice feeds from sketches and photography. Motifs and colours are collected from the physically experienced spaces and combined with other virtually experienced spaces and memories.  Colours, shapes and marks are reconfigured to present a reimagined abstract reality – about somewhere but nowhere.
sallyburch.org
Instagram: @sally.burch