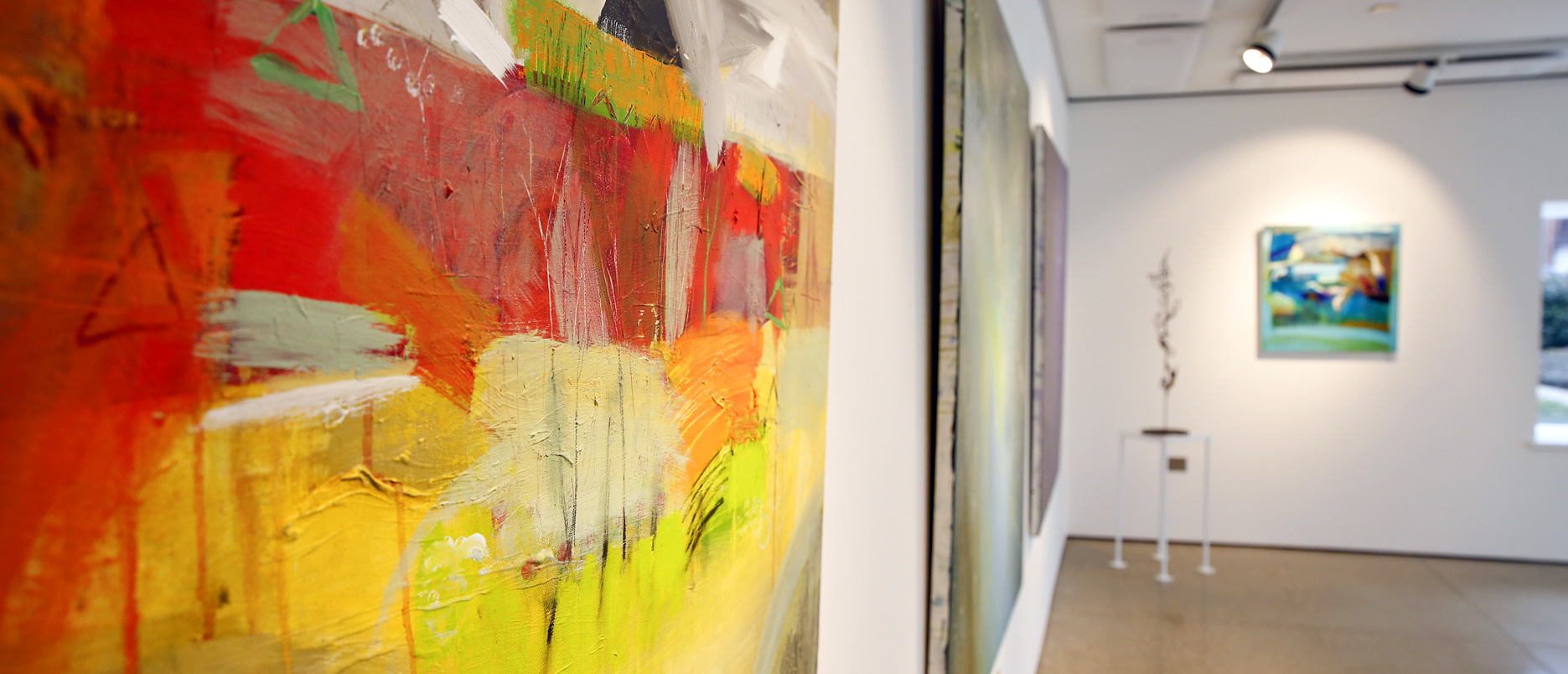 DISCOVER
CURRENT EXHIBITION
Exhibitions are updated three times a year in office buildings and in The Control Tower to create a fresh and changing environment, which it is hoped stimulates an interest in art for employees and visitors. The artists who generously loan their work benefit from increased exposure and potential sales.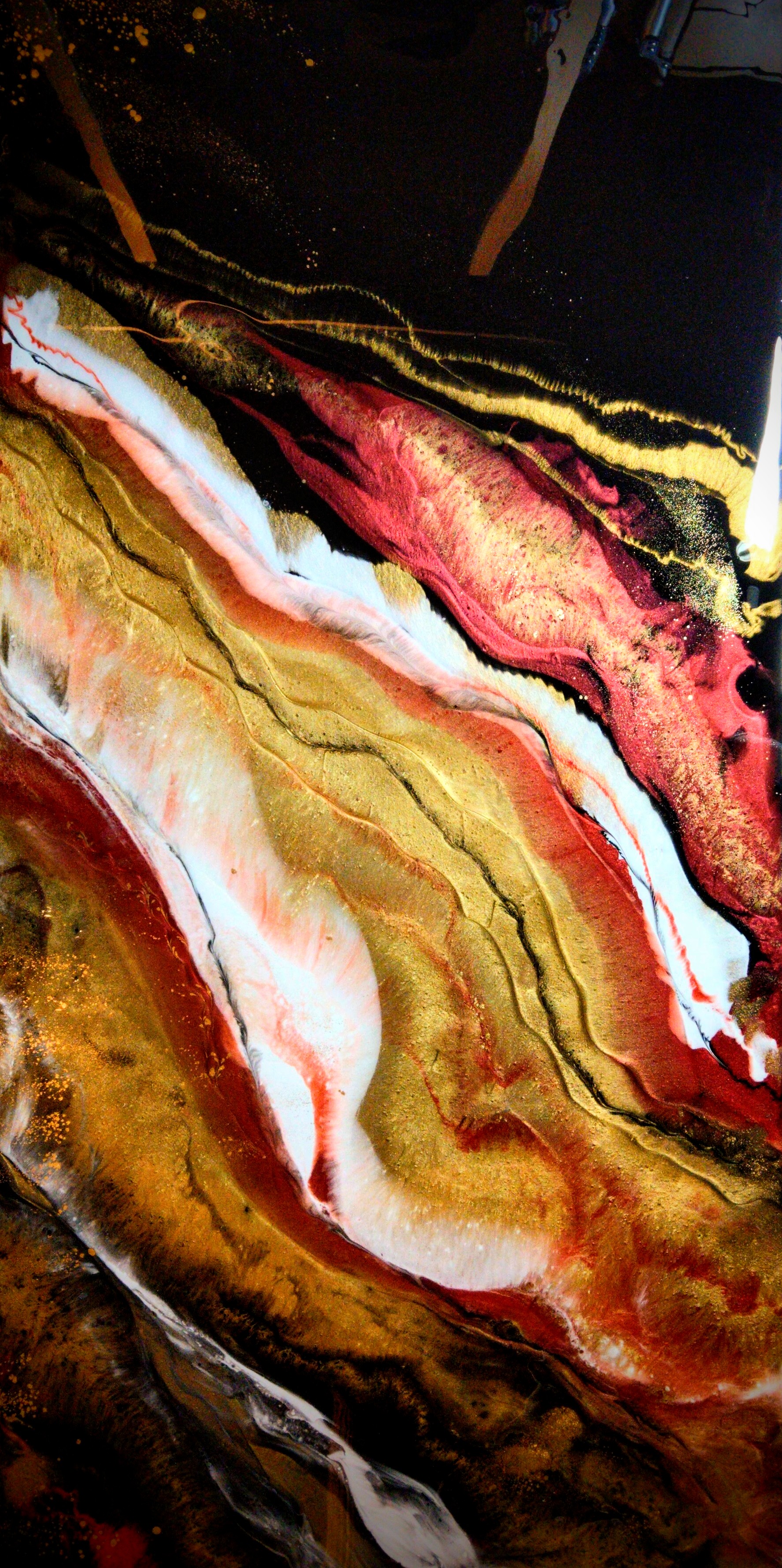 Charlotta Bergenstjerna
39 Kings Hill Ave & Control Tower Gallery
I currently work with non-toxic epoxy resin which I recently discovered as a medium. I am fascinated by the patterns and depth that can be achieved and how perfectly this medium lends itself perfectly to abstract art. I take my inspiration from nature, both in the choice of colour combinations and the pattern of the pour for each piece.
The resin is mixed with different types of pigment to achieve different finishes and then poured onto materials such as MDF, metal and glass. Depth is created through different pouring techniques or by multiple layers. Each layer can be manipulated with heat, it temporarily makes the resin move more easily across the surface.
I never set out with a complete idea of each piece, this evolves once the first layer of resin has been poured. Due to the attributes of the chosen medium, the final result will only become apparent once the resin has set, thus removing the decision of finding the end of each piece. The final imagery is left open to interpretation of the viewer.
Born in Sweden, I moved to England in 2000 to study art and design. I received a BA Hons from Kent Institute of Art and Design in 2004 and an MA from University College of the Creative Arts in 2007. Today I work locally in Kings Hill and in my spare time I work as an illustrator and graphic designer. I would describe myself as a "maker", who, from a young age has had a strong interest in making things. My creations range from illustrations, graphic design, knitting, crocheting, making and restoring furniture as well as nature photography.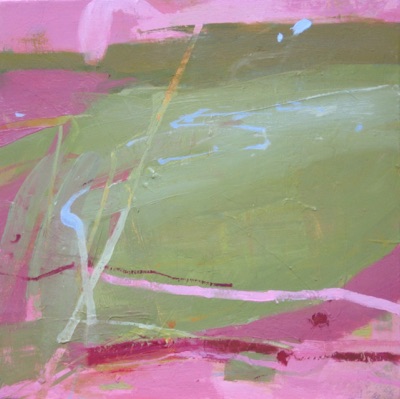 Jane Lewis
Control Tower Gallery & 1 Tower View
Jane has an Honours degree in Fine Art from UCW Aberystwyth and after a career in publishing returned to full time painting about 25 years ago. She works from her studio at home in Suffolk as an abstract landscape painter working with oils and watercolours.
She has exhibited throughout the UK including Royal Academy, RWA (Bristol), Mall Galleries and Bankside and is an elected member of the Royal Watercolour Society for whom she is currently Education Officer.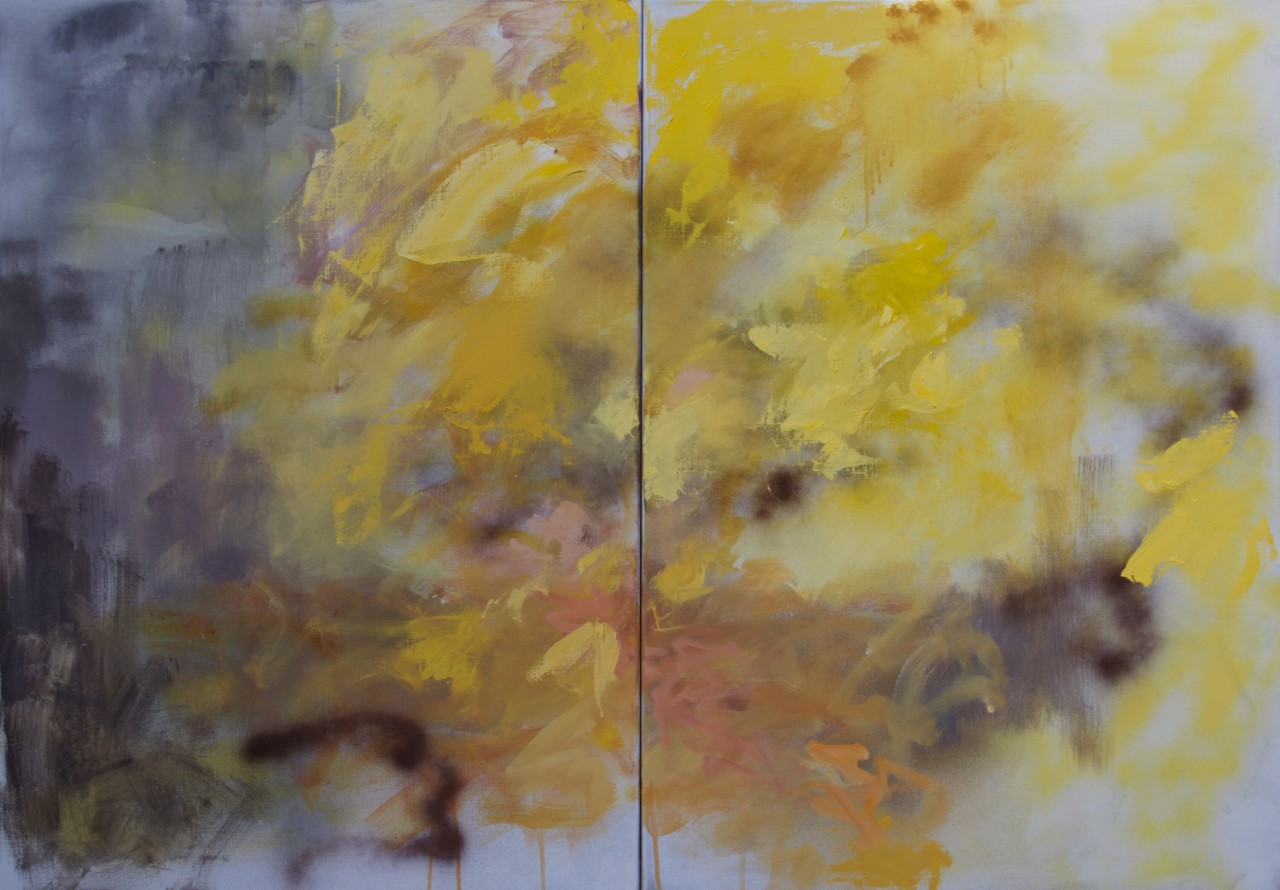 Caroline Hall
Control Tower Gallery & 30 Tower View
"I have learnt to approach each new painting like a piece of music.  Harmony and discord, louds and softs, major and minor, rhythm and repetition are all in the mix.  Alongside the immediacy that comes with gesture and mark is the balance and rigour of careful composition.  Above all, I am not looking to recreate the look of a place but what it felt like to be there".
Caroline Hall graduated with a Masters in Painting in 2007.  Ten years later she was honoured with a major solo exhibition of landscape painting at Southampton City Art Gallery, widely recognised as one of the UK's most important contemporary art galleries outside London. Caroline has shown paintings in solo and group exhibitions throughout Europe and was a recent finalist in the prestigious Lynn Painter Stainers Prize at the Mall Galleries in London and the RBSA in Birmingham.  Her work is in private and public collections worldwide.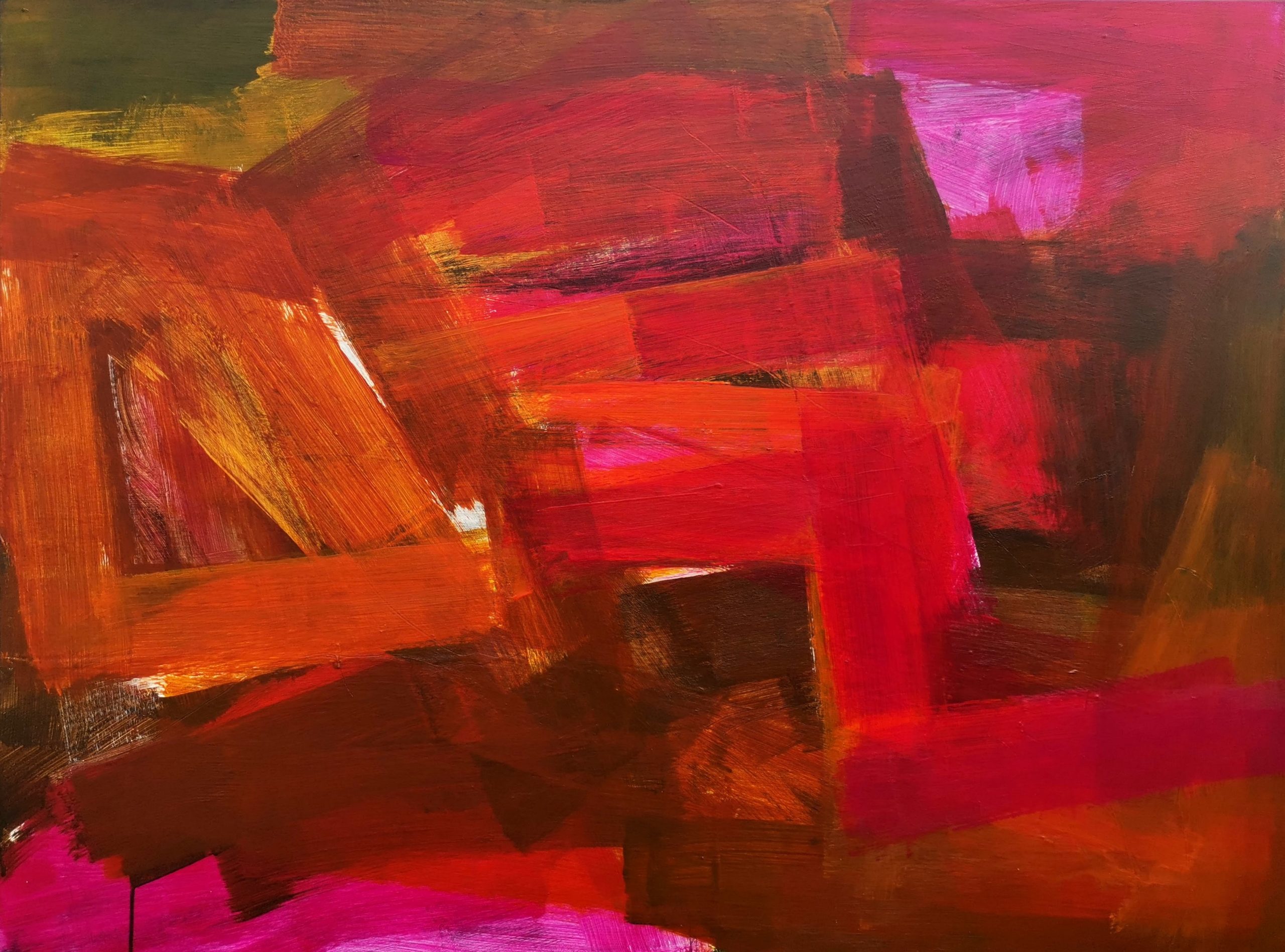 Haydn Dickenson
Control Tower Gallery & 11 Tower View
Haydn Dickenson was born in Hertfordshire in the United Kingdom where he still lives and works.
The noted art historian Lily Lacey-Hastings has described Haydn's work as "An enigmatic ecstasy" and "A puzzling world, holding reality in perplexing abstraction."
These words resonate profoundly with Haydn's vision, which is rooted in sensations, dreams, the subconscious and the Yin and Yang of introspection and exuberance.
Haydn's work ranges from rapid nude sketches in graphite, ink and watercolour, through abstracted nude work in oils and acrylic, to more overtly free pieces in which collage, acrylics and oils collaborate in a suggestive dance of colour, texture and form – at times urgent and vital, at others calm, meditative and spiritual. He is inspired by the Natural World, and by Humanity, Mysticism, Spirituality and Sensuality. Artists from whom Haydn particularly draws energy include De Kooning, Philip Guston, Joan Mitchell and Francis Bacon, with the sensuality of Klimt and Rodin's rapid ink and watercolour studies informing his own drawings. Haydn is a maverick however, with a style and energy that is all his own.
Musical references and an undeniable fluidity of line also abound in his work – Haydn's former career was as a Concert Pianist.
As a musician, Haydn has frequently remarked that when he paints, he is spinning lines and balancing colour like musical tones and, when playing the piano, he moulds sound like a painter; the essential pliability of sound and its power to seduce the listener find echoes in his work on canvas and paper. Haydn's work is lyrical, expressive and musical – demonstrating, perhaps, that all artistic expression flows from the same well-spring of creativity.
Haydn's work features in private collections across the UK, Western and Eastern Europe, the USA, the Far and the Middle East.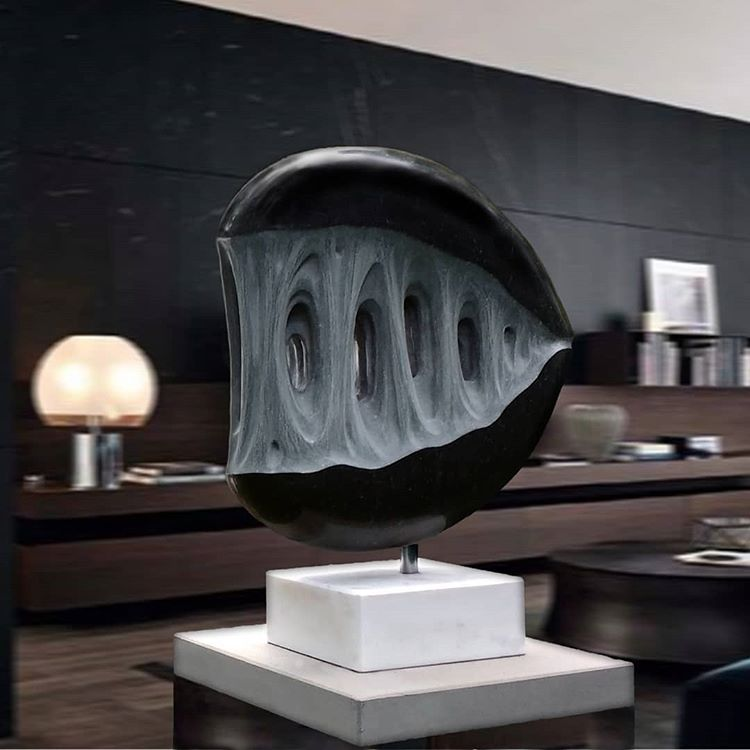 Piotr Gargas
Control Tower Gallery & 1 Tower View
Piotr trained in stone sculpture for 5 years in Poland where his training included the tradition of studying and copying the work of the great classical sculptors. On completion of his studies, he was invited to join a company focussed on the restoration of decorative stone features on historic buildings. Over the next ten years, Piotr honed his skills working across Europe helping with the restoration of sculpture created by generations of craftsmen and artists.
Throughout this practical immersion in art Piotr developed the skills to envisage and recreate heavily eroded and damaged sculptures in the style of the original artists. Inevitably, his work has been described as 'cosmetic surgery' in stone, but more importantly, these skills have led to the development of Piotr's own artistic style.
Since being invited to carry on this work on the Colleges and Churches of Oxfordshire Piotr's own contemporary art has flourished and expanded to include digital sculpting. He works in all kinds of materials including marble, wood, clay. Currently, his sculpture, inspired by the Oxfordshire environment, focuses on using the most modern 3D imaging technology to then create his own form in stone that reflects the flow and harmony so evident in organic forms.
www.piotrgargas3dsculpture.com