14th August 2019
A shark and a cathedral in Kings Hill
It's not often you see a life-sized shark and St Paul's Cathedral in the same space but that's exactly what visitors to the art exhibition in the Control Tower can do.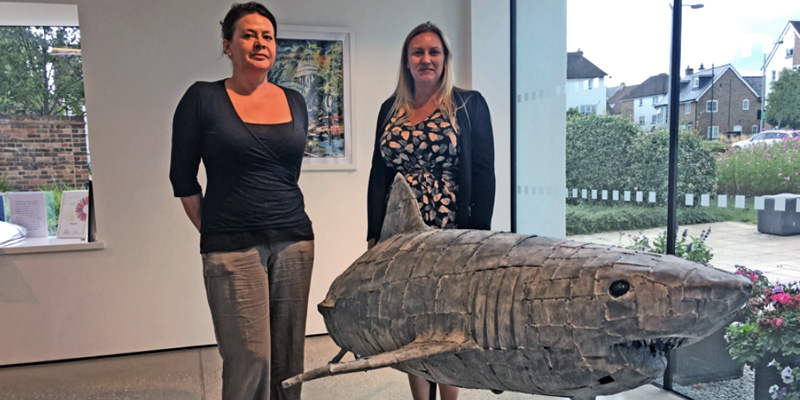 4th August 2019
It's not often you see a life-sized shark and St Paul's Cathedral in the same space but that is exactly what visitors to the latest art exhibition in the Kings Hill Control Tower can do.
High-profile artist Cathy Read's eye-catching painting of St Paul's is one of the key pieces in the exhibition. Known for her distinctive urban landscapes, she re-imagines iconic architecture using explosive, colourful drops and trails of paint held together with a structure of white lines.
Shortlisted for Artist of the Year by Artists and Illustrators magazine, Cathy's work can be seen in the Ashmolean Museum, Oxford and she exhibits with the Society of Women Artists in London. A recipient of the Barbara Tate Memorial Award she has also appeared on TV in Sky Arts Landscape of the Year.
In complete contrast is Diccon Dadey's 'Shark Infested Waters', a 2.4m long shark created from rivetted plates of mild steel.
Diccon fabricates most of his pieces from sheet metal, sometimes with added salvaged or drift wood to enhance the representation of nature. Most of his works are of animals, birds and plants.
Also in the exhibition are stunning works by macro photographer Colleen Slater who captures things which often go unnoticed but appear extraordinary and often unworldly when seen through a macro lens.
This includes flowers submerged in water with oxygen bubbles forming a decorative effect on the petals; tiny insects, moths and butterflies and plants.
Paintings by a selection of talented artists in a variety of styles and mediums are also being exhibited. These include moody abstract landscapes by Jane Campling, works exploring the nature of reality, both gentle and brutal, by Stella Tripp and paintings using marks and colour to convey emotion, mood, response to nature, landscape and memory by Kate Scott.
The Kings Hill art exhibitions are put together on behalf of developer Liberty Property Trust by curator June Frickleton of Frickleton Fine Art who said: "Our exhibitions change every three months and each time I select a good cross section of artworks so that there is something for everyone to enjoy.
"We have some really exciting works on show and I hope as many people as possible will come to see them in the informal setting of the iconic Control Tower in Kings Hill."
The exhibition is open to the public between 9am and 5.30pm on Monday to Friday until 18 September, when a new one will be installed.
Details of each artist together with an example of their work is listed here.