12th October 2020
Notification from KCC – A228 Malling Road diversions and closures from 30th Oct – 19th Nov 2020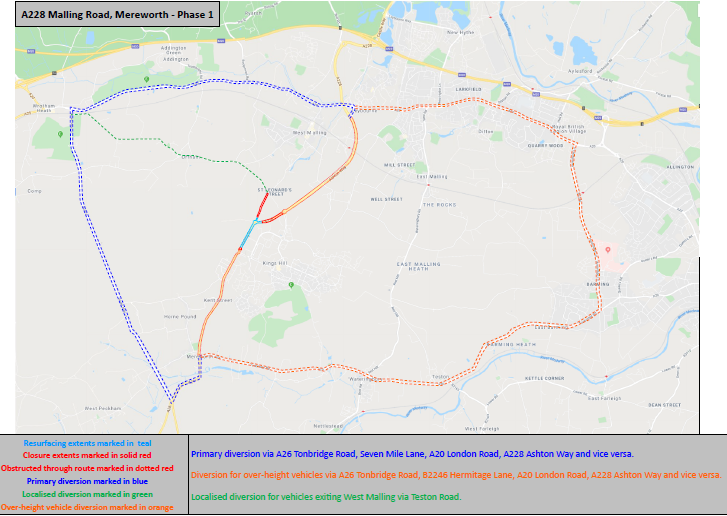 These road surface improvement works are programmed to start on Friday, 30th October, 2020. These activities will be undertaken between the hours of 20:00 and 06:00 each night. Due to the Covid-19 pandemic and uncertainty there is a risk these works could be cancelled at any time.
During these essential works it will be necessary to close the A228 Malling Road so that KCC can carry out the works safely for both the workforce and road users. The closure will be phased to mitigate disruption for local residents as much as possible. There will be times when Kings Hill will not be accessible via Gibson Drive but throughout the entirety of our closure duration, access will be available from the Tower View roundabout.
• The Primary diversion will be via A26 Tonbridge Road, Seven Mile Lane, A20 London Road, A228 Ashton Way and vice versa.
• The Over-height (>4.4m) vehicles diversion will be via A26 Tonbridge Road, B2246 Hermitage Lane, A20 London Road, A228 Ashton Way and vice versa.
• Localised diversions and signage will be in place to direct highway users on adjacent minor roads where necessary.
Furthermore, efforts will be made to minimise traffic attempting to utilise Kings Hill as a diversion route. This will include stationing operatives at key access routes to the A228 Malling Road but if you do reside within the road closure, please do speak to the operatives who will advise you on the best route to access your property.
If you need more information, please visit KCC's website www.kent.gov.uk/resurfacingupdates to find out how they look after the roads throughout Kent, or to report any faults you find on the roads. Alternatively, you can call them on 03000 41 81 81.
Phase 1 closure from 30th October – 13th November: These works will be carried out with closure to one side of Kings Hill Avenue which will prevent the use of Kings Hill Avenue from Tower View end. This will be monitored through-out the night, by Security. Kings Hill residents will be able to use Kings Hill Avenue (from the Silver Ball) to get to the A228 via Tower View as this is the only way out of / in to Kings Hill that will be available during this phase of works. There will be signs in place to deter any large vehicles from coming into Kings Hill.
Phase 2 closure from 13th – 19th November: These works will require Kings Hill Avenue to be closed completely – except for access to the leisure operators – David Lloyd and Infinity UK customers. Barriers will be in place and security will be in attendance at each end of Kings Hill Avenue to prevent this road being used as a shortcut. The works start at 20.00 hours, and are scheduled to be completed by 06.00 hours, when the road closure on Kings Hill Avenue will be removed. Therefore, Kings Hill Avenue should be open during the day.
Download Diversion/Closure map